Who Is Sarah Matthews? Jan. 6 Testimony Expected From Former Trump Aide
Sarah Matthews, an ex-aide to former President Donald Trump, is expected to testify at Thursday night's prime-time hearing of the House Select Committee on the January 6 attack on the U.S. Capitol.
Matthews, 27, served as a deputy press secretary at the Trump White House for roughly six months before abruptly resigning just after the Capitol attack on January 6, 2021. Thursday's January 6 committee hearing, the last public hearing currently scheduled to take place, is expected to focus on Trump's activities during the attack.
Matthews resigned within hours of the Capitol being violently breached by Trump supporters attempting to stop Congress from certifying President Joe Biden's 2020 election win. At the time, she said that she was "honored to serve" the president but had been "deeply disturbed" by the attack and hoped for a "peaceful transfer of power."
Since February 2021, Matthews has worked as the Republican communications director for the House Select Committee on the Climate Crisis. Although the details of her upcoming testimony were unclear at the time of publication, Matthews has been outspoken about her views on Twitter, calling the Capitol attack "one of the darkest days in American history" on its one-year anniversary.
"Make no mistake, the events on the 6th were a coup attempt, a term we'd use had they happened in any other country, and former President Trump failed to meet the moment," Matthews tweeted on January 6, 2022.
"While it might be easier to ignore or whitewash the events of that day for political expediency — if we're going to be morally consistent — we need to acknowledge these hard truths," she added.
More recently, Matthews praised former White House aide Cassidy Hutchinson for her "tremendous bravery" in testifying to the committee last month, tweeting that she was "choosing to put her country first and tell the truth" despite "harassment and threats."
Matthews joined the White House staff after working for Trump's 2020 reelection campaign, where she met former White House Press Secretary Kayleigh McEnany. She worked in the West Wing's "upper press" area, which meant that she was physically closer to the Oval Office than others in her office, according to the Associated Press.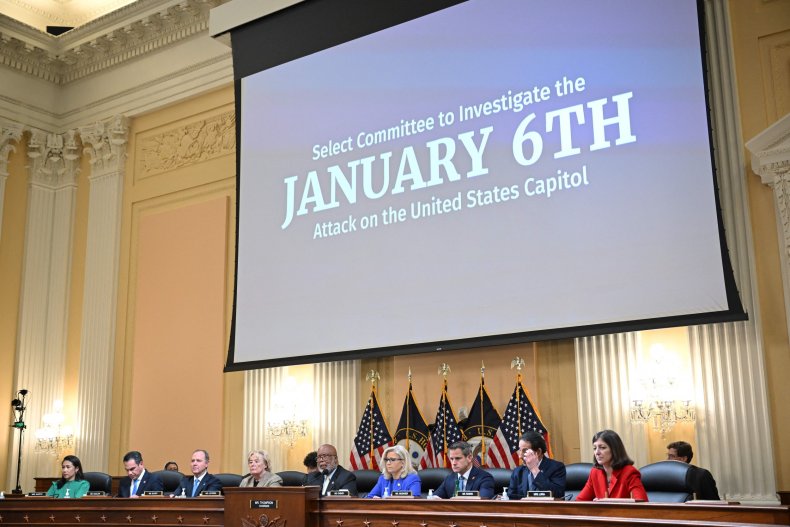 Matthews offered voluntary testimony in February during a closed-door hearing of the January 6 committee. An excerpt from her testimony during a hearing in June was played, showing her commenting on Trump tweeting that Vice President Mike Pence "didn't have the courage" to overturn the election result as rioters were inside the Capitol.
"The situation was already bad, and so it felt like he was pouring gasoline on the fire by tweeting that," Matthews said of Trump's tweet.
In addition to Matthews, Thursday's hearing is expected to feature testimony from former Deputy National Security Adviser Matthew Pottinger, who was the highest-ranking Trump administration official to immediately resign on January 6.
Newsweek reached out to Matthews for comment.