Who Is Sgt. La David Johnson? Slain U.S Soldier Finally Laid To Rest Amid White House Controversy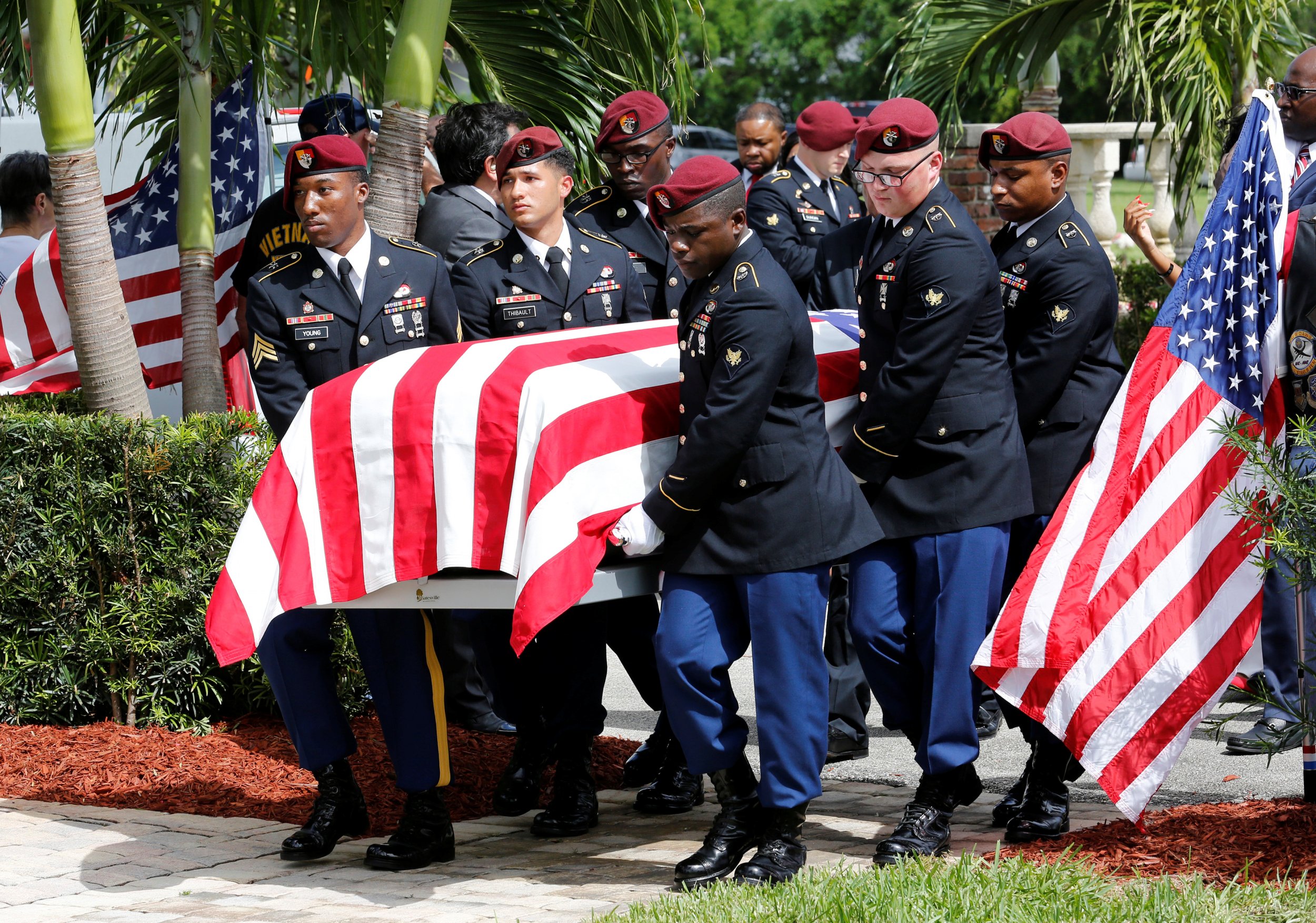 Sgt. La David Johnson was laid to rest on Saturday surrounded by his family and friends in Cooper City, Florida.
Family members and loved ones gathered at Christ The Rock Church to pay their final respects to the fallen Special Forces member who was killed in an ambush during his patrol along the Niger border on October 4.
Since his death, lawmakers have demanded more information on the attack that left four U.S servicemen dead. Two weeks after the attack, the Pentagon is still unable to confirm who was responsible for the deaths.
There also has been controversy on how President Donald Trump handled the phone call to Johnson's widow, Myeshia Johnson. Congresswoman Frederica Wilson called out Trump this week for saying the slain soldier "knew what he signed up for, but I guess it still hurts" after the family heard him say it via speakersphone while sitting in a car.
Wilson later said, "When she actually hung up the phone and she looked at me and said, 'He didn't even know his name.'" Johnson's mother confirmed the account.
The ongoing feud between WIlson and Trump had led to a string of nasty remarks and tweets back and forth. On Wednesday, the president took to Twitter to dispute the congresswoman's remarks.
"Democrat Congresswoman totally fabricated what I said to the wife of a soldier who died in action (and I have proof). Sad!"
Chief of Staff John Kelly defended Trump during a White House press conference on Thursday and slammed Wilson for her remarks and alleged she took credit for securing funding for an FBI facility in Miramar, Florida in 2015.
Trump was quick to hit back on social media a few hours after Kelly's remarks.
"The Fake News is going crazy with wacky Congresswoman Wilson(D), who was SECRETLY on a very personal call, and gave a total lie on content!" said Trump.
It was later found out that Kelly misinterpreted the speech after the Florida Sun Sentinel released a video of the ceremony on Friday. Wilson said the FBI approached her about naming the facility and was able to do so with the help of then-House Speaker John Boehner. Kelly claimed she spoke to former President Barack Obama about funding the facility, but that was not true as Obama just approved the legislation for the building.
During a press briefing on Friday, press secretary Sarah Huckabee Sanders defended the four-star Marine general and said it was "highly inappropriate" to question him.
Johnson is survived by his wife, who is six months pregnant, and two children.