'The Masked Singer' Fans Are Convinced They Know Space Bunny's Identity
With nine famous faces unmasked so far on The Masked Singer Season 7, there are just six acts left standing, determined to be the last to have their cover blown.
So far, controversial ex-NYC mayor Rudy Giuliani has been unveiled alongside big names such as sports commentator Joe Buck, actor Jorge Garcia, model Christie Brinkley and Grammy-winner Jennifer Holliday. But Baby Mammoth, Prince, Queen Cobra, and Space Bunny are still competing for a spot in the final.
Fans do have their theories about who could be under each mask and in particular, Space Bunny has attracted the attention of audiences ever since he made his first appearance on the Fox show.
Newsweek has all of the theories about Space Bunny's identity below.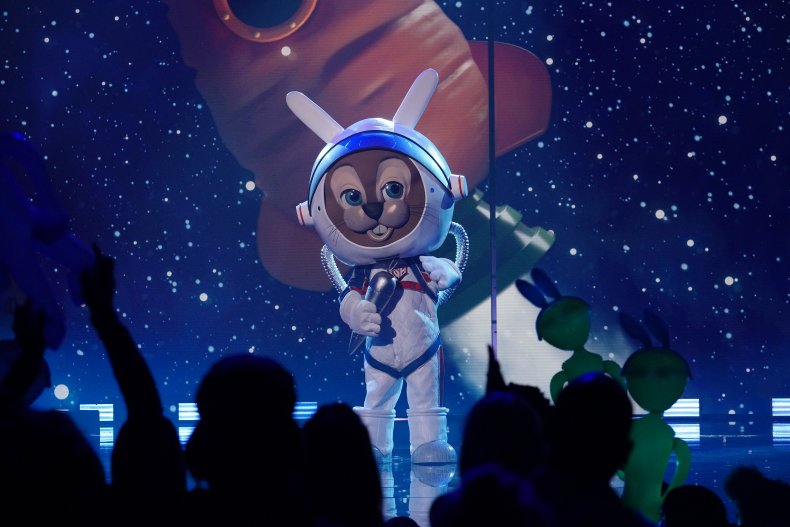 Who Is Space Bunny on The Masked Singer?
Space Bunny made his debut on Week 7 of The Masked Singer as a part of Team Cuddly, performing on the same stage as Prince, Queen Cobra, Baby Mammoth, and Jack and the Box.
There is good news for fans of Space Bunny. The out-of-this-world creature will take to The Masked Singer stage for a second week (Wednesday, April 27) after surviving the dreaded elimination round last week.
During their first live performance, Space Bunny stunned the judges with his performance of Harry Belafonte's "Jump in the Line" and with just a sprinkle of hesitation, judges Ken Jeong, Robin Thicke, Nicole Scherzinger, and Jenny McCarthy Wahlberg began to drop some big guesses of who could be under Space Bunny's mask.
Thicke believed Space Bunny to be either Sean Paul, Shabba Ranks, or Buju Banton. While Scherzinger was certain Space Bunny was musician Shaggy.
Scherzinger also suggested Space Bunny could be NBA legend Lebron James, thanks to the basketball and energy drink clues in his clue package.
After all, in the clip Space Bunny was spotted selling an energy drink called Space Boost, described as "safe, long-lasting...with no side effects!"
At the end of the clue package, he flew back to space with a basketball in flames shooting past him.
Some fans of The Masked Singer suspect Scherzinger could be on to something with her Shaggy guess. After all, the North Carolina clue that appeared in the sneak peek video could be a nod to his single "Oh Carolina."
One fan tweeted: "I already know who space-bunny is... SHAGGY I'm certain on this one #themaskedsinger," and another fan chimed in: "Gettin' some Shaggy vibes from Space Bunny! #TheMaskedSinger"
In his first clue package, Space Bunny was stung by a bee, which could be a reference to Shaggy's tour and album with rock star Sting.
In the clue package, a piece of paper also appears on the screen with a red handprint on one side. Could this be a shout-out to the first line of his most famous song "It Wasn't Me?" After all, the lyrics are: "Honey came in and she caught me red-handed."
Some Masked Singer fans also made the link between "It Wasn't Me" and the red hand, with one tweeting: "Space Bunny is Shaggy! In the clue package, there was a red handprint, that's from his song it wasn't me."
In his first clue package, Space Bunny was seen in an office, asking viewers if they were "tired" from a "long career trailblazing all over the galaxy?"
At the end of the clue package, a shaggy-looking dog and one of the Men in Black appears alongside Space Bunny.
Could the shaggy dog be a reference to Shaggy himself? Fans seem to think so.
One fan tweeted: "Shaggy Dog—Shaggy Boombastic."
With Space Bunny returning to The Masked Singer stage for Round 8, here's hoping he makes it through to the next round. But if not, for The Masked Singer fans who are certain it is Shaggy under the mask, finger's crossed you are right.
The Masked Singer airs Wednesdays at 8 p.m. ET on Fox.