Who Was on 'Team Normal' Urging Trump, Giuliani Against Election Claims?
A former campaign manager to Donald Trump told the House committee investigating the January 6 Capitol riot that two camps of thought emerged following the 2020 presidential election: "Team Crazy" and "Team Normal."
Bill Stepien, who ran Trump's re-election campaign, said in a video call with the committee that he was among those who objected to the more outlandish conspiracies of election fraud. Stepien referred to himself as being a part of "Team Normal," while people like Rudy Giuliani and Sidney Powell—allegedly referred to as "Team Crazy"—routinely pushed false claims of voter fraud.
"I didn't mind being characterized as being part of 'Team Normal,' as reporters kind of started to do around that point in time," Stepien said, according to a clip played by the committee on Monday. "I didn't think what was happening was necessarily honest or professional at that point in time," he added, before noting that those actions are what led him toward "stepping away."
Stepien also testified on video that he told Trump on election night that he had no basis for declaring victory, but that the former president insisted on doing so anyway. Though he did not name specifically who was on "Team Normal," other individuals, including senior adviser Jason Miller and former Attorney General William Barr, testified Monday that they were at odds with Trump's embracement of false claims.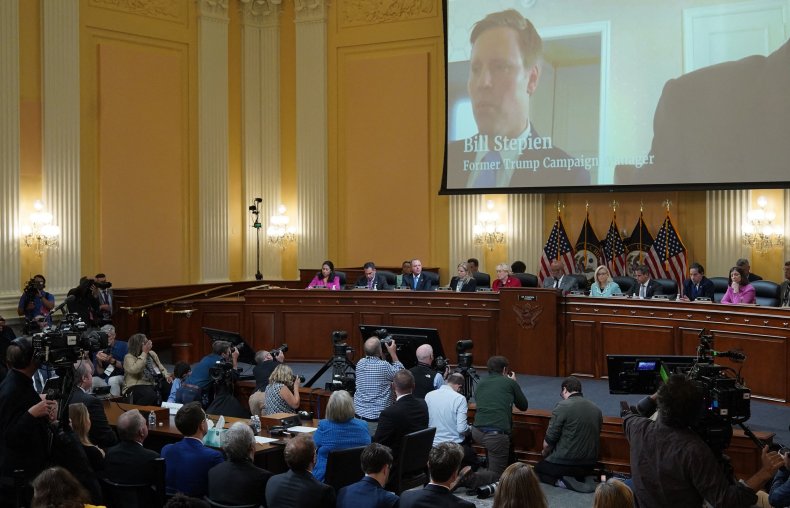 Committee member Rep. Zoe Lofgren, a California Democrat, later added that Trump "did get rid of Team Normal," and began putting all of his support into those who favored the unsubstantiated claims.
However, despite his claim, Stepien was subpoenaed by the House committee amid accusations that he helped transition Trump's campaign efforts into the "Stop the Steal" operation. Through those various rallies and campaign events, Trump and his allies continuously pushed the false narrative that the election was rigged in favor of President Joe Biden.
Several critics on Twitter noted Monday that Stepien and others who attempt to cast themselves in a more positive light still played a role in the events leading up to the January 6 attack.
"Important to remember: As much as Stepien and others are casting themselves as the adults in a room full of crazies, they kept mostly quiet as all of this played out," wrote Politico reporter Kyle Cheney.
Stepien was scheduled to testify in person to the committee on Monday, but he was unable to appear because his wife had been in labor.
Nonetheless, his claim that two factions emerged within Trump's team after the election sheds light on the fact that some people attempted to push back against the former president. In a separate testimony on Monday, Barr said that Trump had become delusional despite being told numerous times that his election fraud claims held no merit.
"I told him that the stuff that his people were shuttling out to the public was bull***t—I mean, that the claims of fraud were bull***t," Barr said, while also adding that " "He's become detached from reality if he really believes this stuff."
Monday's testimony marked the second day of public hearings held by the bipartisan committee. In their opening statements last week, committee members vowed to unleash evidence showing how the January 6 attack was an intentional scheme orchestrated by Trump and his allies in order to stay in power.
The next hearing is scheduled to take place on Wednesday. For more updates, visit Newsweek's live blog.