Who is Wayde van Niekerk, South Africa's Record-Breaking 400m Champion?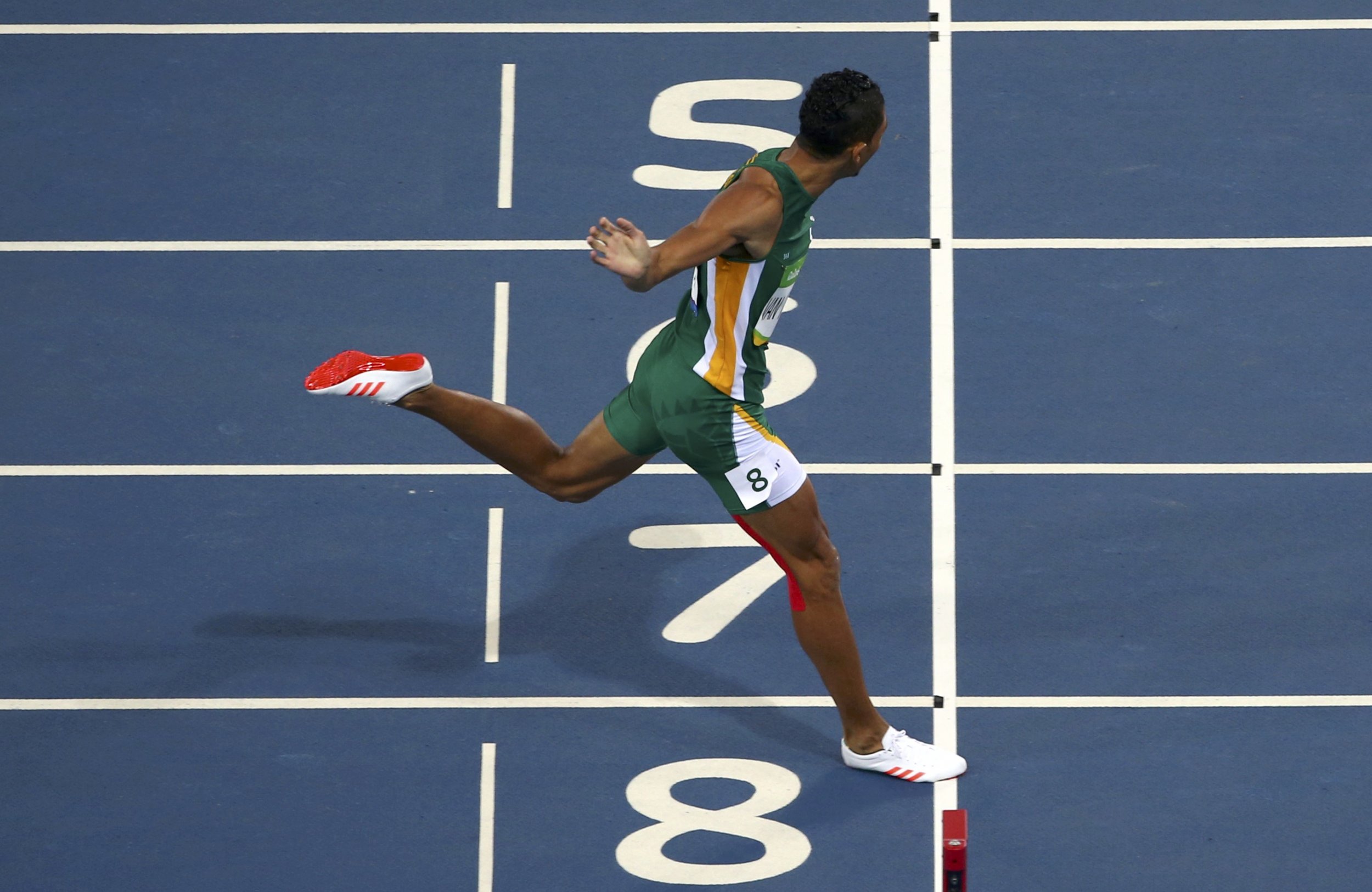 Michael Johnson was the first to congratulate the new 400-meter world record holder after his own record was obliterated on Sunday.
"It was a massacre," said former United States runner Johnson on the BBC, whose record time of 43.18 seconds had stood for 17 years before Wayde van Niekerk's astonishing performance in Rio de Janeiro.
The South African runner, 24, decimated a field including London 2012 gold medallist Kirani James of Grenada and U.S. sprinter LaShawn Merritt, a double Olympic champion, with a time of 43.03 seconds. And the underdog did all this coming from lane eight, making him the first man to win an Olympic 400m title from the outside lane.
Born in Cape Town and trained by 74-year-old former sprinter and great-grandmother Anna Botha, van Niekerk had dropped hints of his talent in March. During the Free State Championships in Bloemfontein, van Niekerk became the first man in history to run 100 meters in under 10 seconds, 200 meters in under 20 seconds and 400 meters in under 44 seconds. For Rio 2016, his sole focus has been the 400 meters, but Johnson urged him to consider the other sprint disciplines after his stunning victory on Saturday. "He's broken the world record now in the 400 meters. Let's see some 200 meters at the championship level," said Johnson, who also ran the 200 meters during his career.
Van Niekerk, a devout Christian who attributed Saturday's success to his religion, had been tipped for success by another gold-medal winning sprinter: Usain Bolt . The South African said that he had spent time training for the games in Jamaica , where Bolt had told him that he was set for great things. "Usain has been such a huge rock, inspiring me as an athlete. He told me back in Jamaica that, 'You will break the world record.' And he came to me after and said, 'I told you you could do it,'" said van Niekerk. The Jamaican paused his post-race interviews to congratulate van Niekerk on his victory.
The new record holder comes from solid athletics stock. Van Niekerk's mother Odessa was a talented athlete who competed at national level but was barred from international events under South Africa's apartheid regime of racial segregation, which did not end until 1994. His cousin, Cheslin Kolbe, also competed in Rio as part of the bronze-medal winning South African sevens rugby team.
Van Niekerk's victory, and the record time, stunned many of his fellow athletes. British 400-meter runner Martyn Rooney—who crashed out of the competition in Rio in the qualifying heats—called the performance one of the "greatest accomplishments in sport," while fellow British sprinter Adam Gemili also praised the South African's record time.
After winning gold at the 2015 World Championships in Beijing, China, van Niekerk has said that "the sky's the limit" in terms of his future ambitions. And Johnson believes that, once the 29-year-old Bolt retires, van Niekerk could fill his shoes as the next big star of athletics. "He seems like a guy who really could fill those [Bolt's] shoes because he seems like a great guy that people would love and would love to rally around," said Johnson.