Who Will Replace Trump Impeacher Senator Ben Sasse in Nebraska?
The expected resignation of Republican Senator Ben Sasse, one of a handful of GOP senators who voted to convict former President Donald Trump in his impeachment trial in February 2021, will allow Nebraska's governor to appoint a replacement to fill the seat.
Among the names listed in an initial wave of speculation on Thursday were Nebraska GOP Representatives Mike Flood and Don Bacon, as well as outgoing Governor Pete Ricketts. Under Nebraska law, the state's governor is responsible for filling vacancies in Nebraska's representation in the U.S. Senate.
Geoff Lorenz, an assistant professor of political science at the University of Nebraska-Lincoln, told Newsweek that Ricketts, a Republican who is not seeking reelection because of a term limit, is the most likely person to fill Sasse's seat.
"I'd expect that this would happen after the new governor—who will almost certainly be Republican nominee Jim Pillen, a close Ricketts ally—takes office in January," Lorenz said.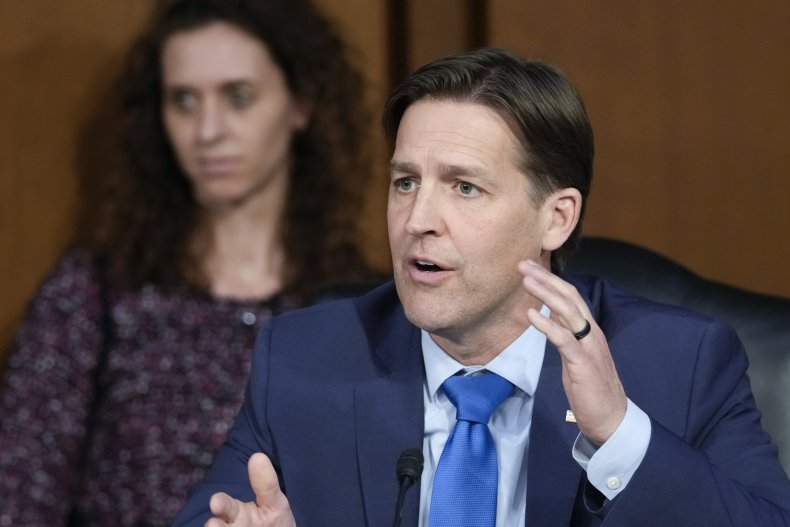 Pillen won the GOP gubernatorial primary in May this year, beating out a Trump-endorsed candidate, Charles Herbster. Ricketts endorsed Pillen in January in a notable break with Trump and even argued that Herbster wasn't fit for the job.
"While I agree with President Trump on many things, I strongly disagree that Charles Herbster is qualified to be our next governor," Ricketts said, according to the Associated Press.
Lorenz said, "The interesting tension here is that while Pillen—again, Ricketts' preferred candidate—won the primary, his much more outwardly Trumpist opponent, Charles Herbster, recently succeeded at taking over the Nebraska Republican Party organization.
"This means that there is a direct and quite vicious factional conflict between the [Nebraska] GOP's organizational leaders and activists and some of its most prominent statewide elected officials, including Ricketts, Pillen and Sasse."
In August, Herbster and his team announced a new political action committee aimed at pushing local and state candidates and officeholders more to the right, the Nebraska Examiner reported.
Lorenz said, "Whoever is appointing Sasse's replacement will have to choose whether to pick someone loyal to—or who is, in fact—Ricketts while that window is open, or to pick someone more broadly acceptable to where the party has gone in recent years. There are good reasons for both strategies."
In a statement shared with Newsweek by the governors' office on Friday, Ricketts said that he first learned of Sasse's plans to resign on Thursday when the senator called to notify him.
"If I choose to pursue the appointment, I will leave the appointment decision to the next governor and will follow the process established for all interested candidates," the statement read. "It is the honor of a lifetime to serve as the governor of Nebraska. It is the greatest job in the world, and it will remain my number one focus for the remainder of my term."
Lorenz said that he wouldn't count on Bacon or Flood being selected to fill the Senate vacancy. This is because Bacon "has had to distance himself from the party somewhat in order to carry his seat," while Flood "is a brand-new member of Congress, and like many new members he has focused on being a loyal party soldier."
The two congressmen's views on Trump seem to be slightly different. Flood, a former state senator who won a special election for his U.S. House seat in June, has said that answers are needed regarding the FBI's document search at Trump's Florida home, which the former president and his allies have vehemently criticized. Bacon, meanwhile, has distanced himself from Trump, saying that he will not support him if he decides to run for president again in 2024.
Sasse was reelected to his Nebraska Senate seat in November 2020, so his anticipated resignation would take place just a few years into a six-year term. He is expected to vacate the position to become president of the University of Florida.
While his appointment is not yet fully finalized, the school announced on its Twitter account Thursday that its presidential search committee had "unanimously endorsed" Sasse as the sole finalist for the job. The university said that Sasse will visit on Monday next week to meet with faculty, staff and students. Its Board of Trustees will formally consider his candidacy at a November 1 meeting.
CNN, citing an unnamed source familiar with the matter, reported Thursday that Sasse was expected to resign before the end of the year to take the job.
In a statement shared on Twitter Thursday, Sasse said that he was "delighted to be in consideration with the leadership of this special community about how we might together build a vision for UF to be the nation's most dynamic, bold, future-oriented university."
Since the university announced that Sasse was the sole finalist, Ricketts has released a statement wishing him luck, saying that the lawmaker "has one of the most conservative voting records in the Senate, and we need more conservative voices in our universities."
Update 10/10/22, 10:30 a.m. ET: This story was updated with a statement from Ricketts.