Vermont Democrat Patrick Leahy has announced he will not seek re-election, prompting speculation about who will run for his seat in the U.S. Senate next year.
Leahy, 81, has represented the state for nearly 50 years. After eight terms, Leahy is the longest-serving active member of the chamber and currently serves as its president pro tempore.
On Monday, Leahy said he and his wife Marcelle have decided it's time for him to "put down the gavel."
"It is time to pass the torch to the next Vermonter who will carry on this work for our great state," the senator told reporters during a press conference at the Vermont State House. "It's time to come home."
His retirement is a major development for Democrats as they seek to maintain their slim majority in the Senate during the 2022 midterm election cycle.
The Democratic Senatorial Campaign Committee (DSCC) quickly pledged to keep Leahy's seat blue.
"Vermont is a blue state that has not elected a Republican to statewide federal office in more than 20 years, and Democrats look forward to winning this Senate seat in 2022," DSCC chairman Gary Peters said in a statement.
Peters called Leahy "a lion of the Senate who reflects its very best values" and said "his service has shaped the direction of our country for the better in countless ways."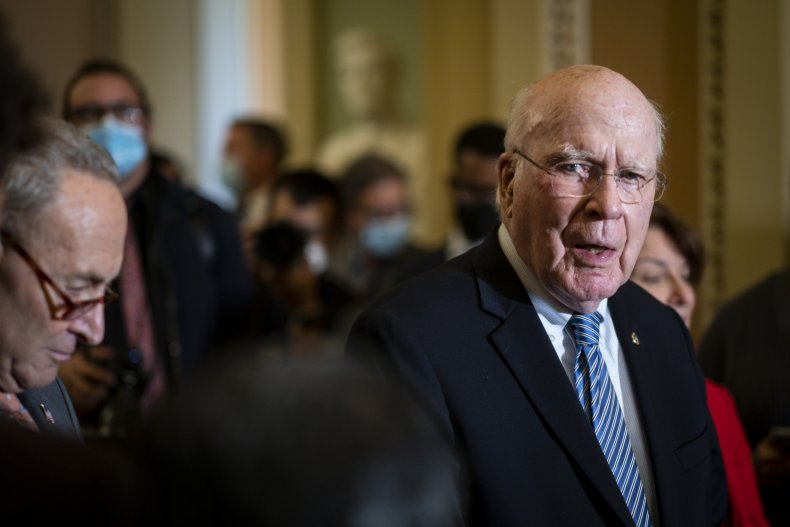 One of the top options to replace Leahy is Democrat Peter Welch. Welch is Vermont's only congressman and has held his seat in the U.S. House of Representatives since 2007. Welch replaced Vermont's independent Senator Bernie Sanders when he left the House 15 years ago.
Welch called Leahy's retirement "historic and bittersweet" and said the senator's "leadership and legacy of service to Vermont will never be exceeded."
Another possible candidate is Vermont Senate President Pro Tempore Becca Balint. The VTDigger reported Balint said that she was "definitely considering" running for Congress in 2022 if there was an open seat.
Balint said Monday that Leahy's retirement is a loss for Vermonters after his "exceptional commitment" to the state.
When asked about whether she will run for Leahy's seat in 2022, Balint told Newsweek: "Senator Leahy's four decades of service warrants time for deep gratitude and celebration. Let's give the senator the respect he deserves and not immediately jump into speculation. I've been clear about my intentions and interest in deepening my work for Vermont, but today I am focused on honoring Senator Leahy, meeting with the governor and speaker to discuss the explosion of COVID cases in our state, and getting the Senate to work for the needs of working families."
It's unclear which Republican would run for Leahy's seat, which is considered to be a likely Democratic seat.
Broadly popular GOP Governor Phil Scott would be a top choice for the party, but he told The Atlantic in May that he didn't have "any interest in running for the Senate."
Jason Maulucci, a spokesperson for the governor, told Newsweek on MondaythatScott "has been clear that he is not running for the U.S. Senate next year. That has not changed."
Scott thanked Leahy for his service and said Vermonters are "indebted" to the senator.
"The senator has been an incredible champion for Vermonters, and his leadership and experience has ensured our state is well represented in Congress," he added. "It is thanks to him, and the funding he's secured for our state, that Vermont is in a position to come out of this pandemic stronger than before and tackle big challenges from broadband and infrastructure to the opioid crisis."