Whoopi Goldberg Dismisses Nikki Haley's Age as 'Not New Generation'
Whoopi Goldberg on Monday said presidential contender Nikki Haley should not characterize herself as part of a "new generation" due to her being 51 years old.
Goldberg made the comments on ABC's The View during a segment about the age of people holding political office in the United States.
The program aired a clip that showed Democratic Representative Maxwell Frost, 26, of Florida and Republican Governor Sarah Huckabee Sanders, 40, of Arkansas calling for younger leaders. The video ended with Haley, the former United Nations ambassador who announced her 2024 presidential candidacy last week, saying it's "time for a new generation of leadership."
"You're not a new generation, you're 51! What are you talking about?" Goldberg said after the clip played.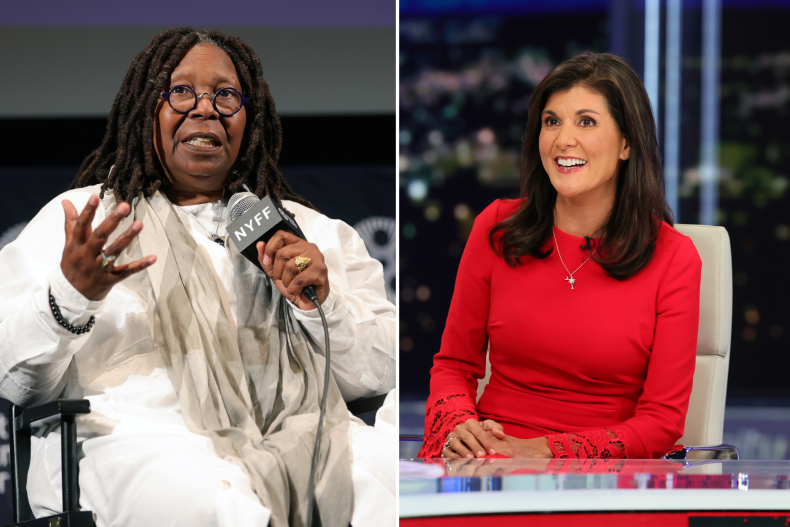 The View co-host Alyssa Farah Griffin interjected that being a 51-year-old is considered a "new generation" by the standards of Washington D.C.
"She may be younger than most of those people, but her rhetoric is the same," Goldberg replied.
Goldberg's remarks about Haley's age come after CNN anchor Don Lemon landed in hot water last week for suggesting Haley is past her prime.
"This whole talk about age makes me uncomfortable. I think it's the wrong road to go down. She [Haley] says people, you know, politicians are suddenly not in their prime," Lemon said on Thursday morning's episode of CNN This Morning. "Nikki Haley isn't in her prime. Sorry. When a woman is considered in her prime in her twenties and thirties."
Lemon had a pre-scheduled day off on Friday, but he also did not return to the air on Monday. Mediaite reported a CNN spokesperson denied he was pulled from the air for his remarks on Haley but was instead taking the President's Day holiday after having "been chased by paparazzi all weekend."
During the discussion of politicians' ages on The View, co-host Sunny Hostin took issue with Haley saying politicians over the age of 75 should be required to take a mental competency test.
"How dare she say that someone over 75 needs some sort of mental acuity test?" Hostin said. "I think she needs a mental acuity test."
"I agree with age comes wisdom. My issues with Biden and Trump are not about their age," Farrah Griffin said. "But on Nikki Haley's point, if there's a test that actually does this, and I'm not super familiar with it, why wouldn't all elected officials [take it]? I'd like Marjorie Taylor Greene to take a mental acuity test as much as a Joe Biden."
Goldberg said she was tired of people citing age as an issue in regard to politicians.
"You can be as old as dirt if you're getting stuff done for America," she said.
Goldberg added, "It's fine if you get a lot of young people put in there, but you still will have to sit at the feet of older people, because you don't know as much as you think you do."
Newsweek reached out to ABC and Haley's political action committee for comment.