Why Amber Heard Said 'Aquaman' Co-Star Was 'Allergic' to Being Ignored
As the high-profile defamation trial between Amber Heard and Johnny Depp continues, old interviews that have resurfaced have left fans wondering what the actors meant by some of the things they said.
One interview with Heard on The Tonight Show Starring Jimmy Fallon has made headlines once again. In 2018, the show brought her on to talk about Aquaman, a Warner Bros. and DC Comics superhero film co-starring Jason Momoa.
Heard and Fallon talked about her character in the film before Fallon mentioned Momoa, saying that the Aquaman star was on the show the day before, and Fallon admitted that Momoa intimidated him.
"How many things did he break?" Heard asked.
Fallon responded, "He did break something over his leg, he did."
Heard added, "No joke, he always, always breaks something. Look at him, he's enormous."
Fallon joked though that Momoa was "kind of like a little kid," to which Heard chuckled and agreed.
"Jason's allergic to being ignored," Heard said. "He can't sit still no matter what. He will push, prod, nudge, shove you, anything to get your attention. Especially if you enjoy a quieter activity like reading."
Heard divulged to Fallon that she enjoyed reading on set while they were filming the movie, and it "drives him [Momoa] nuts."
"He quickly adopted this method to, you know, give himself relief," Heard said. "He just adopted this method of ripping out the last pages of my book. Which is annoying, you get to the last like, 10 pages they'd just be gone."
"That is genius," Fallon laughed.
In 2018, Twitter user John Scalzi wrote, "Re: the Jason Momoa ripping up Amber Heard's books "prank": I have a friend who years ago jokingly ripped up a paperback book of mine because he knew I had another copy of it. I still haven't forgiven him for it. I WILL NEVER FORGIVE HIM FOR IT."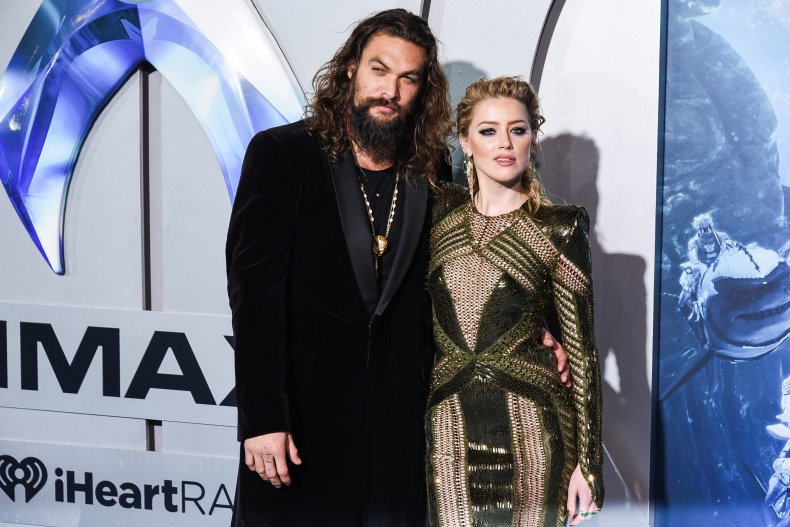 Heard has been sued for $50 million by her ex-husband Depp over an op-ed published by The Washington Post in 2018, in which the Aquaman star stated she is a domestic abuse survivor.
Heard is countersuing Depp for $100 million for nuisance, and while the op-ed did not name Depp specifically, his lawyers have argued that it was clear she was referring to their marriage.
The trial has been a roller-coaster of testimonies, the latest being Heard's as she took the witness stand last week and emotionally described memories in their relationship where Depp allegedly physically and sexually abused her. Depp has also accused Heard of abuse, both having denied the allegations.
And a petition calling to remove Heard from her role in the sequel Aquaman 2 has amassed almost 4 million signatures.
The trial is set to resume on May 16.
Newsweek reached out to representatives for Amber Heard for comment.
Correction 5/12/2022, 6:40 PM: This article previously reported that the petition to remove Amber Heard from Aquaman 2 had almost 2 million signatures. It has been updated to say 4 million.