Why Britney Spears Shaved Off Her Hair—Looking Back 15 Years Later
When Britney Spears fought to be released from her recently-dissolved conservatorship, a light was shone on the difficulties she faced as a woman who had little control over her own life.
Through court testimonies and filings, the pop superstar, 40, told a judge how the minutiae of her personal and financial decisions were under the firm grip of others during the almost 14 years the court-ordered arrangement was in place.
However, one of Spears' cries for help came several years before her court battle when, on February 16, 2007, she walked into a salon in the Los Angeles suburb of Tarzana and proceeded to shave her head bald.
As her flowing locks dropped to the ground, a group of paparazzi and stunned onlookers jostled for space to peer at the moment through the window and document all of it through frantically-snapped photos.
An avalanche of headlines describing Spears' "meltdown" soon followed. A year later, amid concerns for her mental health, she was placed under a conservatorship that she would not see the end of until November, 2021.
Fifteen years after the incident, the judgment that Spears faced at the time would likely be replaced with concern, questions and offers of help—save for the persistently present social media trolls and individuals selling outrage as a product.
At the time, the star is said to have shared the alleged reasons behind shaving her hair, with the answers proving more heart-wrenching than the images of the chart-topping icon's unflattering moments under the public glare.
Spears had left a rehab facility in the Caribbean and made her way back to California, where she went to her ex-husband Kevin Federline's house. She demanded to see their sons, Sean and Jayden, now aged 16 and 15, according to British newspaper the Daily Mirror.
When Federline reportedly refused, Spears drove to Esther's Haircutting Studio in Tarzana and asked the hairdresser, Esther Tognozzi, to give her a buzz cut.
In the 2019 documentary Britney Spears: Breaking Point, which aired on U.K. network Channel 5, Tognozzi said that she attempted to talk Spears out of it, but once her back was turned the star took the clippers and cut her tresses herself.
"She had two bodyguards supposedly keeping an eye out to make sure the paparazzi were not getting any pictures," Tognozzi is quoted as saying, as footage then showed the aides speaking and laughing with photographers at the time.
"My mom is going to freak," Tognozzi recounted Spears telling her, People magazine reported. Pictures from the night show the star both smiling and appearing crestfallen as she broke down in tears, with the reality of what she had just done likely hitting her.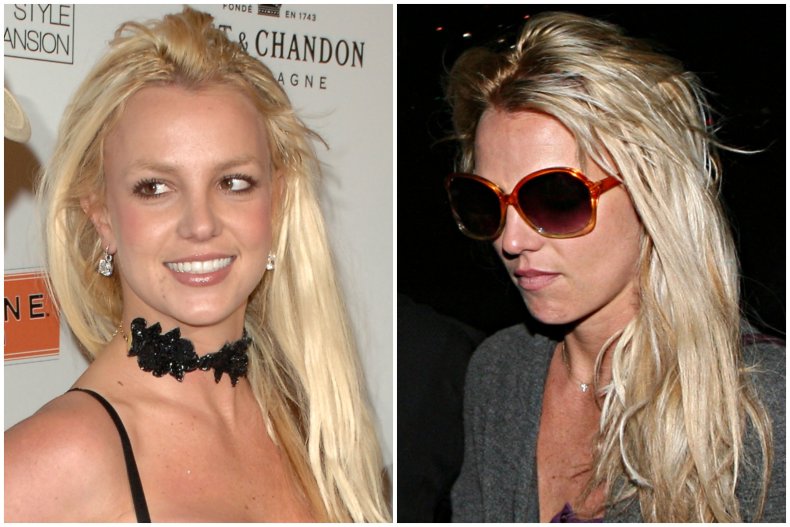 After shaving off her hair, Spears made her way to the Body and Soul tattoo studio in Sherman Oaks where, according to the documentary, she confided in tattooist Emily Wynne-Hughes.
Wynne-Hughes recounted "an insane roaring sound outside" as Spears and the scores of paparazzi who trailed her every move pulled up outside the premises.
"I wasn't sure what was happening, if there was a riot outside and then the flashes came. The door opened slowly and a hooded figure walked in the door," she said.
Once the identity of the mystery figure was revealed to be one of the most famous women on the planet, it was hard to miss that something was different about her.
"I noticed her hair was gone. I remember asking her, 'Why did you shave your head?' And her answer was a bit weird," Wynne-Hughes told The Mirror.
"It was, you know, 'I just don't want anybody, anybody touching my head. I don't want anyone touching my hair. I'm sick of people touching my hair,'" she added.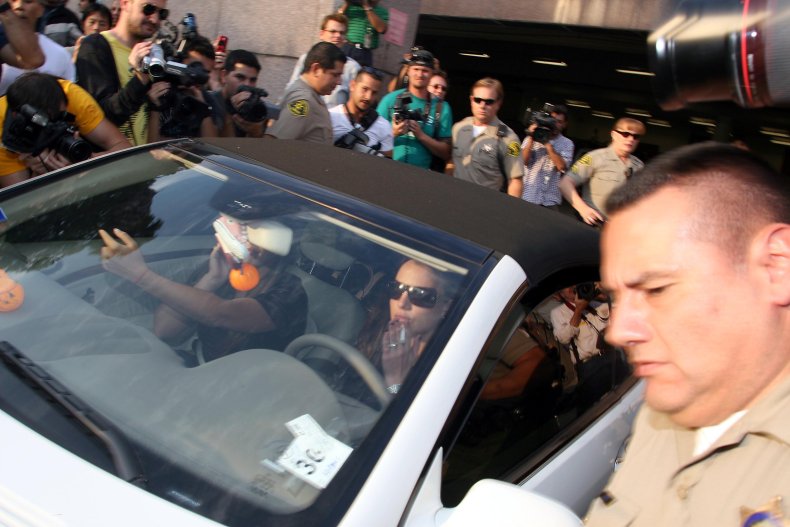 The tattooist shared that Spears switched from wanting a woman's lips inked onto her skin to requesting a small cross. Like Tognozzi, Wynne-Hughes said in the documentary that nobody on Spears' team had attempted to intervene.
"It just didn't seem like they cared very much," Wynne-Hughes said. "I've felt this insane sense of anxiety and energy that felt so negative. It just seemed like everybody was waiting for the crash to happen."
In 2008, after she was placed on a 5150 psychiatric hold, Spears' fortune and personal life decisions would go on to be overseen by her father, Jamie Spears. He stepped down from the personal arm of the conservatorship in 2019 and was suspended from the arrangement altogether in September, 2021.
Thanks to a new legal team and the backing of the #FreeBritney movement across social media, the star received a groundswell of support as she marched toward her goal of taking her personal matters into her own hands after 13 years.
That wish was granted in November, 2021 when a California judge dissolved the conservatorship, leading to celebrations among supporters—and from the star herself.