Why Chemical Waste from Ohio Is Headed to Other States
Contaminated soil and water from the February 3 train derailment in East Palestine, Ohio, is being shipped to Indiana on Tuesday, and could be sent to other states as contractors and officials look to clean up the toxic chemical spill.
Some of the toxic waste had already been transported to Michigan and Texas by railway operator Norfolk Southern, before it was told by the Environmental Protection Agency (EPA) to "temporarily pause" the shipments. Local lawmakers in both states publicly voiced their concerns about the shipments.
The EPA restarted the transportation of toxic waste in Ohio on Monday, but officials suggested that the amount of contaminated material from the site would be too much for disposal sites in Ohio alone to handle.
On Sunday, it announced that some liquid waste would be taken to an EPA-certified underground injection well in Vickery, Ohio, while some of the solid waste would be transported to an incinerator in East Liverpool, Ohio.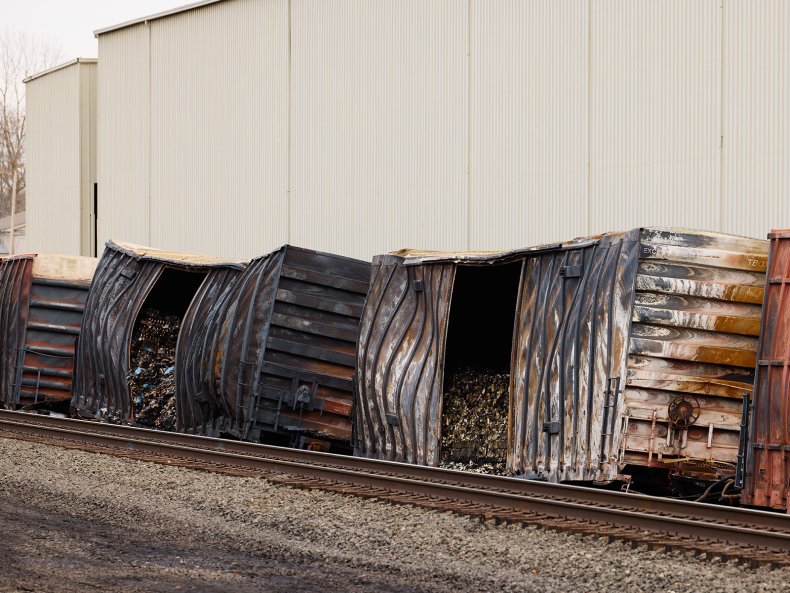 Fifteen truckloads of hazardous solid waste had already been disposed of in Michigan, while five truckloads—carrying about 280 tons—had been returned to East Palestine, Ohio Governor Mike DeWine's office said in an update on Saturday night.
It added that liquid waste had been disposed of at a treatment site in Texas and that 102,000 gallons of liquid waste remained in East Palestine.
On Monday, Debra Shore, the EPA's regional administrator, said at a press conference that more solid waste would be sent to an incinerator operated by Ross Environmental Services in Grafton, Ohio, as well as a Heritage hazardous waste landfill in Roachdale, Indiana. Heritage also operates the facility in East Liverpool.
Shore explained that the two facilities in Ohio that started accepting shipments on Monday "don't have enough capacity to handle all the liquid and solid waste from this clean-up," so the agency began identifying other disposal locations.
The derailment saw 38 of 150 rail cars go off the tracks, 11 of which containing hazardous materials. Officials on the ground have since found toxic chemicals in the soil surrounding the derailment site, as well as in nearby waterways.
The incident sparked a large fire, and emergency responders averted an explosion by intentionally breaching five cars of vinyl chloride and burning it off, sending toxic gases into the air. Since being allowed to return home, residents have complained of symptoms associated with exposure to toxic chemicals, but officials have continually stressed that air readings remain at safe levels.
Regional lawmakers reacted angrily to news that toxic waste had been transported from the site without their knowledge.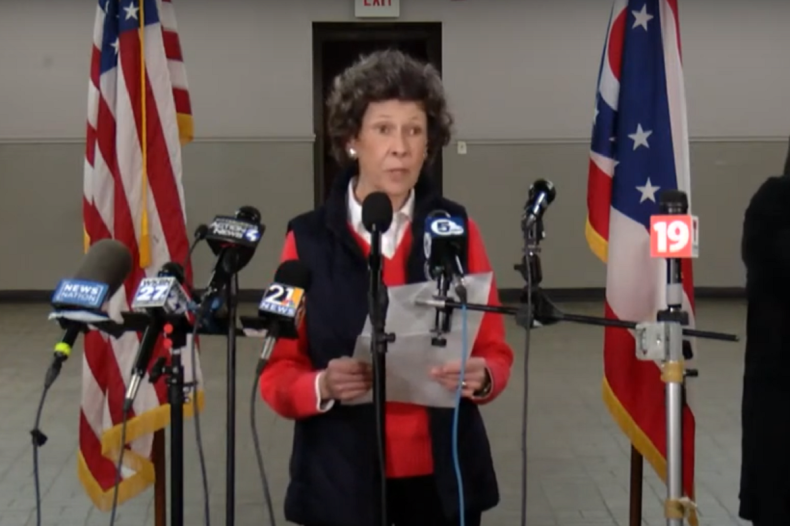 On Sunday, a demonstration was held by local Republicans and residents in Romulus, Michigan. Jim DeSana, a GOP state representative, said at the protest: "Stop these shipments. Do not bring these shipments to Michigan."
Officials in Texas said that they had been unaware that toxic materials from the crash were being taken to a site near them until told by the press.
"That's unacceptable," Harris County Judge Lina Hidalgo said. "I know our community was taken aback by the news just as much as I was."
Shore said on Monday that since those shipments, the EPA "had promised to notify elected officials and our state agency partners before approving the shipment of any waste from the derailment to their state or district, and we have done that."