Mike DeWine Faces Calls to Resign as Anger Grows in Ohio Over Disaster
The Governor of Ohio and the Environmental Protection Agency (EPA) faced protests at the weekend over the state's response to a train derailment near the border between Ohio and Pennsylvania and the shipment of toxic waste from the site.
Mike DeWine faced calls to resign over the state's handling of the crash, while the federal agency was told by lawmakers and concerned residents in other states to dispose of the waste in Ohio.
The demonstrations came as the EPA told railway operator Norfolk Southern—whose contractors were responsible for waste disposal—to "temporarily pause" shipping of waste to disposal sites in Michigan and Texas.
On Sunday, it said it would now be taken to two sites within Ohio, and stressed its "decades of experience dealing with hazardous waste."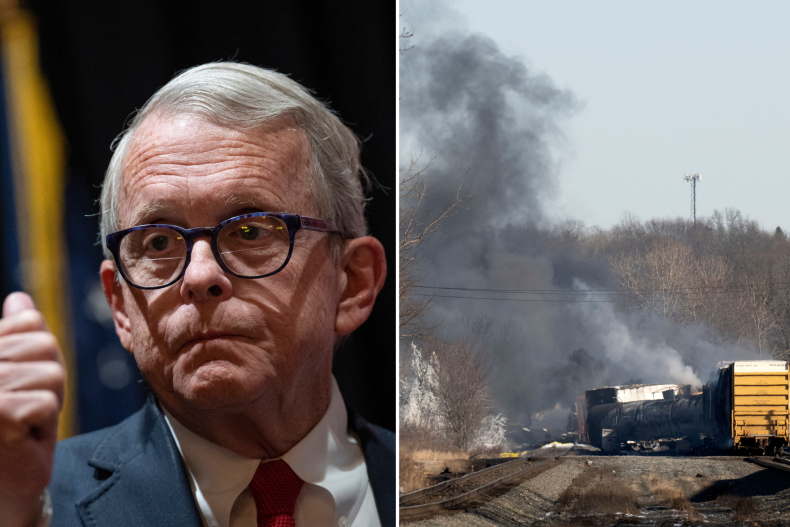 Over the weekend, the EPA took control of the disposal of contaminated waste from Norfolk Southern, which had been previously "solely responsible" for it, marking a transition from a state-led response to a federal clean-up operation, it said.
Following the crash, officials on the ground found toxic chemicals in the soil surrounding the derailment site, as well as in nearby waterways. Since being allowed to return home, residents have complained of symptoms associated with exposure to toxic chemicals, and residents with private wells have been told to drink bottled water.
DeWine acted as the face of the response to the initial phase of the incident, appearing in East Palestine, a town near the crash site, as an evacuation order was lifted on February 8. He has yet to declare an emergency or disaster in his state, and so the federal response has been limited; the response from the Biden administration has also faced criticism.
Video footage shared on Twitter showed a group of protesters outside the Ohio Governor's official residence in Bexley, Ohio, on Saturday chanting "DeWine must resign."
"These are not the first citizens to protest the governor, and they won't be the last," DeWine's spokesperson told Newsweek. "It comes with the territory.
"The protesters were chanting that the governor should have called FEMA in; the Ohio EMA has applied for a disaster declaration from FEMA for posterity, as FEMA has verbally informed [us] the East Palestine disaster would not be eligible for FEMA disaster declaration," the spokesperson added.
On Sunday, a demonstration was also held by local Republicans and residents in Romulus, Michigan, in response to news that hazardous materials from the crash site were set to be transported to a hazardous waste treatment and disposal facility nearby.
Kristina Karamo, chair of the Michigan Republican Party, said it was demanding "just like every other resident in Michigan irrespective of political affiliation, that we have clean air and clean water. This is not a partisan issue; this is a human rights issue."
Jim DeSana, a GOP state representative, claimed in a speech at the protest that local lawmakers had not been made aware of the shipments until after some toxic waste had already been moved.
"Little did I know living in Carleton that the Ohio derailment would be coming right to this district, right to my area," he said. "Stop these shipments. Do not bring these shipments to Michigan."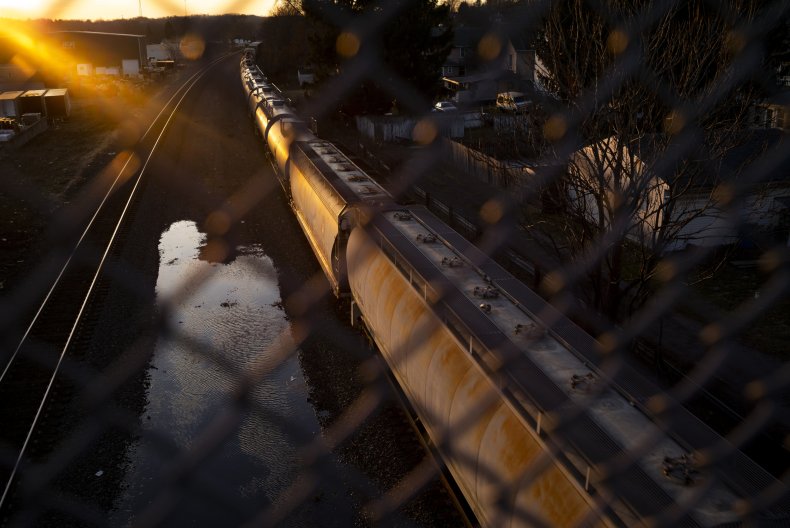 Newsweek has reached out to the EPA and Norfolk Southern for comment.
Fifteen truckloads of hazardous solid waste had been disposed of in Michigan, while five truckloads—carrying around 280 tons—had been returned to East Palestine, the Ohio Governor's office said in an update on Saturday night.
It added that liquid waste had been disposed of at a treatment site in Texas, but that "no additional liquid waste will be accepted at the Texas facility at this time." Some 102,000 gallons of liquid waste remained in East Palestine.
Officials in Texas also said that they had been unaware that toxic materials from the crash were being taken to a site near them until told by the press.
"That's unacceptable," Lina Hidalgo, judge of Harris County, said. "I know our community was taken aback by the news just as much as I was."
The EPA said that shipments of toxic waste would resume on Monday, this time some liquid waste would be taken to an EPA-certified underground injection well in Vickery, Ohio, while some of the solid waste would be transported to an incinerator in East Liverpool, also in the state.
"All of this is great news for the people of East Palestine and the surrounding community, because it means clean-up can continue at a rapid pace," Debra Shore, administrator for the EPA's fifth region, told a press conference on Sunday. "We owe it to East Palestine and residents nearby to move waste out of the community as quickly as possible."
Additional waste disposal locations were being sought, she added.
Update 02/28/23, 3:03 a.m. ET: This article was updated to include comment from Mike DeWine's spokesperson.