Why Did Kourtney Kardashian and Scott Disick Break Up?
The Kardashian-Jenner family is back with their brand new reality series aptly titled The Kardashians on Hulu. The five famous sisters are back alongside "momager" Kris Jenner and close friends and family of the Kardashians, including the sisters' romantic partners.
Scott Disick, a fan favorite on the Kardashian's old reality series Keeping Up With the Kardashians and several of its spin-offs also stars in The Kardashians on Hulu but things are inevitably a little different, considering he and Kourtney Kardashian are no longer together.
In fact, Kourtney and Scott have not been officially together since 2015 (yes, really!). Despite both moving on with other people—Kardashian is currently engaged to Blink 182 drummer Travis Barker—things are still a little awkward between the former couple, as seen in Episodes 1 and 2 of The Kardashians, particularly when Scott does not get an invite to a family BBQ.
So, why did Kourtney and Scott break up? Newsweek has everything you need to know.
Why Did Kourtney Kardashian and Scott Disick Break Up?
After years of speculation since their break-up, Kourtney finally revealed the details of why she and Scott called it a day after almost two decades together.
In true Kardashian fashion, the moment Kourtney decided to tell the world about the inner details of their relationship was caught on camera during a Kardashian family reunion that Scott was also attending.
After Keeping Up With the Kardashians ended in summer 2021, the Kardashian-Jenner family (and Scott) took part in a Keeping Up With the Kardashians reunion special with Andy Cohen. Kourtney was asked if she and Scott had ever hooked up since their break-up over six years ago, to which she replied: "People cannot believe that, but we have not. For real."
In true Scott fashion, he joked in response: "How annoying!"
Cohen then pressed Kourtney on why they had split in the first place, with Kourtney revealing that it was down to Scott's substance abuse, not his cheating.
After nine years together, Scott and Kourtney's relationship ended in July 2015.
At the time, there were pictures of Scott getting close to stylist Chloe Bartoli in Monte Carlo, which many speculated was the cause of their break-up, but as confirmed by Kourtney herself, it was Disick's substance abuse.
In October 2015, Disick entered rehab to treat his alcohol and drug-related issues.
Kourtney said: "The infidelity, I only knew about it at the end, so I think the substance abuse was the deal-breaker."
After Kourtney's admission, Scott confessed: "I don't want to make any excuses for my behavior. I definitely wouldn't have done these things sober, but it was all wrong. I just thought it was normal, to be honest."
In a bittersweet moment, Kourtney said "probably" when host Cohen asked whether their relationship would have survived if they had not shared so much on the show.
She added: "I think everything happens for a reason. That's what was meant to be."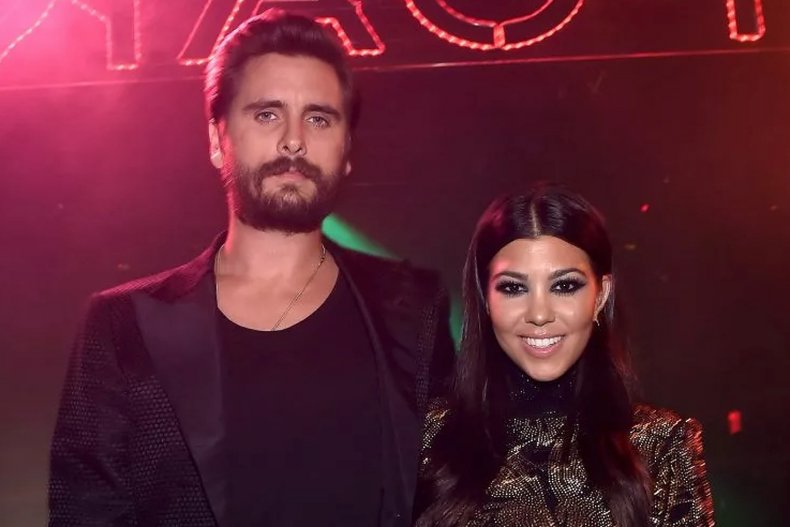 Kourtney and Scott met in 2006 at a party in Mexico, hosted by Girls Gone Wild's Joe Francis.
For several years they were on-and-off, before getting back together and welcoming their son Mason into the world in December 2009.
Then in July 2012, they had a baby girl, Penelope Scotland Disick, and in December 2014 their son Reign Aston Disick was born.
Since their breakup, Kourtney and Scott have moved on with entirely different relationships and have been co-parenting their three children.
Most famously, Kourtney dated Younes Bendjima, Sofia Ritchie, and later, Real Housewives of Beverly Hills personality Amelia Gray.
Today, she is engaged to Travis Barker and Scott is believed to be dating model Rebecca Donaldson.
Speaking in The Kardashians on Hulu, Kourtney addressed the drama surrounding her break up from Scott and her new relationship with Barker.
In a confessional, Kourtney said she and Scott had been broken up for seven years and she gave him "10 years before that," so does not understand the big deal, adding: "Let's not hate on a girl who knows what she deserves."
The Kardashians airs Thursdays on Hulu.