Finland's Foreign Minister Pekka Haavisto on Thursday said his country is continuing to work toward becoming a member of NATO, a goal that will seemingly be more difficult for Ukraine to achieve.
Russian President Vladimir Putin used Ukraine's NATO ambitions to justify his invasion of the country. Ukrainian President Volodymyr Zelensky has also recently acknowledged that his country will likely not be joining the organization in the immediate future, blaming the hold-up on its admission to NATO's fear of retribution from Russia.
Meanwhile, Finland is racing toward acceptance into the post–World War II alliance. As for why Finland, as well as Sweden, may join NATO soon while Ukraine will not, the answer may simply be because NATO does not believe Ukraine is ready.
"The feeling was, and probably still has been, that Ukraine hadn't completely taken care of political corruption, that it was still developing its democracy," Stanley Sloan, an expert in transatlantic relations at Middlebury College and a former international security officer, told the McClatchy news agency in February.
Even still, there's a feeling among some experts that Ukraine can still hold onto hope of eventually gaining entry, and Russia's invasion may have rallied NATO support behind Ukraine's admittance.
"Even though there's not NATO membership for Ukraine right now, the relationship between NATO and Ukraine has never been closer," Jonathan Katz, the director of democracy initiatives and a senior fellow with The German Marshall Fund of the United States, told Newsweek.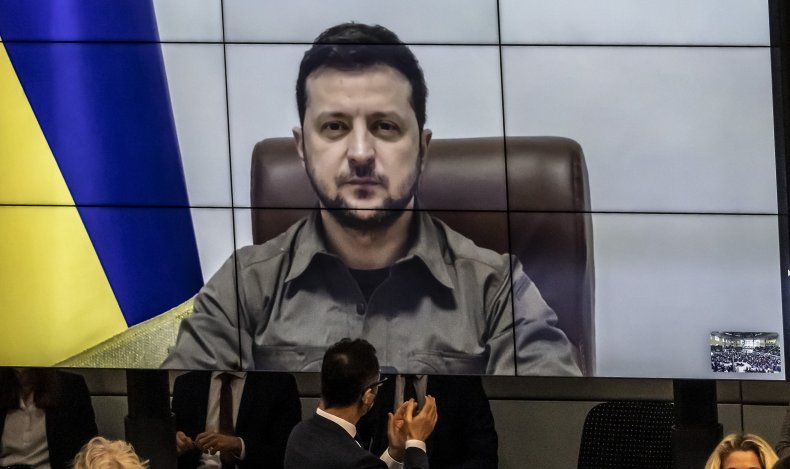 Certain criteria must be met before a country gains entry into NATO. Namely, the nation must show a commitment to democracy, as well as individual liberty and support for the rule of law.
On a scale of 0 to 100 with 100 being "very clean" and zero being "highly corrupt," Ukraine scored a 33 in a 2020 report from the anti-corruption watchdog Transparency International. It placed Ukraine 117 out of 180 countries on its corruption index, lower than any current NATO nation's score, according to The New York Times.
With scores of 85, indicating there is little corruption, Finland and Sweden were both ranked third out of 180 countries by Transparency International.
NATO doesn't invite countries to join, rather, countries must apply and go through a process. The organization has what it calls an "open-door policy" for membership. Under the original 1949 treaty, any European nation has the right to ask to join, but it must meet certain "political, economic and military goals."
Putin spoke out against Ukraine joining NATO in 2008 when Ukrainian President Victor Yushchenko signed a statement that asked for Ukraine to be considered for NATO membership under Membership Action Plan program. NATO denied Ukraine's admittance at the time, and then the country experienced some political shifts that further complicated the process.
"Let's not forget that Ukraine has gone through a series of years where they weren't advocating for membership in NATO," Katz said.
The period Katz is referring to came following Viktor Yanukovych's election to the presidency of Ukraine in 2010 and his decision not to pursue NATO membership. But momentum began building again for joining the alliance when Ukraine's parliament amended the constitution in 2019 to include a course of action for joining NATO and Zelensky began championing the cause the same year.
NATO leaders also once again began to consider Ukraine joining during the June 2021 Brussels Summit. At that time, NATO Secretary-General Jens Stoltenberg said Russia could not interfere in the process.
However, some countries have been wary to admit Ukraine into NATO, with France and Germany notably opposing the move in 2008. In a vote that requires unanimous consent from member countries, any opposition could kill Ukraine's NATO ambitions.
Russia's invasion on February 24 likely further stalled Ukraine's aspirations. Katz said Ukraine gaining NATO entry is "unlikely during this conflict, which is also gives Russia an upper hand in blocking" the membership.
"Sweden and Finland both have long-standing relationships with NATO and NATO member states in terms of security for decades," Katz noted. "It's quite clear that to base this and their long-term standing relationship through the EU—through military cooperation and partnership—that these countries are well-placed to not only join but to contribute to NATO security."
Ukraine has recently garnered much sympathy from NATO, as well as proven the case that it could use protection from Russia's aggressions, Katz said. Even still, Zelensky seems realistic with his exceptions.
"When you hear President Zelensky, I don't think Ukraine is in any way giving up on NATO membership," Katz said. "But I think there's a recognition that we hear from Ukrainians that this isn't going to happen tomorrow."
Newsweek contacted NATO for comment but did not hear back in time for publication.