Ukrainian President Volodymyr Zelensky asserted Friday evening that Ukraine would actually make NATO "much stronger," saying that his Eastern European nation is not a "weak state."
The current Ukrainian constitution requires the country's leaders to seek full NATO membership. However, even before Russian President Vladimir Putin's internationally condemned full-scale invasion of Ukraine, which began on February 24—many analysts said that NATO was unlikely to admit the Eastern European country.
As the war has dragged on into its second month, Ukrainian leaders and negotiators with Russia have signaled that they would be willing to stop pursuing NATO membership in the interest of ending the war. Zelensky, however, during his interview with Fox News argued that Ukraine would benefit the Western alliance.
"It's hard for us to talk about NATO because NATO doesn't want to admit us," Zelensky told Fox News anchor Bret Baier through an interpreter. "I think it's a mistake because if we join NATO, we make NATO much stronger. We are not a weak state. We are not proposing to make us stronger at the expense of NATO. We are an addition, we are the locomotive. I think we are one of the important components of the European continent."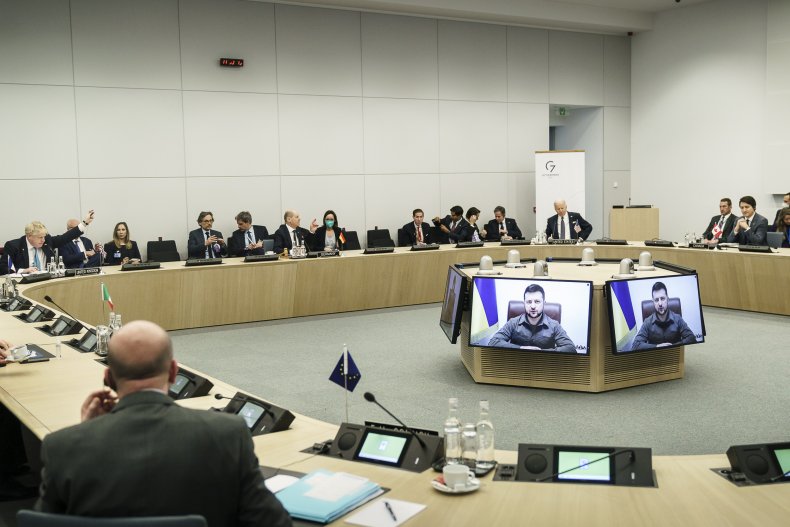 He warned that he does not believe Putin will be satisfied with taking control of part or all of Ukraine. "The more you give them the more their appetite grows," he said. The Ukrainian leader also said that his country "will answer with full strength" when facing Russian aggression.
Zelensky once again urged the U.S. and its NATO allies to provide more weapons to his country. "Just give us missiles, give us airplanes, you cannot give us F–18 or F-19 or whatever you have, give us old Soviet planes. That's all. Give them into my hands. Give me something to defend my county with."
The U.S. and Western allies rapidly responded to Russia's assault on Ukraine by providing billions of dollars in military and humanitarian aide to the country. They have also implemented stringent sanctions targeting the Russian economy, as well as Putin and other Moscow elite directly.
After more than a month and a half of war, Russia appears to have largely "failed" to achieve its initial objectives in Ukraine, according to multiple expert analysts. Russian troops have been unable to take control of any major Ukrainian cities and Zelensky's government in Kyiv remains in place. Meanwhile, Ukrainian forces have outperformed many Western analysts' initial expectations.
NATO has estimated that as many as 15,000 Russian soldiers were killed in the first month of the conflict. To put that in perspective, less than 2,500 U.S. service members were killed in the two decades of the war in Afghanistan. Russia insists the number is far lower, however.
Ukraine, which is the second largest country in Europe in terms of territory after Russia, has long been viewed as a key area to control in order to strengthen great powers. During World War II, Nazi Germany leader Adolf Hitler viewed control of Ukraine as a top priority, with some historians assessing Hitler fought World War II due to his desire to control the Eastern European nation, which was then part of the now-defunct Soviet Union.
Hitler's "central war aim is to destroy the Soviet Union and to control the oil fields in the Caucasus, but above all, to control the rich soil of Ukraine," Timothy Snyder, a historian and professor at Yale University specializing in the history of Central and Eastern Europe, recently told The Ezra Klein Show podcast.
Ukraine has long been a strong agriculture economy and Hitler saw its farms as necessary in order to shore up Germany's power and dominance.
"All the agriculture will be diverted West to Germany to allow Germany to become a kind of balanced economy and this great empire," Snyder explained. "So it's all about Ukraine. The Second World War, in Europe at least, is all about Ukraine."
Putin has said that he does not view Ukraine as an independent nation and has floated the goal of reconstituting the territories of the former Soviet Union under Moscow's control. The Russian president also bizarrely accused Ukraine of being led by "neo-Nazis"—despite the fact that Zelensky is Jewish and had family members die in the Nazis' Holocaust genocide during World War II.
Zelensky told Fox News that "truth" is on the Ukrainians' side. "A victory of truth means a victory for Ukraine and Ukrainians," he said. "The question is when it will end. That is a deep question. It's a painful question. Besides victory, the Ukrainian people will not accept any outcome."
Newsweek reached out to Russia's embassy for comment, but did not immediately receive a response.