Ukrainian President Volodymyr Zelensky may be giving up on Ukraine joining NATO, a concession that could help in negotiations with Russia over its demands for ending the war.
Joining NATO has been a top foreign policy priority for Ukraine, but on Tuesday, Zelensky acknowledged it may be a pipe dream. Russia vehemently objected to Ukraine's inclusion in NATO, as it would give the country security guarantees against Russia, and demanded it cease its pursuit of membership.
While there are implications to giving in to Russia's demands, when it comes to negotiating NATO membership, experts believe it's a concession Ukraine may be able to make.
"It's clear if you read between the lines that Ukraine will never be a part of NATO," Michael Kimmage, a professor of history at Catholic University and fellow at the German Marshall Fund, previously told Newsweek. "That's a concession on paper, it's not a concession in reality."
At a Tuesday meeting with the United Kingdom's Joint Expeditionary Force in London, Zelensky acknowledged that NATO membership was a long shot. He said Ukraine heard for years that NATO's doors were "open," according to the Ukrainian news outlet Trukha. However, he said Ukraine has learned the doors are "not" as open as they once thought, pointing to NATO's refusal to close Ukrainian airspace, so Ukraine is beginning to "count on our own strength."
Without NATO membership, Zelensky said Ukraine needs "new formats of interaction with the West and separate security guarantees."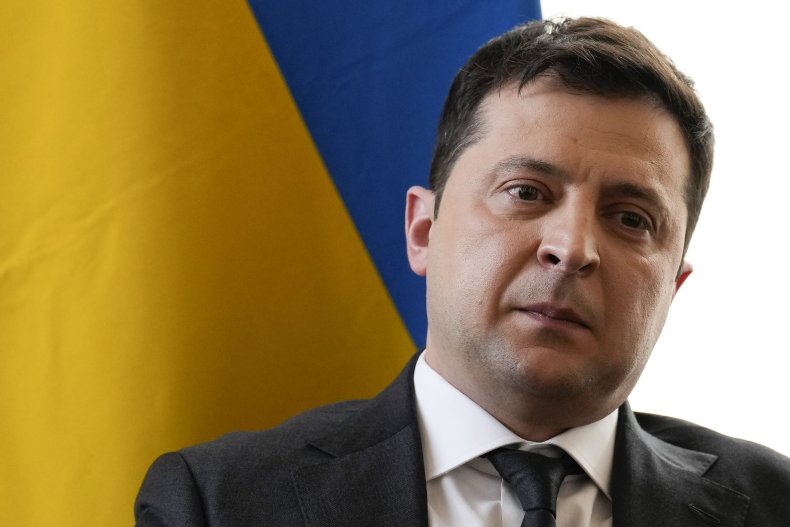 Zelensky's comments weren't a formal concession in negotiations with Russia and saying Ukraine won't pursue membership with NATO may not be enough to placate Putin. Yuri Zhukov, an associate professor at the University of Michigan previously told Newsweek that Russia doesn't trust Ukraine's current leaders to make lasting commitments. Given that Ukraine is a Democracy, Zhukov said unpopular agreements can be undone when the next administration comes into office.
So, Russia is hoping for more stringent guarantees. The Kremlin wants specific changes made to Ukraine's constitution rejecting attempts to join NATO or the European Union. Russia's overall goal is to demilitarize Ukraine, something Zelensky can't agree to if he wants to ensure the safety of his country, but Ukraine acquiescing to not joining NATO could help pave the way for negotiations.
However, conceding on the issue can't include Ukraine giving up the international aid it currently receives. The United States and other countries have been supplying Ukraine with military equipment to help it mount its own defense against Russia's attacks. Not joining NATO, but continuing to receive international aid, would be a "perfectly survivable arrangement" for Ukraine, according to Keith Darden, an associate professor at American University's school of international service, previously told Newsweek. But, it's unclear if Russia would accept a compromise that barred Ukraine from NATO while allowing it to continue receiving assistance.
Ukrainian resistance to Russia's invasion shocked much of the world and a Russian official admitted the plan is going slower than expected. However, Putin's ability to hold onto power is reliant on him not appearing weak and the Russian president is ramping up the assault in the hopes of crushing Ukraine into submission.
Both Russia and Ukraine are taking on heavy casualties as the war approaches its third week and representatives from both sides have been engaged in negotiations to end the conflict. On March 13, Leonid Slutsky, a senior member of Russia's negotiating team, told RT, a Russian state media outlet, said their side saw "significant progress" being made.
Ukraine also had a hopeful view of the negotiations and Mykhailo Podolyak, a member of the Ukrainian delegation, said it was possible there would be "concrete results within days." Talks are expected to continue on Wednesday as Russia ramps up the onslaught on the capital city of Kyiv.
Russia's four demands for ending the war aren't conditions Ukraine can agree to because it would essentially signal the downfall of the country. However, Ukraine's pursuit of NATO membership helped Russia justify the invasion and Putin's unlikely to sway significantly on the issue while a complete abandonment of the demand would make him out to be a weak leader.
But, if the two could reach a compromise where Ukraine ends its pursuit of official membership while maintaining the military assistance it receives, it could be a promising step toward the end of the war. However, experts remain skeptical if a peace agreement can be reached.
For live updates on the war in Ukraine, visit our live blog.