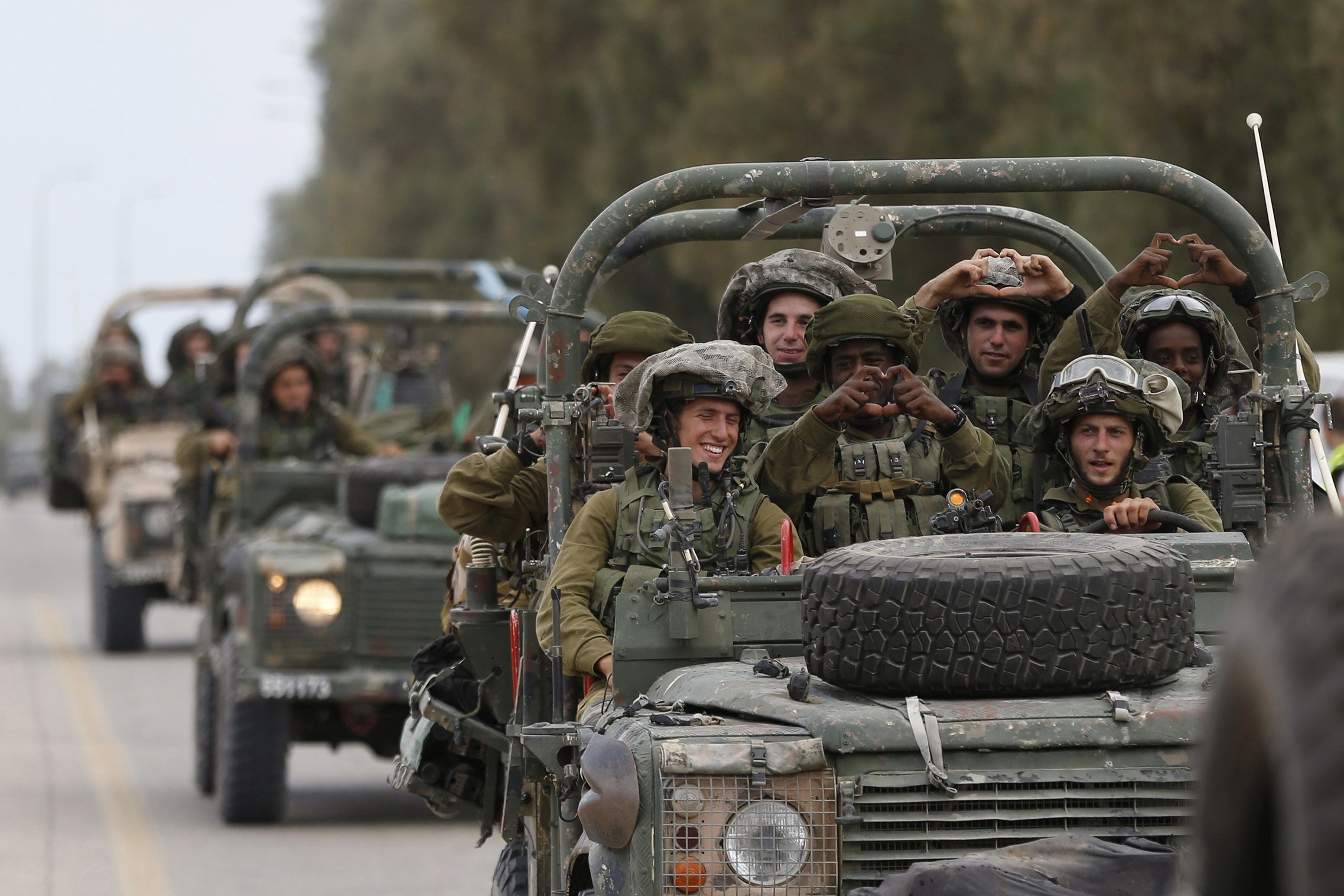 Tel Aviv -- It is day 10 of Israel's war with Gaza. It is hard to believe that I am even saying that, and that we have been living through this strange routine for 10 days. I cannot imagine what it was like to live through the London Blitz.
[Related: Israel Launches Ground Invasion of Gaza | Foreign Journalists Ordered to Evacuate Beach Hotels in Gaza]
The original version of this article said that we in Tel Aviv had not heard any missile alert sirens today. However, as I was editing this piece the sirens went off. Again, we rush to the protected area – explosions in the air – another attack on Tel Aviv. Seven missiles fired, seven missiles shot down.
This morning I went out with my son for what has become a morning routine – breakfast at a nearby café. As we got up to leave the café we started receiving news alerts on our phones of a missile attack on the Coastal region. No sirens went off. We rushed home.
Suddenly we heard the relatively distant sound of explosions in the sky. This was the sound of missiles directed at a neighboring town being shot down. We arrived home to find out that although there had been a failed missile attack on our area, the major news item was of a different sort of unsuccessful attack.
There had been an attempt by Hamas to sneak heavily armed fighters into Israel, in order to kill and kidnap members of a Kibbutz near the border. News reports were showing images caught on camera by Israeli observation points of 13 terrorists emerging from a tunnel inside Israel.
Within a minute of their sighting, an Israeli aircraft fired a rocket at them, causing the terrorists to return to their tunnel and escape. The aborted attack through the tunnels will have a major effect going forward – but more on that front in a moment.
At 10 a.m., a five-hour humanitarian truce went into effect, as requested by the U.N. In Gaza, people when out to get basic goods. In Tel Aviv it was a chance to take care of errands that had been put off.
For a few hours, even the streets of Tel Aviv were a little more crowded than they have been recently. A few mortars were fired from Gaza, in the middle of the cease-fire, but by and large the cease-fire was observed. At the same time, rumors spread there was going to be a permanent cease-fire starting from 6:00 a.m. tomorrow morning.
After reading my Twitter feed I looked up at one of our house guests (who has been largely stranded in our apartment) and said, "Hopefully after tomorrow you can start traveling again." However, that was not to be. It soon became clear that it was a false report. Once again, it seems that Israel agreed to an Egyptian proposal, but Hamas did not.
When 3 p.m. arrived, Hamas resumed its attacks on Israel by first firing missiles at Beersheba, Ashkelon and Ashdod. An hour later they tried, once again, to attack Tel Aviv. Once again, the sirens did not go off since the missiles were not going to land on Tel Aviv but a city next door.
This time, since I had not gone to our secure space, I had a bird's-eye view (right out my living room window) of an Iron Dome Tamir rocket intercepting a Hamas missile over the Tel Aviv metropolitan area. So now I can sit on my living room couch and watch a war in real time. This is a surreal experience.
A few other interesting developments: This afternoon UNRWA (the United Nations Relief and Works Agency for Palestine Refugees in the Near East, the UN agency that provides relief for Gaza residents) complained they had discovered 20 Hamas missiles in one of its schools. What was unusual, was not that the missiles were there, but that UNRWA complained.
Hamas also tried, once again, to fly a small, armored remote-control plane into the city of Ashdod – and once again, the plane was intercepted and destroyed by a Patriot missile.
Prime Minister Netanyahu made the announcement tonight that Israel was sending ground troops into Gaza. The goal of the mission is limited, but once you enter, you never know what can happen. The reaction of the average Israeli to the announcement and what they are all seeing live on their television reinforces is that they will need to live through a minimum of another 14 days of rocket fire.
There is a grim determination that there is no choice, there are no easy solutions, combined with a hope that as few lives as possible will be lost in the coming days.
Political historian Marc Schulman is the editor of historycentral.com. An archive of his recent daily reports from Tel-Aviv can be found here. He is also a columnist for the Times of Israel.