Why is There a Heinz Tomato Ketchup Shortage in the U.S.?
Ketchup is the latest product facing a pandemic-related shortage, as the last year has seen stores and restaurants run out of products such as toilet paper, aluminum cans, and pepperoni.
Now, due to pandemic-related issues including shifted consumer behavior and health and safety guidelines regarding indoor dining, restaurants across the U.S. are running out of ketchup packets, as reported by The Wall Street Journal.
Heinz, the company with the highest market share of ketchup, has been hit by the shortage, resulting in restaurants testing alternatives.
Ketchup Packets Over Bottles
Restaurants are facing a shortage of ketchup packets, partly because the pandemic has forced restaurants to shift from indoor dining to takeout, increasing the demand for individual sachets as opposed to tabletop bottles.
Additionally, restaurants open for indoor dining have also faced a shortage of packets, as COVID-19 guidelines dictate that restaurants should use individual condiment packets over tabletop bottles to curb the spread of the disease.
The Centers for Disease Control and Prevention (CDC) suggests that restaurants: "Avoid using or sharing items that are reusable, such as menus, condiments, and any other food containers.
"Instead, use disposable or digital menus (menus viewed on cellphones), single-serving condiments, and no-touch trash cans and doors."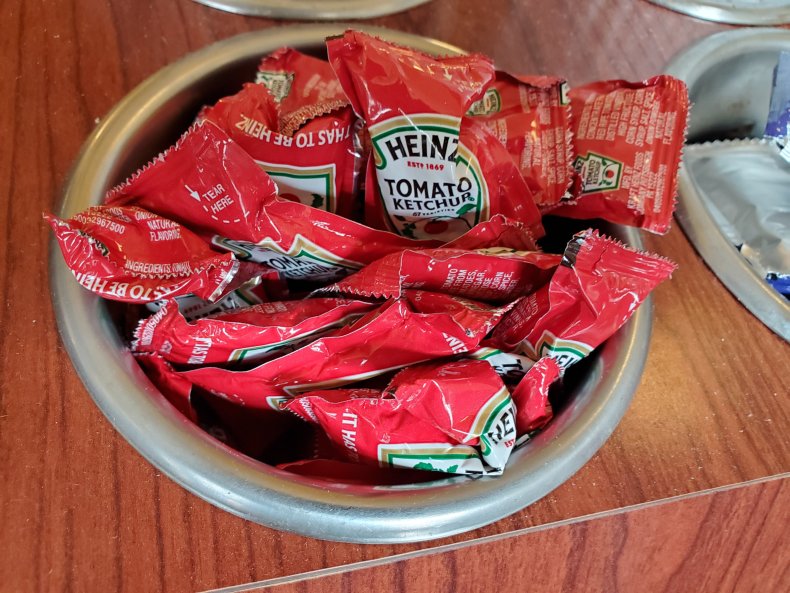 The increase in demand for ketchup packets became clear last summer. In July, CNN reported that since restaurants began opening in May they had seen a 40 percent increase in sales of single-serve condiments compared to last year.
Increase in Ketchup Bottle Sales
Stay-at-home orders may have sparked an increase in retail ketchup sales too. Data from research firm Euromonitor indicates that retail ketchup sales in 2020 were around 15 percent higher than in 2019, as reported by The Wall Street Journal.
Heinz Tomato Ketchup Shortage
Heinz, which holds nearly 70 percent of the U.S. retail market for ketchup, has been impacted the most and has struggled to meet demand.
To catch up with the ketchup shortage, Heinz plans to open new manufacturing lines, beginning with two in April, with the aim of increasing production by 25 percent and bringing the total of ketchup packets produced per year to 12 billion.
In the meantime, some restaurants that typically rely on Heinz as their go-to ketchup brand have had to settle for alternatives and use generic brands.
According to The Wall Street Journal, Texas Roadhouse was among the restaurant chains that were running low on Heinz bottles. Restaurant managers had to head to Costco to find alternatives and the chain is now testing other ketchup brands as a result.
Ketchup is the latest in a long list of products that have faced supply issues since last March.
A shortage of aluminum cans occurred when soft drink companies and breweries increased their production of canned drinks as restaurants, pubs, and bars closed. Concurrently, demand for canned drinks increased as consumers spent more time at home under quarantine orders.
Last March saw a flour shortage as people stuck at home spent more time baking, increasing the demand for flour. Supplies struggled to keep up with the distribution, resulting in empty shelves.
Finally, pizza fans were hit by a pepperoni shortage last year, as production of America's favorite pizza topping slowed while demand for takeout pizzas increased.