Why Is Hope Hicks Resigning? Trump Communications Director Stepping Down After Russia Investigation Interview
White House communications director Hope Hicks is resigning from her post in the coming weeks, not 24 hours after her interview with the House Intelligence Committee regarding the Trump campaign's Russia ties.
There's no word yet about her post-Trump White House plans or the exact date of her departure, according to The New York Times, though President Donald Trump hinted that the 29-year-old had approached him about "other opportunities." The Times also reported that Hicks had been contemplating stepping down "for several months."
"Hope is outstanding and has done great work for the last three years," Trump told the Times in a statement. "She is as smart and thoughtful as they come, a truly great person. I will miss having her by my side, but when she approached me about pursuing other opportunities, I totally understood. I am sure we will work together again in the future."
Chief of staff John Kelly similarly praised Hicks, calling her a "trusted adviser and counselor" who did a "tremendous job overseeing the communications for the president's agenda."
"She has served her country with great distinction," he continued. "To say that she will be missed is an understatement."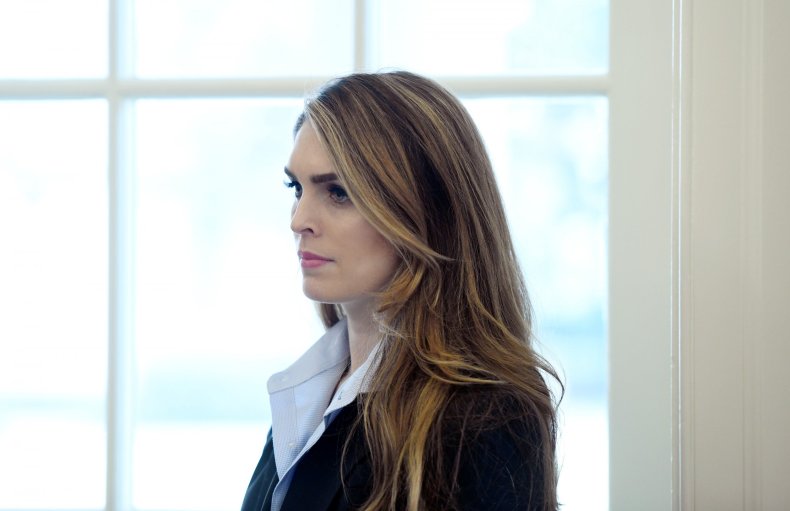 Hicks is one of the president's longest-serving advisers—acting as his campaign spokesperson during the 2016 election—and seems to have been loyal to Trump during her tenure in the White House. Hicks reportedly told the House Intelligence Committee during her more than eight-hour-long interview that she had, on occasion, told white lies for the president.
Hicks became implicated in special counsel Robert Mueller's investigation when Mark Corallo, a former spokesperson for Trump's legal team, told Mueller about a conference call he was on with Hicks and the president, during which time she reportedly promised that the communications between Donald Trump Jr. and a Russian lawyer about damaging Hillary Clinton's campaign would "never get out."
They did, in July, and news of Hicks's alleged promise to keep the emails under wraps emerged earlier this month.
During her interview before the House Intelligence Committee, Hicks, like many of the other members of the Trump administration, declined to answer several questions about the Trump transition period or her time working for the president, much to committee members' chagrin.
"We got Bannoned!" Democratic Representative Denny Heck said after the interview, referring to former White House chief strategist Steve Bannon, whom the committee may consider holding in contempt for refusing to answer all but 25 questions.
Reflecting on her time in the Trump White House—which, for many, has been colored by unrelenting tumult, resulting in large part from Mueller's investigation—Hicks simply told the Times she had "no words" to express her thanks to Trump.