Why Insulin Price Cap for Private Insurers Won't Be in Reconciliation Bill
Senate Democrats' plan to cap out-of-pocket insulin costs to $35 per month for people with private insurance won't be in their new spending bill after Republicans killed the proposal on Sunday while citing procedural concerns.
Lowering insulin prices is a priority for Democrats, who argue the high cost of the drug in the U.S. warrants legislative action. Insulin prices can range from $334 to $1,000 a month in the U.S., according to a 2020 Kaiser Family Foundation report. Americans typically pay about 10 times more than people from 32 other countries, according to a 2020 government survey.
Despite bipartisan support for lowering insulin costs, efforts to cap the price of the drug, used by millions of Americans to help manage diabetes, stalled in the evenly-divided Senate.
Democrats' hopes of passing a cap on insulin prices for Americans with private insurance grew in recent weeks following a deal reached between Senate Minority Leader Chuck Schumer of New York and two moderate Democrats, Senators Joe Manchin and Krysten Sinema, who represent West Virginia and Arizona respectively.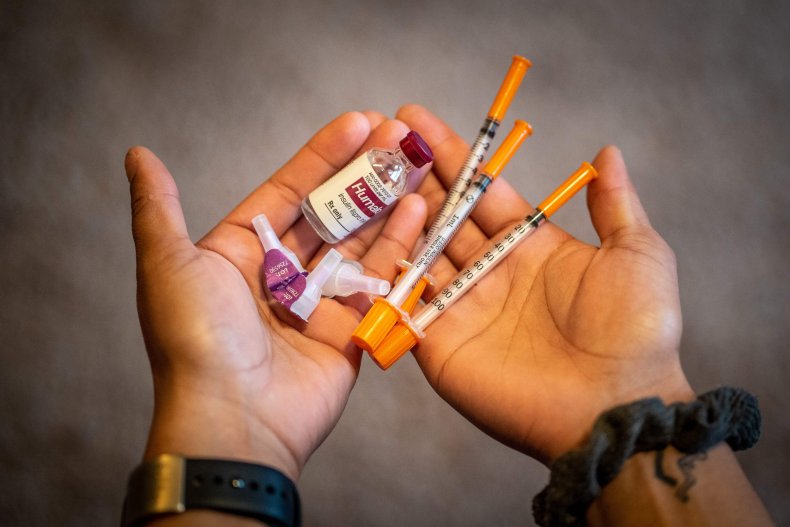 The provision was set to be included in the Inflation Reduction Act, which seeks to fight inflation and reduce the federal deficit by raising $739 billion in new revenue—while also investing more than $400 billion to combat climate change and in health care.
Senate Democrats are passing the bill through a process known as reconciliation, which allows them to bypass a GOP filibuster, a Senate procedure that would require 60 votes to hold debate on the bill. However, it also narrows the scope of what they could pass, as rules require reconciliation bills to deal directly with budgetary matters.
Their proposal to include the insulin price cap for private insurers ran into a snag on Saturday, when the Senate parliamentarian, the adviser who helps interpret Senate rules, determined the price cap violated reconciliation rules. The parliamentarian did allow the $35 insulin cap to apply to Medicare beneficiaries.
Democrats planned to move forward with the price cap for private insurers, despite the ruling. But Senator Lindsey Graham, a South Carolina Republican, enforced the parliamentarian's ruling, which means 60 senators—every Democrat and 10 Republicans—would have to vote for the price cap.
Ultimately, the proposal failed to garner enough GOP support, with 43 Republicans voting against it.
Senate Minority Whip John Thune, a South Dakota Republican, said in remarks reported by The Hill that Democrats' effort to overturn the parliamentarian's decision "undermines the whole reconciliation process."
"They added it back in and basically, you know, wanted to tempt us to, I guess, vote against it," said Thune. "I think there's a right way and wrong way to do it. They want to get that vote, there's a lot of ways they can get that vote, but doing it this way, was the wrong way to do it."
Still, seven Republicans voted alongside Democrats to keep the proposal in the bill:
Senator Susan Collins of Maine
Senator Josh Hawley of Missouri
Senator Cindy Hyde-Smith of West Virginia
Senator John Kennedy of Louisiana
Senator Bill Cassidy of Louisiana
Senator Lisa Murkowski of Alaska
Senator Dan Sullivan of Alaska
But Democrats needed three more Republicans to reach the 60-vote threshold to include the price cap for private insurers in the bill. Even though the prospect of a $35 price cap has stalled in the Senate, the House passed a bill that would cap the price of the drug in March.
The Republicans who voted against the price cap faced criticism from their Democratic colleagues, including New York Senator Kirsten Gillibrand.
"Republicans just blocked us from capping the price of insulin for all Americans at $35 a month," she tweeted. "We've already seen far too many people risk their lives and health by rationing insulin they can't afford. It's unconscionable that we're letting this tragedy continue."