Why Is Joe Biden Sending U.S. Troops to Somalia?
President Biden signed an order on Monday authorizing the redeployment of several hundreds of Special Operations troops in Somalia, from which former President Donald Trump withdrew 700 ground forces in his final weeks in office.
In addition to this order reversing Trump's withdrawal, the president has also approved a request by the Pentagon allowing the targeting of a dozen suspected leaders of the Somali Islamic extremist rebel group of al-Shabab, which is believed to be affiliated with Al-Qaeda, The New York Times reported.
According to the Pentagon, the troops deployed in Somalia won't be used in combat operations, but they will be repositioned around Africa to train and support Somali forces fighting against al-Shabab.
"Our forces are not now, nor will they be, directly engaged in combat operations," said Pentagon press secretary John Kirby. "The purpose here is to enable a more effective fight against al-Shabab by local forces."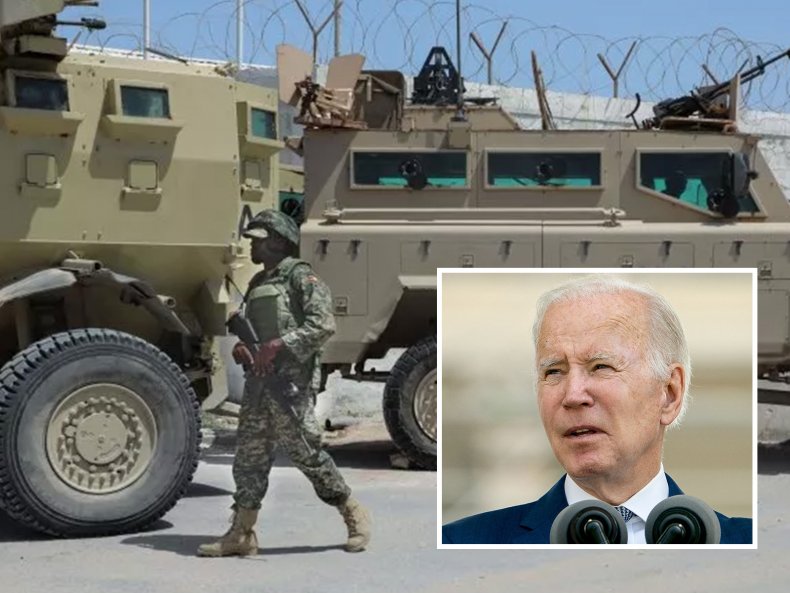 Why Is Biden Sending Troops to Somalia Now?
Biden's decision to redeploy troops in Somalia comes as something of a surprise, as the order is in stark contrast with last year's controversial decision to completely pull American forces from Afghanistan.
But Monday's order was approved by the president with the goal to enable "a more effective fight against al-Shabab," according to National Security Council spokeswoman Adrienne Watson.
American ground forces had been largely pulled from Somalia by Trump in 2020 when the former president ordered that 750 troops be removed from the African country. American troops operated on a rotational basis, with forces remaining for only a short time in the country to train and advise their Somali counterparts.
Military leaders said that Trump's withdrawal and its following rotational system resulted in a waste of time, money and momentum.
In March, General Stephen Townsend, head of the U.S. Africa Command, said the system was like "commuting to work," and was endangering American troops.
"The decision to reintroduce a persistent presence was made to maximize the safety and effectiveness of our forces and enable them to provide more efficient support to our partners," Watson said following the announcement of the new redeployment decision on Monday.
The U.S. will send "under 500" troops to Somalia, according to a senior Biden administration official who spoke on condition of anonymity quoted by the Associated Press.
What Is al-Shabab Doing In Somalia?
Al-Shabab, considered to be Al-Qaeda's deadliest and largest affiliate, used to control Somalia's capital Mogadishu until it was repelled by African Union (AU) forces in 2011. But despite setbacks, the group is still strong in Somalia.
Al-Shabab still controls several towns and villages in Somalia, as well as major roads leading into the capital. In early May, the group conducted one of its deadliest attacks against AU forces, claiming to have killed 170 soldiers. The claim has not been independently verified.
The decision to redeploy U.S. troops in Somalia comes as the country is closer to choosing a new legislature, after Hassan Sheikh Mohamud, who served as Somalia's president between 2012 and 2017, has been elected president again.
The incoming president will have to face the threat of al-Shabab as one of the top priorities of his government, together with the challenges presented by rising inflation and prolonged drought which is leaving millions of Somalis at risk of severe famine.