Why Joe Biden's Terrible Approval Ratings Might Not Mean Midterms Disaster
President Joe Biden continues to struggle with a low approval rating as Democrats are facing potential losses in crucial midterm elections due to take place in less than five months, but his personal popularity may not be the decisive factor in November's elections.
The president's handling of the rising cost of living, the war in Ukraine and other key issues are almost certain to feature in Republicans' midterm campaigns as they attempt to take back the House of Representatives and the Senate.
Poll tracker FiveThirtyEight gave Biden an approval rating of just 39.2 percent as of June 23, whereas 55.4 percent of Americans now disapprove of him. FiveThirtyEight analyzes Biden's approval using a large number of polls and its own system of pollster ratings.
However, individual Democratic candidates appear to be outperforming Biden in key races.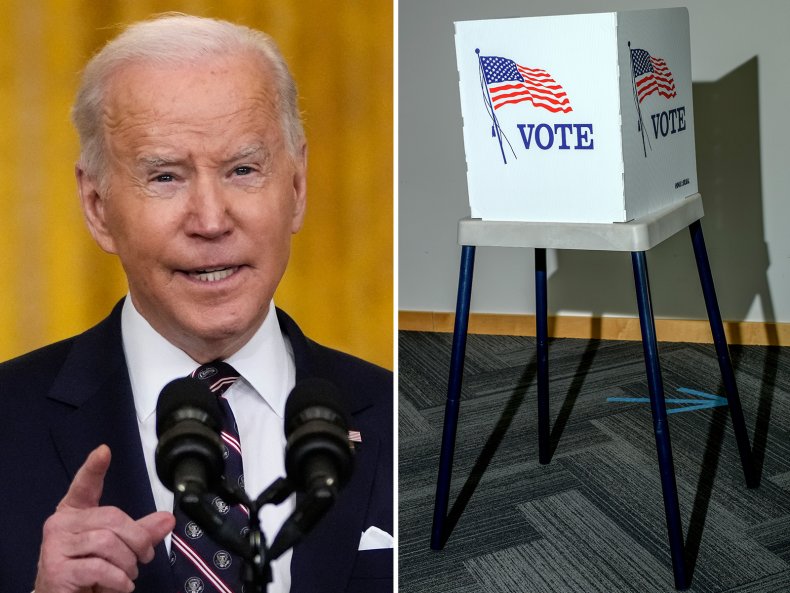 A Fabrizio Ward/Impact Research poll conducted from June 12 to 19 and commissioned by AARP Pennsylvania found Biden's approval in the state was just 36 percent. But the poll found Democratic Lt. Governor John Fetterman is leading the U.S. Senate race against Republican nominee Dr. Mehmet Oz by 50 percent to 44 percent.
The same poll showed Democratic gubernatorial candidate Josh Shapiro leading his Trump-endorsed Republican rival Doug Mastriano by 49 percent to 46 percent.
Similarly, a Marquette University Law School poll conducted from June 14 to 20 in Wisconsin showed three Democratic contenders with narrow leads over Republican Senator Ron Johnson.
Both Pennsylvania and Wisconsin were won by former President Donald Trump in 2016 and then backed Biden in 2020. Winning races in those states could be crucial for control of the Senate.
FiveThirtyEight's generic congressional ballot shows Republicans leading but it also shows that Democrats are performing better than Biden's approval. The GOP had 44.8 percent support as of June 23, compared to 42.5 percent support for Democrats.
Fewer Votes
Paul Quirk, a political scientist at the University of British Columbia in Canada, told Newsweek that while Biden's approval ratings played a role, there are other important factors to consider.
"The trend for many years has been for there to be fewer and fewer votes up for grabs in a presidential or congressional election," Quirk said.
"In recent years, nearly all voters have been reliable partisans. Most of the voters who prefer to call themselves 'independents' admit to leaning toward one party or the other, and they almost always vote for its candidates," he said.
Quirk said that the number of "genuine independents, with no clear preference between the two parties" has been less than 10 percent of the public.
"And they are the least interested in politics and the least likely to vote. In short, Biden's troubles will not cause many Americans to switch their votes," he said.
Voter Turnout
Though Biden's actions might not lead many Americans to change their voting intentions, Quirk warned that the president could negatively affect voter turnout.
"What an unpopular president can do is suppress voting turnout in his party and boost it in the opposition party," Quirk said.
"What matters is which partisans are enthusiastic about voting for their party, or eager to vote out of anger at the opposition.
"Angry disapproval of President Trump on the part of most Democrats is what sank the Republicans in the so-called 'blue wave' in the 2018 midterm elections. And Democrats should be very concerned that a similar 'red wave' will rise in the fall," he said.
Disapproval of Democrats
Thomas Gift, founding director of University College London's Centre on U.S. Politics, told Newsweek that politicians will often ride "the coattails" of their party's leader but "clearly it can't apply in the same way to midterms."
"Still, the popularity of the incumbent in the White House matters," Gift said.
"Biden's disapproval has largely tracked disapproval of Democrats generally, and it's virtually impossible to separate the two.
"When voters aren't happy, they're going to blame the president. And when the president's name isn't on the ballot, they're going to take out their frustrations on the party. That's clearly the case heading into 2022," Gift said.
The Trump Factor
Quirk argued that the ongoing hearings of the House Select Committee investigating January 6, 2021 could play a role in the midterms and potentially hurt Republicans' chances.
He said that "the gathering momentum of the multiple investigations into efforts by President Trump and many of his supporters to overturn the 2020 election could overwhelm the complaints about President Biden and shift the turnout advantage dramatically toward the Democrats."
"The January 6 committee has made a powerful case alleging a wide-ranging, criminal, attempted coup," Quirk said.
He highlighted recent Department of Justice subpoenas and a separate grand jury in Georgia investigating Trump's alleged effort to overturn the 2020 presidential election there.
"If these developments lead to indictments, guilty pleas, cooperation agreements, and the like—with Trump's aides, congressional supporters, other prominent Republicans, and Trump himself at the center of a scandal unprecedented in American history—the harm to the Republicans' prospects in the midterms and beyond will be enormous," Quirk said.
A Punishing Defeat
Thomas Gift predicted that this year's midterm elections will focus most heavily on inflation. The annualized rate of inflation was 8.6 percent in May, a 40-year record high.
"Ultimately, this election is going to be about inflation, inflation, and inflation. Everything else—COVID-19, the war in Ukraine, gun control, etc.—will take a backseat," Quirk said.
"Whether that means Democrats staying at home on election day, Republicans being more energized, or moderates flipping for the GOP, the result is the same: Biden's party is in for a punishing defeat come November," he said.
If Democrats lose in November, Biden's popularity is likely to be just one aspect of larger problems facing the party, while any surprise wins for Democrats could be due to factors largely outside their control, such as voter enthusiasm and the investigations into former President Trump.