North Korean leader Kim Jong Un landed in Beijing today, where he will meet Chinese President Xi Jinping for a two-day visit. The trip is Kim's third to China since April and comes just one week after his historic Singapore summit with President Donald Trump.
Kim arrived in Beijing on Tuesday to a welcome ceremony, which reportedly featured a crowd of excited children jumping up and down while holding Chinese flags. Neither China or North Korea have released details about what the trip is for or an itinerary. However, the timing of Kim's trip, just hours after Trump threatened Beijing with $200 billion worth of tariffs, only further cements Xi's power over Pyongyang.
Kim is expected to discuss his meeting with Trump last week and next steps for the two east-Asian nations. The two leaders will also likely talk about North Korea sanctions and denuclearizing the Korean Peninsula. "[The trip] is about keeping Xi Jinping in the picture after the Singapore Summit," professor Steve Tsang, a political scientist and director of the SOAS China Institute, told Newsweek. "Kim will be reassuring Xi that China's interests are not being overlooked."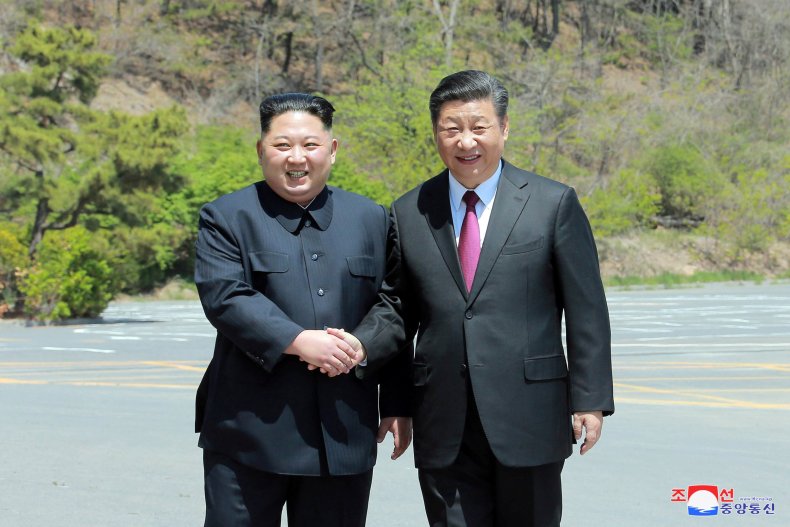 According to Tsang, China's main priorities during these talks will be to find a way to guarantee they are not sidelined in finding a solution over the Korean Peninsula and to ensure Kim does not make a deal with the U.S. at the expense of Beijing.
"The negotiations with the Americans going forward will be difficult. Trump gave Kim far more than Kim could have imagined but he must know that when it gets down to the later stages of the negotiations it would get a lot more difficult," Tsang added. "If he can let the U.S. see that the Chinese have been talking to Kim and therefore the China card is still available for Kim to play, it would be very useful."
According to Reuters, Xi commended Kim for the meeting with Trump last week and was grateful for the outcome. Chinese state media also reported that both leaders expressed their desire to deepen ties in the upcoming months, before having a banquet with their wives.
Geng Shuang, a China Foreign Ministry spokesperson, confirmed the visit during a news conference on Tuesday. "We hope this visit will help further deepen bilateral ties, strengthen strategic communication on major issues between the two sides, and promote peace and stability in the region," Geng said.
Kim made his first surprise visit to China in March, after not leaving his country for the first six years since coming to power. Two months later, Kim visited Xi Jinping again in the northeastern city of Dalian.