Why Myanmar Hates the Rohingya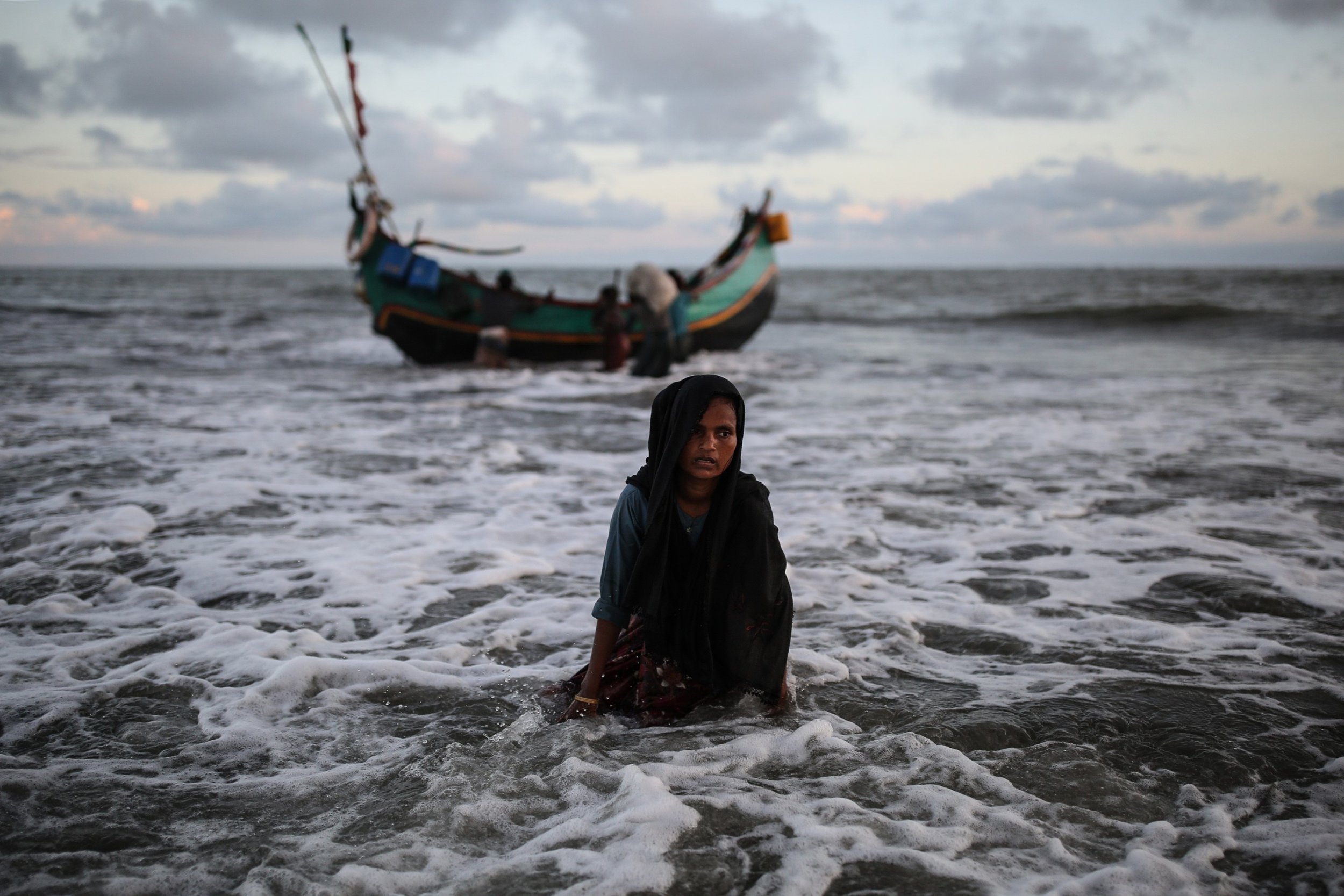 A column of smoke rising from a burning village forms the backdrop to one of the worst humanitarian crises the world is facing—and a powerful reminder to thousands of people who have fled that all that they had is now gone.
An estimated 400,000 Rohingya have crossed into Bangladesh in the past three weeks to escape a surge of violence in Myanmar's Rakhine state, home to the Muslim minority for centuries.
The United Nations High Commissioner for Human Rights, Zeid Ra'ad al-Hussein, has described the violence as "textbook ethnic cleansing" at the hands of the army and local militias, who retaliated against the civilian population following a Rohingya insurgent attack on security forces on August 25, resulting in 71 deaths, including at least 59 militants and 12 soldiers.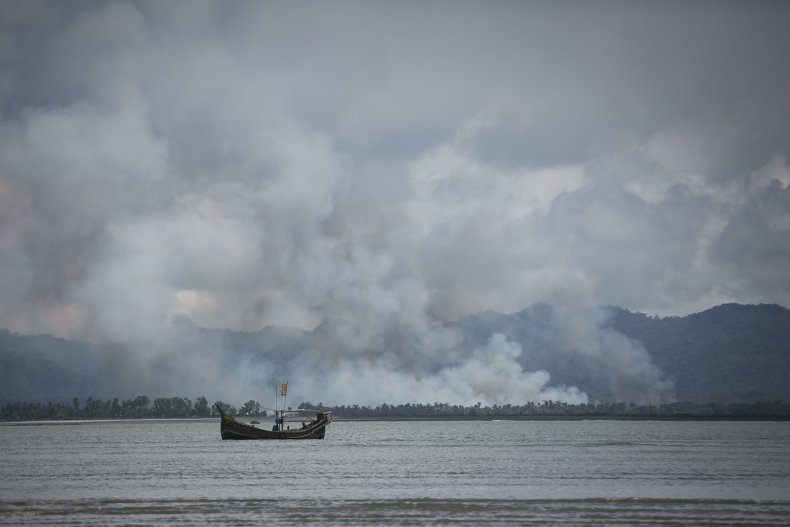 "No one has any hope of return," Tejshree Thapa, senior South Asia researcher for the U.S.-based nongovernmental organization Human Rights Watch, tells Newsweek a few days after she returned from the region.
"The reality on the ground is much much worse than any image can describe. The sheer scale of it is beyond belief," she says. "I've worked with a lot of refugees, but I've never seen a group this devastated, this destroyed. It's incredibly bleak."
The suffering the Rohingya are experiencing in recent weeks isn't new. The Rohingya, Myanmar's largest minority, have been persecuted for decades. They have survived waves of ethnically motivated violence by the military government, which has progressively deprived them of basic human rights.
The reason for this hatred, according to human rights activists, is simple: nationalism-fueled racism.
"Rohingyas have been facing genocide for many years," human rights activist and president of Burmese Rohingya Organisation UK, Tun Khin, tells Newsweek.
He explains that the group is an easy target for Myanmar's ultranationalists: "Rohingyas are a different ethnic group, they have a different appearance and religion."
When Myanmar—known as Burma at the time—became independent from British rule in 1948, the Rohingya were able to participate in the political life of the country, obtaining statehood status for Rakhine in 1974. But a few years later, during 1977 and 1978, a wave of violence against "illegal immigration" forced a first mass exodus to Bangladesh.
Many Rohingya returned home a year later, but in 1982 the military regime stripped them of their citizenship rights and ethnic minority status. In 1994, it began refusing to issue birth certificates to babies born of Rohingya parents.
Even two decades later, after the military government finally allowed elections and long-term political prisoner and opposition leader Aung San Suu Kyi became the country's de facto leader, the Rohingya were excluded from the country's census in 2014.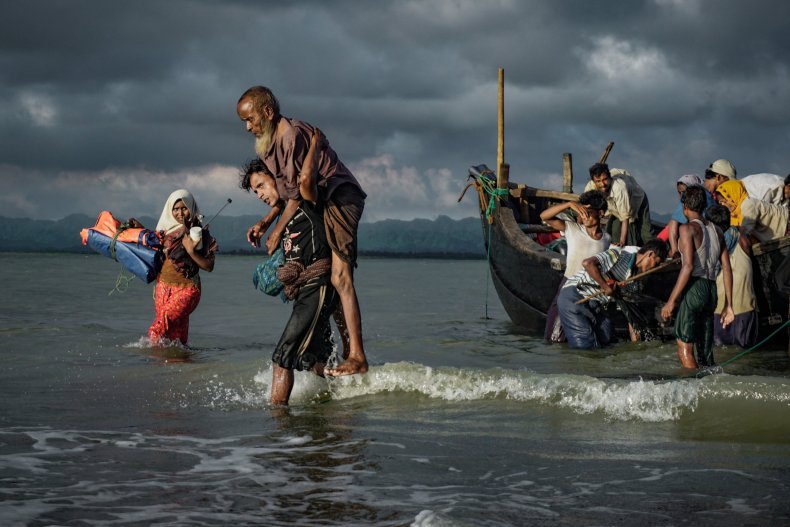 The mass exodus of Rohingya to Bangladesh and other neighboring countries has occurred at least three times in the past 50 years: 1977 to 1978, 1991 to 1992 and in 2012, when hundreds of thousands fled across the borders. Each time thousands returned to Rakhine when the worst of the violence was over.
In October 2016, the military carried out a campaign of "devastating cruelty," as described by the U.N., against the Rohingya following a militant attack against security forces. In April, Aung San Suu Kyi denied reports of ethnic cleansing and promised the Rohingya would be safe if they came back to Myanmar.
"The evidence is irrefutable—the Myanmar security forces are setting northern Rakhine state ablaze in a targeted campaign to push the Rohingya people out of Myanmar. Make no mistake: This is ethnic cleansing," said Tirana Hassan, Amnesty International's crisis response director, in a statement.
"There is a clear and systematic pattern of abuse here. Security forces surround a village, shoot people fleeing in panic and then torch houses to the ground. In legal terms, these are crimes against humanity—systematic attacks and forcible deportation of civilians," she added.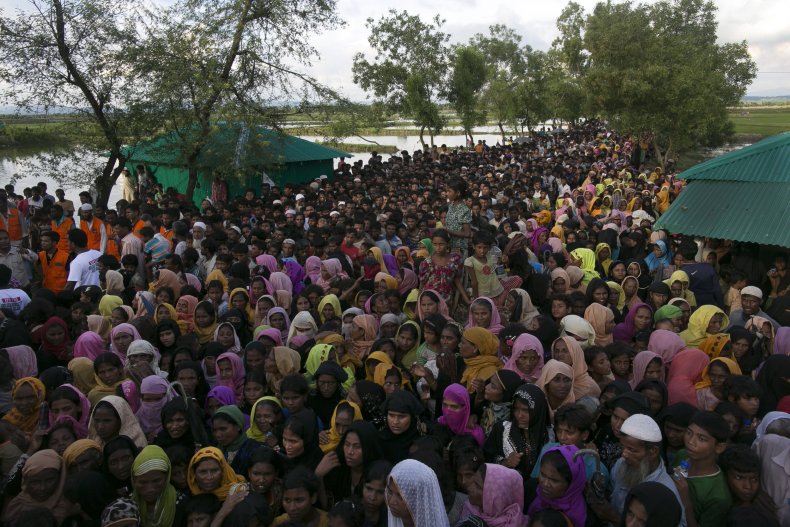 Human Rights Watch's Thapa agrees, arguing that what makes this new wave of anti-Rohingya attacks worse than in previous years is how coordinated they are. "It feels like a program designed to drive out everyone finally," she said.
As Myanmar continues to block access to the Rakhine state, Thepa spoke to some of the refugees she met in Bangladesh to document the violence. One woman from Maungdaw Township said she fled on August 26, 2017, leaving her husband and 10-year-old son, after security forces attacked her village and killed her father and many other civilians.
"All had knife wounds or bullet wounds, some had both. My father was among the dead; his neck had been cut open. I was unable to do last rites for [him]—I just fled," she said.
Some refugees arrived in Bangladesh on foot, crossing a border where the Myanmar army is said to be laying landmines specifically to target refugees. The government denied these reports, despite numerous claims by nongovernmental organizations like Amnesty International.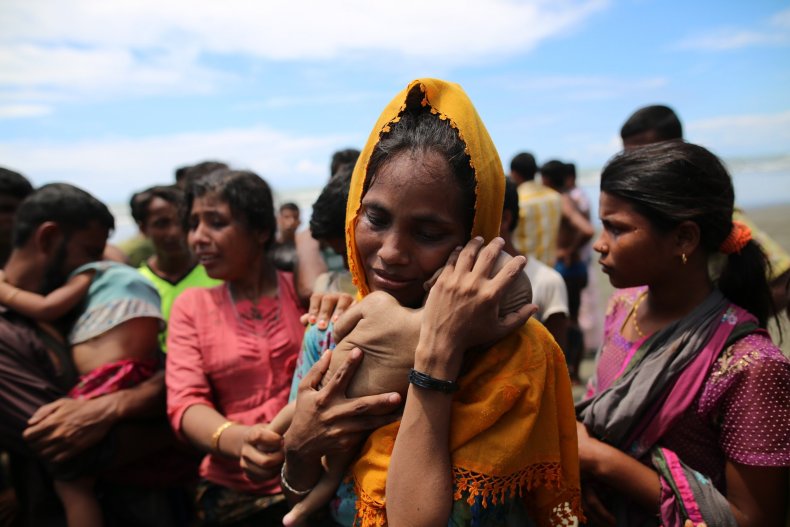 Others have used boats to cross either the Naf River or the Bay of Bengal into Bangladesh. Some of these vessels have capsized or sunk—nine women and 11 children lost their lives in one such incident in August. Many more have died since, as demonstrated by a harrowing picture of a weeping mother holding the lifeless body of her 5-week-old child.
Now, international pressure on Suu Kyi, who holds the title of State Counselor, to stop the violence and ensure a safe return for the Rohingya is mounting. A petition on Change.org to strip her of her Nobel Peace Prize has reached almost half a million signatures but the Nobel laureate, who remains popular in the country, has shunned the international community and indicated she did not believe reports of ethnic violence.
She also recently announced she would skip the 72nd session of the U.N. General Assembly, which opened this week in New York.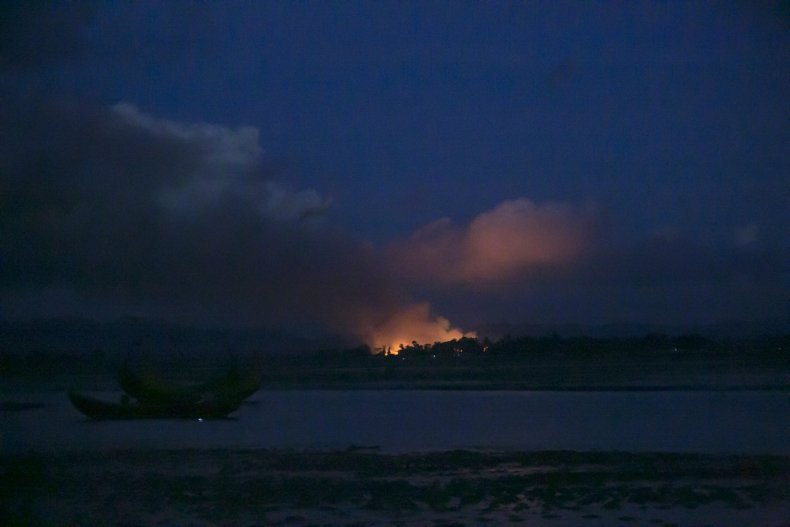 Despite her absence, human rights campaigners hope that the meeting will be able to provide a strong condemnation of Myanmar's violence as well as assistance to the government of Bangladesh to provide humanitarian aid to the refugees.
"We want to live peacefully in our native land. We don't want to be on the strain of other countries," Tun, the U.K. based activist, said.
He wants to see the formal recognition of the Rohingya as a minority in Myanmar, the provision of humanitarian aid and the dispatch of U.N. peacekeepers to protect the Rohingya. Tun has also appealed to Suu Kyi, who knows as well as as anyone what it is to be deprived of your rights in Myanmar.
"I want to ask her to please use her liberty to promote ours," he said.