Derek Chauvin's defense attorney has requested a new trial for the former Minneapolis police officer convicted of murdering George Floyd.
Chauvin was convicted on April 20 of second-degree unintentional murder, third-degree murder and second-degree manslaughter in relation to the death of Floyd on May 25 last year.
Chauvin, who is white, pressed his knee against Floyd's neck for more than 9 minutes as the Black man repeatedly gasped that he couldn't breathe and went limp, prosecutors said during the trial.
Eric Nelson, his attorney, filed a motion on Tuesday requesting a new trial on numerous grounds, including jury misconduct.
Nelson also said there were abuses of discretion that deprived Chauvin of a fair trial and that the verdict was contrary to law.
He also asked Judge Peter Cahill for a hearing to impeach the verdict, writing that "the jury committed misconduct, felt threatened or intimidated, felt race-based pressure during the proceedings, and/or failed to adhere to instructions during deliberations."
The filing didn't include details about the assertion, but it came as Brandon Mitchell, one of the jurors in the trial, faces scrutiny after it was revealed that he had attended the anniversary of the March on Washington in August last year.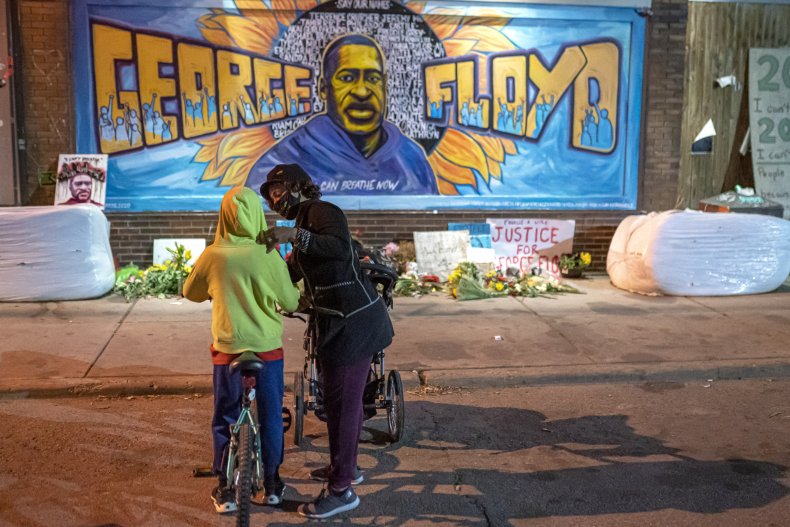 Nelson has been contacted for comment.
Mitchell, who is Black, has defended his presence at the event in Washington, D.C., saying it was not a protest over Floyd's death but commemorating the 1963 March on Washington where Dr. Martin Luther King Jr. delivered his famous "I Have a Dream" speech.
"It was directly related to MLK's March on Washington from the '60s," he told The Star Tribune. "The date of the March on Washington is the date."
A picture posted on social media in August last year showed Mitchell wore a shirt to the event bearing King's face surrounded with the words "Get Your Knee Off Our Necks" and "BLM" and a hat that said "Black Lives Matter."
Floyd's relatives and other family members of people killed by police addressed the crowd at the march.
Rachel Moran, a law professor at the University of St. Thomas in St. Paul, told Newsweek that Mitchell's presence at the march alone does not qualify as juror misconduct.
"The real question is whether Mr. Mitchell lied in his written questionnaire or during his oral testimony," she said. "Jurors don't have an obligation to volunteer information about themselves, but they do have an obligation to answer questions truthfully."
According to the Tribune, Mitchell said he answered "no" to two questions in the juror questionnaire, which was sent out before jury selection, that asked about participation in demonstrations.
Jack Rice, a criminal defense attorney and a former prosecutor, said the revelations are "disturbing" and raise questions about Mitchell's impartiality.
Mitchell "did attend and in fact, wore a shirt that said 'get your knee off of our necks' or something like that," Rice told Newsweek.
"In order to convict, you need a unanimous jury. He contributed to that. I would argue it makes the conviction less definitive, less credible and less certain."
But Moran described the issue as more of "a close call."
"I don't think that's a clear lie, so it probably doesn't qualify as misconduct," she said.
She noted that while the anniversary march was organized in part to mark Floyd's death, it was "intended to commemorate Dr. King's legacy and the Civil Rights movement more broadly."
Moran said: "It definitely involved condemnations of police brutality, so some people would say he should have answered that question yes (particularly given the shirt he was wearing in the photo, which suggests he was concerned at least in part about police brutality).
"But I don't think he was necessarily lying by answering no, since some people would conceive of the march as much broader than a protest about police brutality."
Moran also noted that Judge Cahill is unlikely to consider it evidence of juror misconduct because Mitchell was "extremely candid" while being questioned during the jury selection process.
"He said he had an extremely favorable opinion of Black Lives Matter as a statement; he expressed concern for how Black people are treated unequally; and he said he would be excited to serve on the jury because this was such an important and historic trial," she said. "He was very clear about his opinions and the lawyers picked him."
And despite his misgivings about Mitchell, Rice also thinks it is unlikely Chauvin's conviction will be overturned.
"The judge and likely Court of Appeals will confirm and call it harmless error," he said. "They want this trial over."