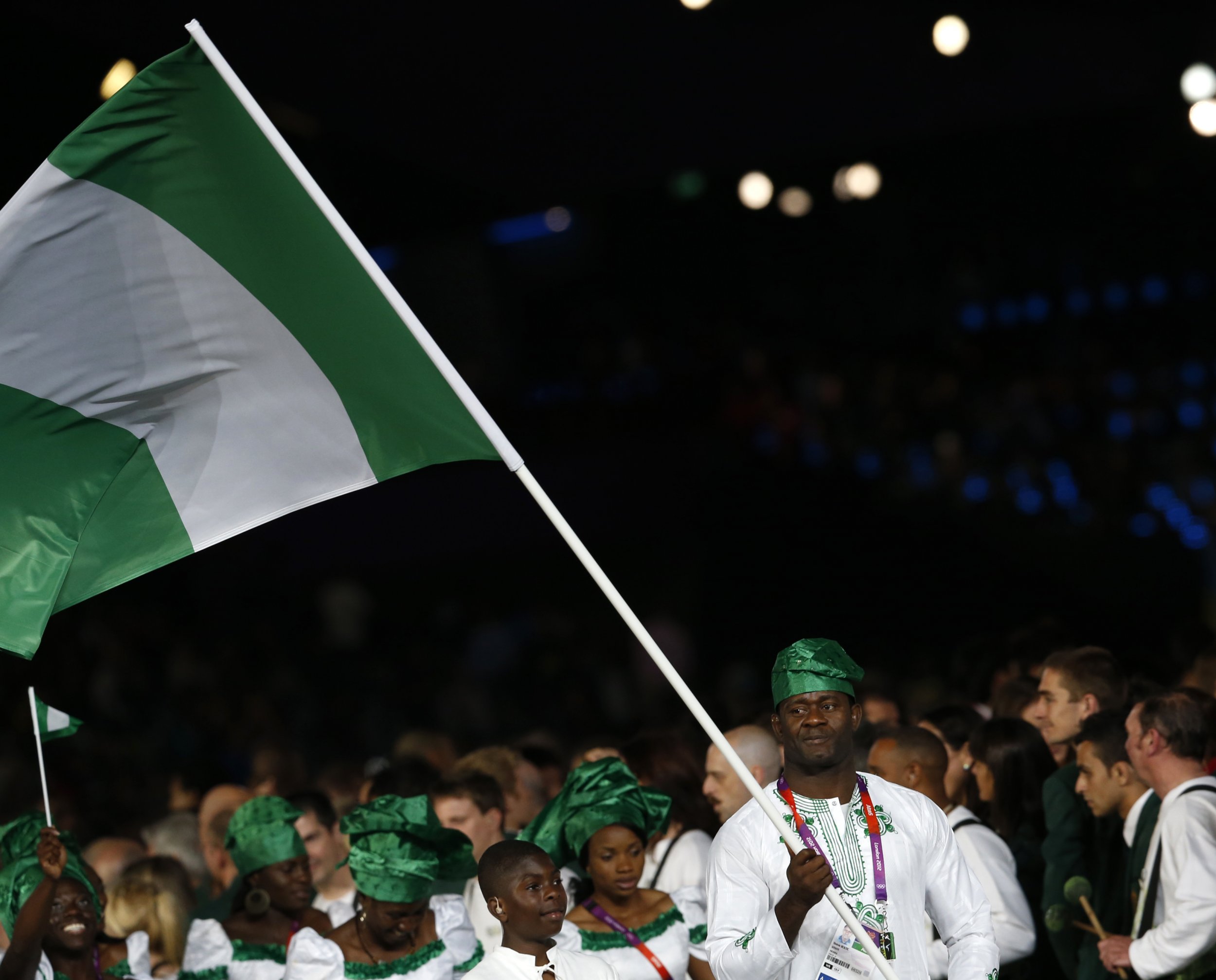 Fidelis Gadzama remembers the moment he and his team-mates made Nigerian sporting history with mixed emotions.
The former Nigerian athlete was part of the men's 4x400-meter relay team that won silver at the Sydney 2000 Olympic Games in an African record time of 2:58:68. They came second to United States team that included current 400-meter world record holder Michael Johnson.
Twelve years later—after the U.S. team had been retrospectively disqualified due to one member using performance-enhancing substances—the Nigerians were bumped up to gold, making Gadzama part of a team that accounts for one of only three Olympic victories by the West African nation in its more than 60-year history of participation.
But for Gadzama, the memory of the race, the greatest day in his sporting career, is tinged with bitterness. He tells Newsweek that the relay team almost didn't compete in the event due to a so-called "disciplinary problem"—the runners had complained to Nigerian athletics official about not receiving their allowances, and the federation responded by threatening to send them home.
"There was not even a flag for us to celebrate [with], because they didn't believe that we were going to win," says Gadzama, 36, who hails from Nigeria's northeastern Borno state. "In fact, some of them [the federation officials] did not come to the stadium to watch. They sat in their hotels."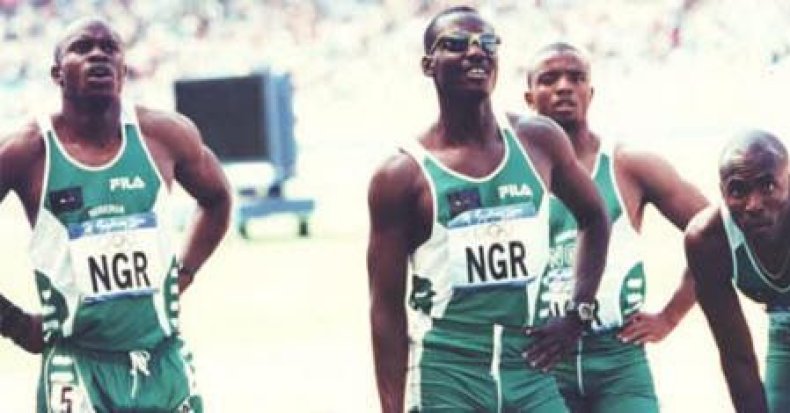 For Gadzama, such behavior and bureaucracy is emblematic of why Nigeria continues to falter on sport's greatest stage. For a country with more than 170 million people and the biggest economy in Africa, Nigeria really should be doing better at the Olympics. The nation's total tally across 15 competitions is 23 medals—three gold, eight silver and 12 bronze. At the last games in London in 2012 , Nigeria put in its worst performance in more than two decades, failing to pick up a single medal. The team finished behind fellow African competitors including Gabon, with a population of just over 1.6 million, which picked up a silver medal.
Following the dismal performance in London, Nigeria's then-President Goodluck Jonathan— replaced by current incumbent Muhammadu Buhari in May 2015 —ordered a "total and comprehensive" overhaul of the country's sports system to restore its "past glory," according to his information minister. But despite such a lofty goal, Nigeria's preparations for Rio 2016 have been fraught with calamities—missed flights, absent funds and a positive doping test.
In the face of such ill-preparedness, Nigeria's Minister for Youth and Sport, Solomon Dalung, tells Newsweek that the country is realistic in its medal hopes. "Looking at our preparation, we are looking at five [medals] and above," says Dalung, speaking from Houston, Texas on Tuesday, before his departure for Rio.
Dalung, who was appointed to his post by President Buhari in November 2015, has had his hands full preparing for his first Olympics, at which 78 Nigerian athletes will be competing in 10 sports. Nigerian social media lit up in July when several athletes—including the country's current fastest man, 100-meter sprinter Seye Ogunlewe Jr. —said that the Athletics Federation of Nigeria (AFN) told them they would have to pay for their own flights to Brazil. Several athletes, including Nigerian shot putter Nikki Okwelogu, took to crowdfunding to raise money to pay for their tickets.
The minister tells Newsweek that the original email had been "misconceived" and sent without his authority—which he says constitutes "quite a serious protocol issue"—but that the issue has now been resolved. "We take full responsibility of movement of our athletes from anywhere they are to the event venue. So any athlete that goes on his own, immediately on arrival, we reimburse him or her," says Dalung.
But even though the payment of flights has now been resolved, some Nigerian athletes have still not touched base in Rio. Dalung says that—as of Tuesday—Nigeria's football team were stranded in Atlanta because the football federation had not arranged for the earlier purchase of their tickets. The minister says that an aircraft has been chartered to bring the players to Rio, where they are due to play their first match on Thursday. Even in the best-case scenario, that would give the team less than two days to prepare in Brazil. But Dalung remains optimistic. "They have been training here [in the U.S.], so all they need to do is to have a rest and then play their match," says the minister. [As of Thursday, Nigeria's football team were due to arrive in Brazil just a few hours before their match in Manaus, northern Brazil, after the departure of their flight from Atlanta was delayed due to a payment dispute and because the plane was too small for them, according to the BBC.]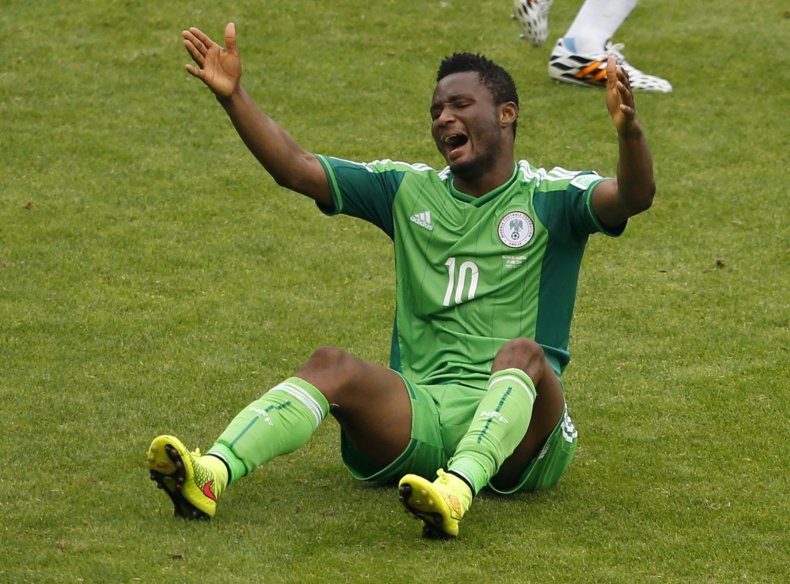 Nigeria has a reputation for corruption—the nation was ranked 136 out of 168 countries in Transparency International's annual index in 2015, and President Buhari has made the recoup of billions of dollars worth of lost public funds a major priority of his administration. According to Gadzama, this culture of graft has affected the country's sporting development as much as other sectors. A board member of the AFN, Gadzama says the federation has been "hijacked by politicians" and that funds allocated by the government often "disappear" before they make it to the athletes they are intended for. Gadzama says that, after the Rio games, he intends to run for the AFN presidency in order to put a stop to such malpractice. "That culture has got to stop. We are a giant of Africa for nothing. We are 170 million [people] for nothing," he says.
The story of Nigeria's sporting demise is different for Dalung, who says that the poor Olympic record is due to a "gradual erosion and deterioration" in the sector, particularly in the realm of education. Sport at school is not compulsory in Nigeria, according to Dalung, something that his ministry intends to change post-Rio. "Our priority now is to go back to classroom sports development and here the school sport system becomes very important. So when we return from Rio, we intend to embark on massive reforms," says the minister.
In terms of funding for the games, the federal government set aside a total of 735 million naira ($3.7 million at the official budgeted exchange rate) in its 2016 budget to prepare for and facilitate athletes at both the Olympics and Paralympics in Rio, according to Atiki Samuel, research lead at Nigerian civic organization BudgIT, which analyzes government spending. This does not include 1.2 billion naira ($6.1 million at the official budgeted exchange rate) allocated to individual Nigerian sports federations, an unspecified amount of which went into administrative costs. (Dalung has said elsewhere that the government had allocated $3.49 million for the games.)
In addition to questions over funding and an apparent lack of preparation, Nigeria has also been tainted by doping in the run-up to this Olympics. At the official commissioning of Team Nigeria, President Buhari stressed the importance of desisting "from acts that could dent the image of our great country," with particular reference to doping. Yet just over one week later, the Nigerian 4x400-meter women's relay team was disqualified from participating after one athlete, Tosin Adeloye, tested positive for a banned substance.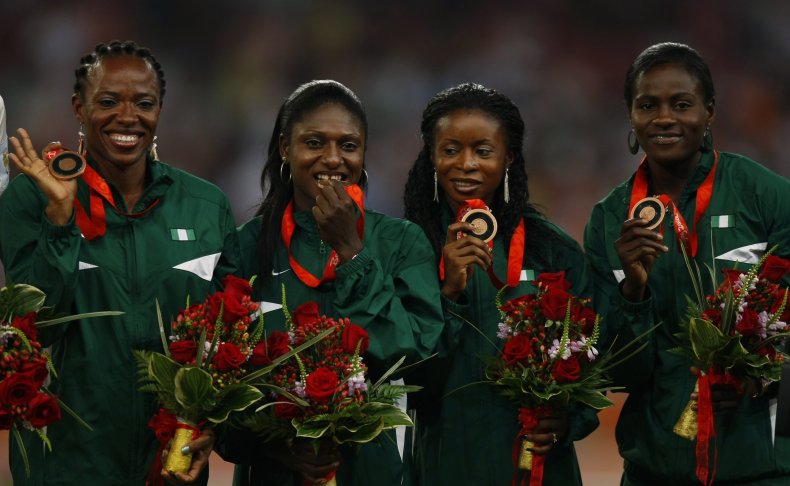 Faced with such shambolic preparations, Nigerian athletes would be forgiven for believing that Rio could be just another chapter in the country's inglorious Olympic history. Ogunlewe, the 100-meter sprinter, tells Newsweek that Nigeria must learn from the example of other medal-winning countries in preparing for future games. Ogunlewe, who is based in London, told Newsweek on Wednesday that he was due to arrive in Rio on Thursday, one day before the opening ceremony and just over a week before his first event. By contrast, his British training partner Ashleigh Nelson—who is competing for Team GB in the women's 4x400-meter relay—has been in Brazil at a training camp since Monday.
"[Nigeria] needs to look at what other countries that are getting medals are doing and we need to do it as well. If we don't, we will not get to where they are," says Ogunlewe, 24. "We can't just keep relying on prayers [and] hope, we need to put the work in as well."
For gold medallist Gadzama, Nigerians are better off looking beyond the Rio games, which he has already written off as a lost cause for the country. "I don't think they will be medaling in this Olympics because the preparation was zero," he says. "We will return empty-handed."
Uncommon Knowledge
Newsweek is committed to challenging conventional wisdom and finding connections in the search for common ground.
Newsweek is committed to challenging conventional wisdom and finding connections in the search for common ground.
About the writer
Conor is a staff writer for Newsweek covering Africa, with a focus on Nigeria, security and conflict.