Prince Harry gave his Vax Live speech alone to a roaring standing ovation—but pregnant wife Meghan Markle also has a message for the event, Newsweek has been told.
The Duke of Sussex was cheered by the fully vaccinated audience of key workers at the SoFi Stadium in Los Angeles, on Sunday.
"The vaccine must be distributed to everyone everywhere," he said during an appeal for businesses to donate money for doses to help poorer countries.
Meghan Markle stayed at home, 94 miles away in Montecito, while her husband earned rapturous applause.
The Duchess of Sussex is pregnant with their second child, a girl, and due in the summer, she previously told Oprah Winfrey.
Fans will still get to see her though when a recording of the concert is televised on Saturday, May 8.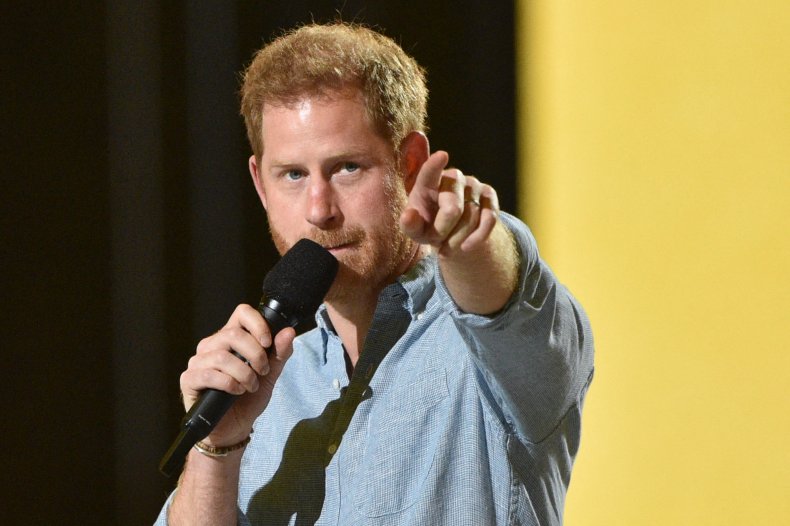 A Sussex insider has told Newsweek that Meghan has "pre-taped her segment," which will go out during the broadcast on ABC, ABC News Live, CBS, YouTube, iHeartMedia broadcast radio stations and the iHeartRadio App, at 8 p.m. ET.
The concert will also air on FOX at 11 p.m. ET.
The prince said: "We cannot rest or truly recover until there is fair distribution to every corner of the world."
"This pandemic will not end unless we act collectively," he said. "The virus does not respect borders and access to the vaccine cannot be determined by geography."
He added: "Tonight is a celebration of each of you here, the vaccinated frontline workers in the audience and the millions of frontline heroes around the world.
"You spent the last year battling courageously and selflessly to protect us all.
"You've served and sacrificed, put yourselves in harm's way, and acted with bravery, knowing the cost.
"We owe you an incredible debt of gratitude. Thank you."
Hugh Evans, chief executive of Global Citizen, which organized the Vax Live concert, told Variety Harry and Meghan approached the project with "such sincerity and such leadership."
He said: "We said we need champion of this campaign. Quite frankly they were immediately on the same page. It wasn't a convincing. It was a conversation.
"They were so excited. They said, 'We believe in the importance of vaccine equity.' For them, it was an easy decision to do the right thing because they were so passionate already.
"When I spoke to Megan, she said we really should call on the private sector to rally and for American businesses to step up, so they convened a roundtable and they started getting to work, and they invited the private sector leaders to be part of the effort."
Harry and Meghan are campaign chairs of the Vax Live concert.
Hollywood Reporter columnist Chris Gardner, who posted footage of the concert on Twitter, wrote: "Well, he's here! Los Angeles LOVES Prince Harry tonight—he gets electric reception and standing ovation as he steps out on the biggest stage since moving down the road in Montecito. #VaxLive."