Why 'Riverdale' Has Been Canceled And Is Ending After Season 7
Some might say there was a cultural reset when Riverdale landed on our screens back in 2017.
The teen mystery drama is based on the characters of the beloved Archie Comics and follows the chaos that ensues when a group of teenagers investigates the dark secrets lurking in their hometown of Riverdale.
Whether you liked it or not, you had probably heard of Riverdale. But now, after seven years, Pop's diner is closing its doors, superpowers are no longer, and all of the complicated love triangles can be put to rest.
Yes, it's official, Riverdale is officially coming to an end after seven seasons.
Newsweek has everything you need to know about the show's cancellation, Season 7, and why everybody is going crazy about "Barchie endgame."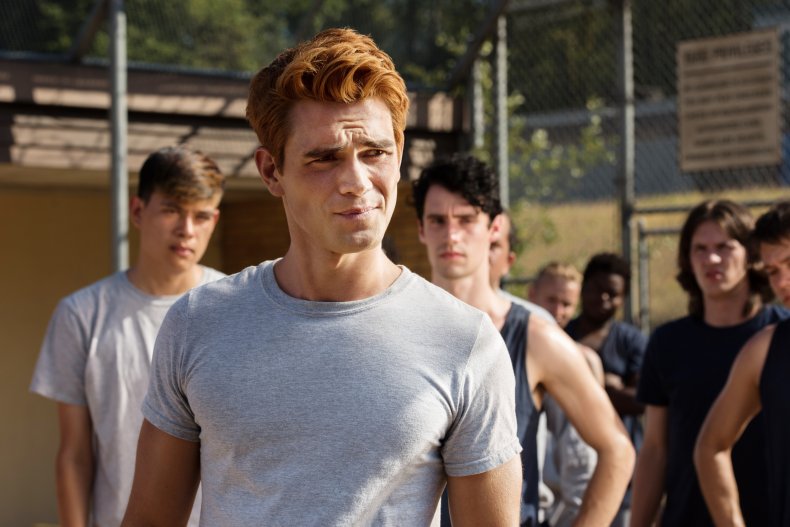 Why Riverdale Has Been Canceled And Is Ending After Season 7?
After almost seven years, the news some were hoping for, and others not so much, has broken. Riverdale is ending.
The CW Television Network Chairman and CEO, Mark Pedowitz, broke the news to TVLine on Thursday, May 19, announcing Season 7 would be its last.
Riverdale is coming to an end as in the eyes of creator Roberto Aguirre-Sacasa and the cast, seven years was the perfect time to bring the show to a close.
The good news is, Riverdale Season 6 is currently airing on Sundays, meaning there is one more season in store for fans to enjoy and prepare their goodbyes.
At the moment, an official release date for Season 7 has not been given but The CW has confirmed it will end in 2023.
Pedowtiz shared: "I am a big believer in attempting to give series that have had long runs an appropriate sendoff.
"We had a long conversation with [executive producer] Roberto [Aguirre-Sacasa] yesterday, who is thrilled by this news, and we will treat the show in the manner it deserves.... We want to make sure it goes out the right way.
"I think they, too, felt that seven years is the right amount. As a fan myself, I do want to do what is right for the show."
The show's cancellation may not come as a huge surprise to fans, considering back in Season 4, KJ Apa revealed that he and the show's main cast (Cole Sprouse, Lili Reinhart, and Camila Mendes) had signed on to Riverdale for "the next three years," which, if a season was released per year, would take them up to Season 7.
Riverdale's cancellation comes as a host of CW shows faced a similar fate in recent weeks, including Dynasty, Charmed, Naomi, 4400, In the Dark, Roswell, New Mexico, Batwoman, and Legends of Tomorrow.
Fans have been sharing their sadness at the show's cancellation, but the majority are hopeful Season 7 will see Betty (played by Lili Reinhart) and Archie (KJ Apa) get together, referring to their relationship as "Barchie."
In the early seasons of Riverdale, Archie and Veronica (Camila Mendes) were together, known as "Varchie" amongst fans and Betty and Jughead (Cole Sprouse) were together, affectionately known as "Bughead."
But in Season 5, Betty and Archie's long-running friendship took a romantic turn, and in Season 6, they seem closer than ever.
One fan tweeted: "I'll be losing Barchie forever but their endgame is definitely secured," whilst another wrote: "BARCHIE ENDGAME HERE WE COME."
A third fan added: "Riverdale literally started with barchie and it's going to end with barchie, oh my god."
One fan wrote: "Riverdale is the modern-day star trek. it is the modern-day rocky horror. it is the future camp classic of the 2020s. it will only be appreciated by teenagers in fifteen years when I force my children to watch it as my dad did to me with star trek."
Others seemed relieved Riverdale is finally coming to an end after seven years. One fan joked: "The world is finally healing" while another celebrated, writing: "IT'S OFFICIAL!!! SEASON 7 IS RIVERDALE'S FINAL SEASON! #Riverdale"
Riverdale Season 6 airs Sundays at 8 p.m. ET on The CW and Wednesdays on Netflix.