Victoria Mudra goes about her studies while she awaits news on whether her cousin in Ukraine will fight against Russians. Born in the United States, Mudra's parents migrated from Ukraine to "make a better life for themselves and for me," she told Newsweek. "To this community they came because it's their own people; their nationality is all around them. We have the church and all the Ukrainian people."
According to 2019 census data, the state is home to approximately 39,130 Ukrainian-Americans and 64,600 citizens of Russian ancestry. Many of those Ukrainian-American citizens still have family in Ukraine and rather than feel helpless about the war, they are fighting back.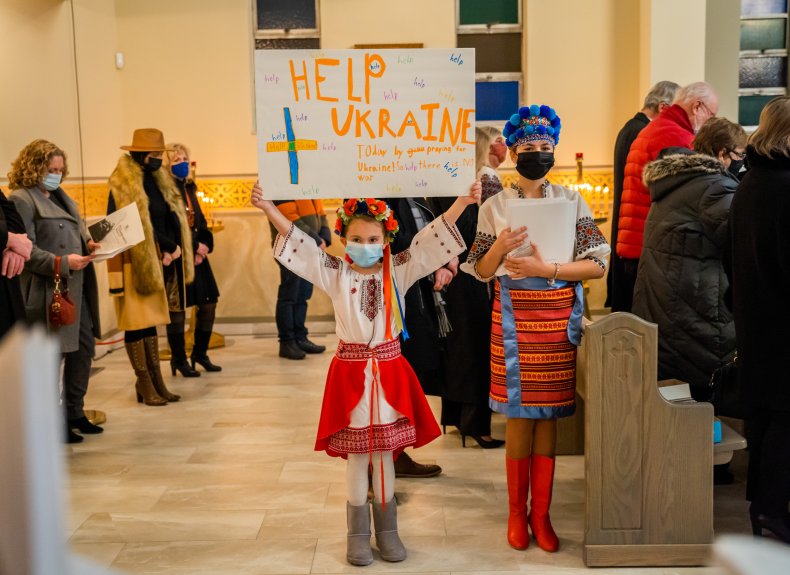 Mudra, 13, is an eighth grader at Immaculate Conception Catholic School in Warren, Michigan. The school, tucked away inside a suburban neighborhood, has 160 students between preschool and eighth grade. Approximately 70 percent of Immaculate Conception students' parents and about 50 percent of the students were born in Ukraine. Of the school's 37 or so staffers, only a handful are of Ukrainian descent.
"As things progressively worsened in the country itself, it has become very clear that our families have lots of family still there—from parents to grandparents, siblings, aunts, uncles," Immaculate Conception Principal Mary Ann Gruda told Newsweek. "It has become a very solemn atmosphere; emotions are very high. There's a lot of anger for, 'Why is this happening?' to a lot of just sadness for what they're going through, so undeserved."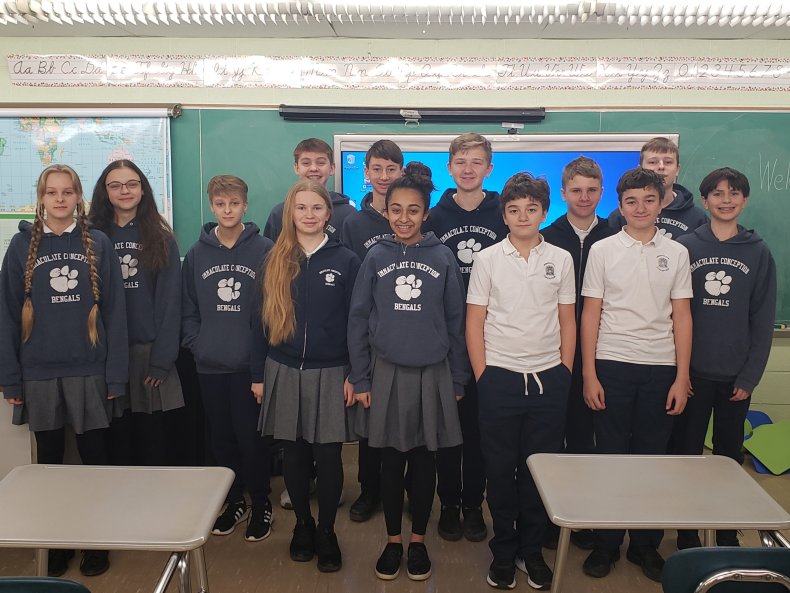 Gruda said at the onset of Russia's threats to invade Ukraine, the school brought in a therapist to help students cope with stress or the anxiety associated with having family overseas.
"One of our teachers described it to me very nicely: 'They just need some extra love, some extra time to talk about what their feelings are; a safe place to vent and to say whatever's on their minds,'" Gruda said. "This is a place that can distract them from all the things going on outside in the world."
Many students and families await news from their loved ones in Ukraine, like Mudra, who currently has 15 "close" family members in Ternopil, located slightly southeast of Lviv in western Ukraine. Her parents, who have attempted to call or text relatives but encountered spotty internet, remain steadfast in hope while possessing a fear that has become commonplace of Ukrainians worldwide.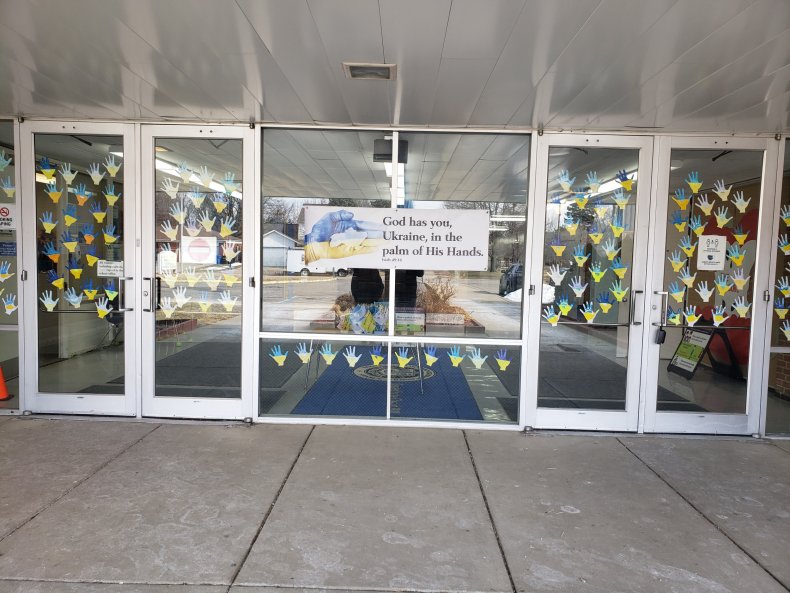 "They, like me and like most of the Ukrainian community, are afraid for their family, for the country," she said. "However, they have hope and they both believe strongly [that] Ukraine will come through this and the Ukrainian people will survive. They want to help Ukraine as much as they can.
"I'm afraid for their sake. I have hope and know the country will survive, and even if it doesn't the people will keep on fighting. I am angry at [Vladimir] Putin and the Russian government for the destruction of lives they have caused. I keep hoping and praying every day this will end well for the Ukrainian people and all people."
'Insurgency Is in Ukrainian Blood'
In the past month, the Ukrainian-American Crisis Response Committee of Michigan was formed. Described as a grassroots association that has responded to the escalating crisis, it has raised funds and spread awareness across the metro Detroit region and beyond.
Mykola Murskyj, chairman of the committee and a remote teacher at Ukrainian Catholic University in Lviv, told Newsweek that the committee has collected donations, coordinated with public officials, and facilitated funding for humanitarian aid. It has become an around-the-clock endeavor.
"We're working pretty hard, it's exhausting," Murskyj said. "We have to remind each other to take breaks. It's a lot of work but I think it's important. If a guy in Ukraine can defend his neighborhood 24 hours a day, sitting on a porch with a gun to defend his apartment complex, we can afford to put in a little bit of work here."
He said, "Insurgency is in Ukrainian blood."
"I think that the world is very surprised at the job Ukraine has done in protecting people's homes, neighborhoods, places of work," he said. "The world is shocked; I am not."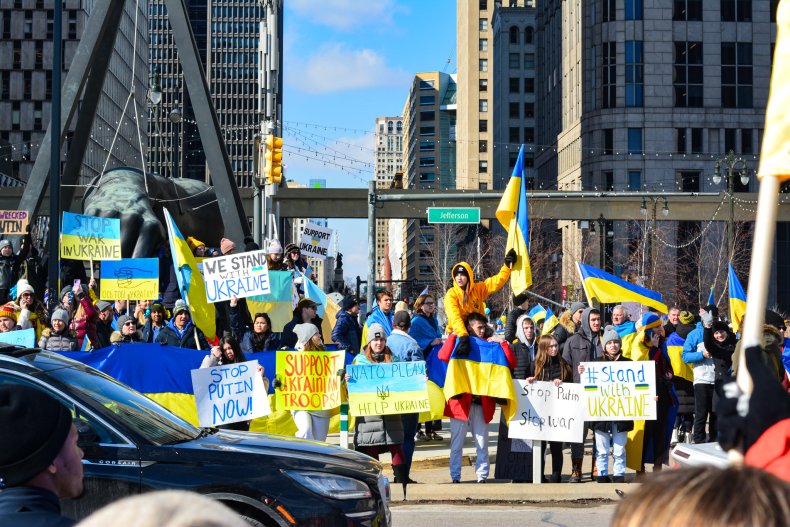 Olena Danylyuk, a Bloomfield Hills resident and vice chair of the committee, moved to Michigan in 2004 during the Orange Revolution. She is a biomedical researcher at Wayne State University who has called the Ukrainian-American community "tight and united."
She has been in contact with a 100-year-old distant relative who has been crying relentlessly. Danylyuk said current events remind her of the Holodomor also known as the Great Famine of 1932–1933, which was said to be perpetrated by Joseph Stalin and resulted in the deaths of more than 7 million people in the Ukrainian SSR and 3 million Ukrainians abroad. "I cannot understand why world is silent; I can't understand why the world is not standing and screaming, 'This is wrong,'" Danylyuk said. "Ukraine has over 40 million people."
The stories are endless, she said. She has friends traveling eight hours from Mariupol to Kyiv on one tank of gas. Another friend told her she went to buy food and was surveilled by Russian troops on a nearby hill. Others tell her that Russian soldiers are marking civilian buildings for later bombings.
"I never believed an invasion would happen to such a scale," she said. "We hadn't believed that nobody in the world would not protect us.… I always feel and hear optimistic stuff, even when it's hard or shelling has started. I admire their spirit. I don't want young people to die. I don't want people to be extinguished."
Fighting for Ukraine, Home and Abroad
Eugene Bondarenko has taught Russian and Ukrainian languages and culture since 2014 at the University of Michigan. He has family and friends currently in Ukraine, including some who were drafted or volunteered to fight against Russian oppressors.
"I'm very worried because they are basically having to fight in the streets of their home cities against an enemy that wants to wipe them out," Bondarenko told Newsweek.
He was born in Kyiv and came to the United States at age 10. In 2014, when Russia annexed Crimea, Bondarenko traveled to Ukraine with journalists to act as an interpreter in Kharkiv and other cities.
Referencing the United Nations' definition of genocide, he sees the current geopolitical warfare as one that hearkens back to an earlier period in history.
"This must be what the Poles who lived abroad felt in 1939," he said. "We are seeing our country, our culture being physically attacked and I do have very real fears about the reports of what is basically termed denazification, which would actually be a purge of the Ukrainian political and intellectual elites...
To stand by now would be like watching Hitler take over Europe and do nothing. And I don't use that comparison lightly."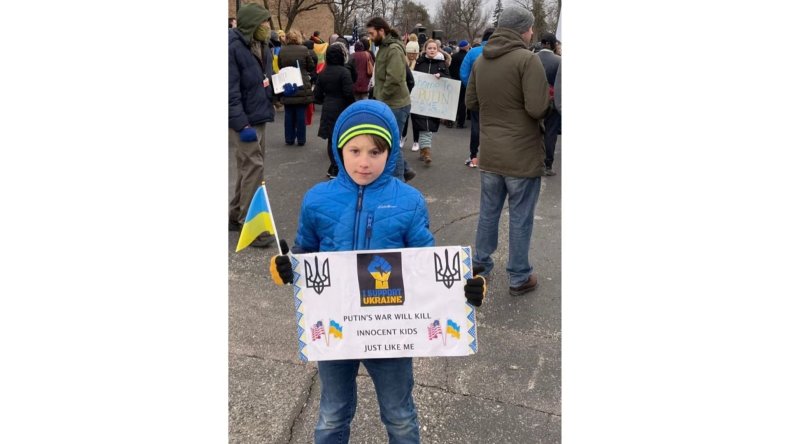 Paul Kubicek, an Oakland University professor who has studied European politics since the Soviet Union's downfall, told Newsweek that "a generous portion of the global effort" should involve countering Russian misinformation or efforts "to create ambiguities or cast blame."
He expects Putin to continue using subversion tactics, relying on rhetoric complete with empty platitudes. Thursday, Russian Prime Minister Sergey Lavrov referred to the world's reaction as "hysteria."
"I think Putin is operating on a different kind of calculus.… I'm saddened it's come to this," Kubicek said. "I am concerned about what it means for that part of the world and the world as a whole. I did not think Putin was so willing to take this risk and go this far with such a large-scale action."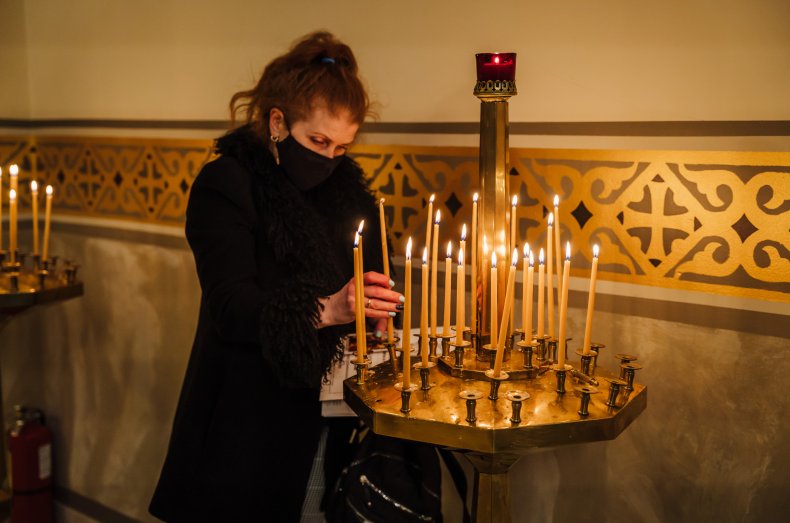 Democratic Representative Andy Levin told Newsweek that the government's sanctions are "unprecedented" in scope and scale, evident by global unity from countries like South Korea, Australia, Germany increasing its own military spending, and even Switzerland changing its neutral posture.
He went so far as to call President Joe Biden's response to Russia's transgressions as the "signal achievement" of his presidency, saying the Ukrainians' bravery and spirit has united bipartisan lawmakers in a "palpable" way.
"I don't think the U.S. going directly, or NATO going to war with Russia, makes sense," said Levin, one of the 30-plus bipartisan members of the Congressional Ukrainian Caucus. "It's not because of Putin's bluster; it's because of the potential of a third World War or a direct conflict between nuclear powers that can escalate. It seems like it would lead to much more death and destruction and instability."
After saying "it's certainly understandable people are asking" for further action beyond sanctions, he said he doesn't "believe the people of the U.S. want it." Biden said Tuesday that no American boots on the ground will be deployed in Ukraine.
Murskyj feels the opposite, calling for Russian travel bans to the U.S. and closing Ukrainian airspace via a no-fly zone.
"I feel like we have a duty to ensure that America's interests are protected and our ancestral homeland stays safe," Murskyj said. "There's nothing else to it.… The largest nuclear power is headed by a man (Putin) who doesn't have advisers who tell him the truth. That's terrifying."