Russian Foreign Minister Sergey Lavrov thinks that the United States and its Western European allies will simply "get over" his country's invasion of Ukraine, calling the unified international response "hysteria."
The Russian military launched a full-scale invasion of Ukraine last Thursday after weeks of alarms sounded by American and European leaders that an assault was imminent. As Ukrainians fight back against the aggression ordered by Russian President Vladimir Putin, the U.S. and Europe have united along with other partners around the world to uniformly condemn and sanction Moscow.
The United Nations General Assembly passed a historic resolution condemning Russia on Wednesday, with 141 of the assembly's 193 members voting in favor. Just four nations—North Korea, Syria, Eritrea and Belarus (which has joined Russia militarily in the conflict)—voted against the condemnation of Moscow's aggression. Thirty-five other nations, including China and India, abstained from the vote.
Despite the global outrage, large internal protests—and even Russia's elite calling for an end to the military conflict—Lavrov dismissed the criticism and opposition from the West in a Thursday press briefing.
"I am sure that this hysteria will fade away and our Western partners will get over it," he said, Tass news agency reported.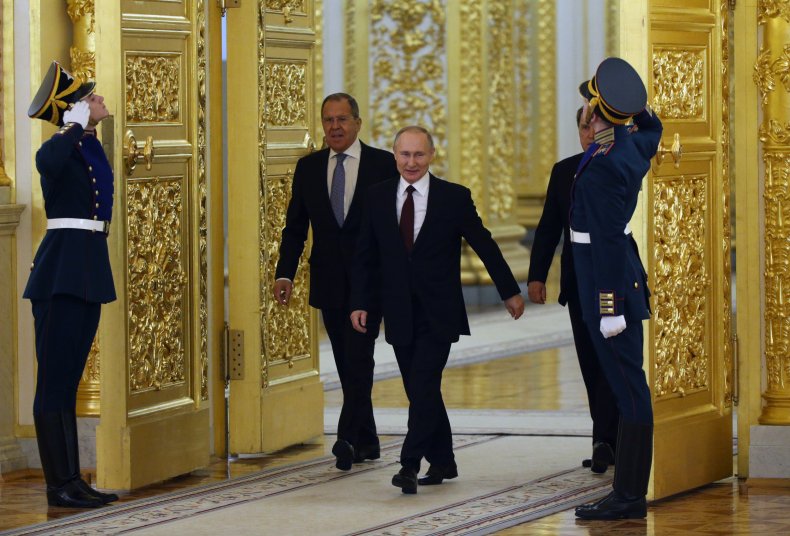 The Russian foreign minister defiantly asserted that severe Western sanctions—which have directly targeted him as well as Putin—would not impact Moscow's decisions. He called the sanctions "some kind of a tax on independence."
"If they expect... Russia to crawl under the bench and give in to someone's dictatorship, their expectations are wrong," Lavrov said. "In fact, they should remember our history, we have never made agreements under pressure."
In a more ominous message, the Russian official addressed the possibility of nuclear war. However, he insisted that this was not something Moscow was considering, despite Putin placing nuclear forces on high alert this week.
"It's clear to everyone that World War III can only be a nuclear one. However, I would like to point out that thoughts of a nuclear war are circling in the heads of Western politicians but not in the heads of Russians," Lavrov said.
Notably, while Putin ordered Russian forces to increase their nuclear readiness—the U.S. has not made any changes to its nuclear posture. American officials have said over the past several days that they do not believe there is currently a serious risk of nuclear escalation.
As the international community unites in condemnation of Putin and Russia, Moscow is facing increasing discontent and criticism at home. In response, Russian security forces have cracked down on anti-war demonstrators, with more than 6,800 protesters arrested thus far, Reuters reported. Even some Russian billionaires, lawmakers and other high-profile citizens have publicly called for an end to the war.
"Russia's Vladimir Putin sought to shake the foundations of the free world thinking he could make it bend to his menacing ways. But he badly miscalculated," U.S. President Joe Biden said Tuesday evening in his State of the Union address to Congress.
"He thought he could roll into Ukraine and the world would roll over. Instead, he met a wall of strength he never imagined," Biden said. "He met the Ukrainian people."
Meanwhile, Western analysts have repeatedly suggested that Putin has "overstretched" his forces and said that he does not have enough troops to "subdue" Ukraine. Some have said that Putin appears to be more "erratic" and likely miscalculated with his decision to invade. Russian military units have reportedly been running out of fuel and food, while some units have simply surrendered without putting up a fight against Ukrainian resistance.
"We're seeing vehicles abandoned. We're seeing sustainment problems in fuel, not just fuel but in food," Pentagon press secretary John Kirby told reporters during a Wednesday briefing about Russia's invasion.
"The Ukrainians are fighting bravely and creatively," Kirby said, noting that Putin's military has made "some missteps" in the war thus far.