Why West Africa and Nigeria Have the World's Most Dangerous Seas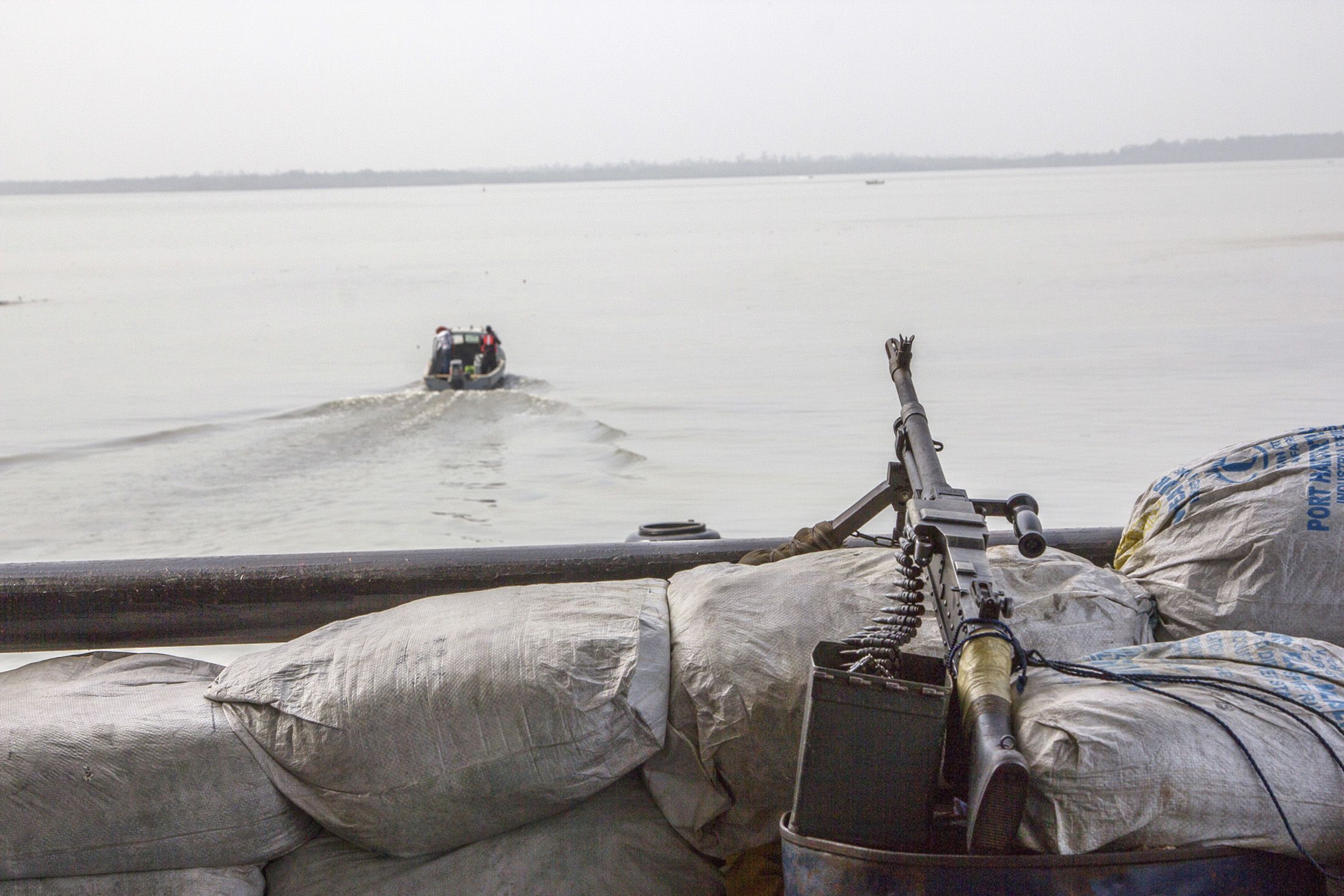 For years, piracy in African waters was almost exclusively associated with the Western Indian Ocean off Somalia's eastern coast.
But while the problem is still of grave concern in the Horn of Africa, another part of the continent has overtaken it as the most dangerous region in the world for seafarers—the Gulf of Guinea in West Africa, and in particular the waters south of Nigeria's oil-producing Niger Delta region.
Throughout 2015, 54 pirate attacks were reported in the Gulf of Guinea, which was actually a slight decrease on the 67 recorded in 2014, according to an annual report by maritime security monitoring group Oceans Beyond Piracy (OBP) released on Tuesday. But the attacks had deadly results—23 people were killed by pirates in the region in 2015. In comparison, records of attacks in the Western Indian Ocean region—which covers activity by Somali pirates—show only 16 attacks and no deaths in 2015. As well as the human cost, piracy and armed robbery in the Gulf of Guinea cost governments and industries an estimated $720 million, largely in security fees.
The Gulf of Guinea is a vast region comprising multiple countries, but one finds itself at the center of the recent rise in violent piracy. Since the election of Nigerian President Muhammadu Buhari in March 2015, Africa's biggest economy has been hit by a rise in pirate attacks in the Gulf of Guinea, which lies just south of Port Harcourt, one of the biggest oil-producing states in the country.
Technically, incidences of piracy only occur on the high seas—meaning, in international waters and not within the jurisdiction of any one state. Of the 54 incidents recorded in the Gulf of Guinea in 2015 by OBP, however, almost half took place in either Nigeria's territorial waters or in its Exclusive Economic Zone, waters in which Nigerian ships have rights over natural resources but which fall under universal jurisdiction.
Nigeria is no stranger to trouble on the waters. In the mid-2000s, the creeks and rivers of the Niger Delta were patrolled by militants belonging to groups such as the Movement for the Emancipation of the Niger Delta (MEND), who attacked oil infrastructure and kidnapped oil workers in recompense for what they claimed was the unfair distribution of the country's oil wealth. At its peak, the Niger Delta militancy cut Nigeria's oil capacity to less than a third of its maximum capacity.
A presidential amnesty program introduced in August 2009 established a fragile peace in the Niger Delta, with ex-militants being paid monthly subsidies and offered training opportunities. Lucrative security contracts—where militant leaders were effectively paid not to attack oil facilities—were also proffered to kingpins of the groups involved, including Government Ekpemupolo, more commonly known as Tompolo.
Buhari has initiated an anti-corruption drive since coming to power, however, which has ruffled the feathers of those threatening Nigeria's maritime security. The president sacked the Director-General of the Nigerian Maritime Administration and Safety Agency (NIMASA), Patrick Akpobolokemi, barely two months into his administration amid allegations of multibillion-dollar fraud. Akpobolokemi is currently awaiting trial on fraud charges, which he denies.
More significantly, Nigeria's anti-corruption agency issued an arrest warrant for Tompolo in January on charges of fraud and money laundering totaling almost 46 billion naira ($231 million). Tompolo has since gone on the run, refusing to turn himself in for arrest and insisting he has done nothing wrong.
According to Matthew Walje, the lead author of OCP's report, there is a link between those involved in the Niger Delta militancy and Nigeria's spike in offshore piracy. "The problems in the rivers [of the Niger Delta] are inextricable from the problems at sea," says Walje.
Walje says that the modus operandi of pirates in the Gulf of Guinea has changed in recent years. While pirates previously attempted to hijack vessels carrying valuable cargo such as oil, the majority of successful attacks in 2015 were kidnappings, where pirates approached vessels in a speedboat and took crew members hostage without trying to access the cargo. In one tragic incident, pirates boarded the Malta-flagged MT Kalamos just off Bonny in southern Nigeria, then engaged in a shootout with armed guards aboard the ship. In the gunfight, a Greek seafarer named Nikos Dagre was killed and a further three people were taken hostage, and later released.
While the recent flare-up constitutes a "specifically Nigerian problem" driven by domestic issues—such as Buhari's crackdown on corruption in the maritime sector—greater regional cooperation is needed to deal with the problem, says Dirk Steffen, director of maritime security at Denmark-based Risk Intelligence.
Steffen says that involved nations have taken several positive steps, noting how piracy has been tackled successfully in the Western Indian Ocean. In 2013, 25 west and central African countries signed up to the Yaounde Code of Conduct, which aims to improve information-sharing between countries in the region and crack down on piracy and transnational crime. The code was modeled on the Djibouti Code of Conduct signed in 2009 by Somalia and others in and around the Western Indian Ocean. Also, a command center for merchant ships traveling in the Gulf of Guinea, based in Ghana, operates as a hotline for security advice and reporting incidents of piracy.
But, says Steffen, the measures are not being enforced with prosecutions. "Most countries do not have legislation in place that deals with piracy or piracy-like criminal activities," says Steffen. And without prosecutions or accountability, the pirates will keep trying their luck.