Wife Backed for 'Vulgar' Sign to Keep Mother-in-Law Out of Her Bedroom
A man is being bashed online after he took to Reddit for advice over a sex sign that his wife put on their door at night to bar his mother from knocking.
The viral Reddit post recounting the situation, titled, "AITA for going off on my wife after she made a sex sign to keep my mom from knocking on our bedroom door," has been upvoted 10,800 times, garnering over 3,000 comments since it was shared on May 7.
According to a study in Evolutionary Psychological Science, both men and women have more conflict with their mothers-in-law than with their own mothers. Most of the issues stemmed from caring for the children and finances.
Redditor @pocketlobster88 shared the post to the subreddit "Am I the A**hole," revealing he's been married for four years. The couple shares a "medium-sized apartment," and for the past two months, the Redditor's mother has been living with them on-and-off in their guest room.
The original poster's (OP) father died recently, and it's been difficult for his mother living in her home alone, so the Redditor has been allowing her to stay with them. However, the OP's wife and his mother have "never particularly" gotten along.
"I mean, she lost her husband of 40 years, she's fragile, and I really want to be able to do what I can to make her feel better," the OP stated.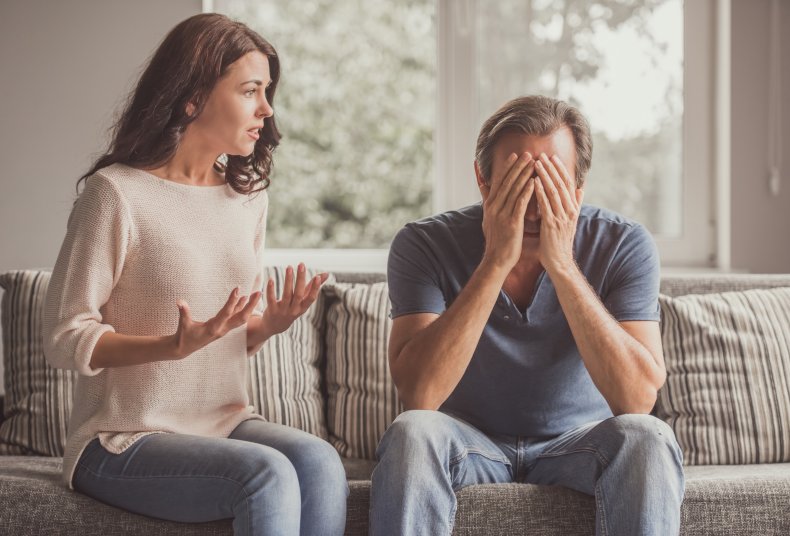 However, his mother being there has obviously changed the couple's routine, especially at night. She'll typically knock on their bedroom door to talk, which the OP's wife "hates," partially due to the fact it "interrupts" their "intimacy."
The OP added, "Usually when she's over we just don't make love."
During the last week, the Redditor realized his mother wasn't coming to their room at night, and he was about to learn why.
"Yesterday mom pulled me aside and told me that the sign I let my wife put on the door at night was disgusting and not something she ever needed to know," the OP relayed. "She also said that she was very hurt that I don't want to speak to her since I'm all she has left now."
He told his mother that he didn't know what she was referring to, when she revealed she was talking about the "sign about sex." Still, the OP didn't know anything about it, and so he spoke to his wife about it when she returned home.
"She admitted to it," the OP continued. "She said that she made a sign to keep my mom out of our hair at night. On the sign was written, 'Please do not disturb unless you want to see me fu**ing your son.'"
According to the OP, his wife thought the sign was "funny" and also "necessary." He threw out the sign after that and proceeded to go "off" on his wife in regard to the inappropriateness of it, adding that it was "embarrassing."
"She told me it's my fault that we needed this, and it's just [a] joke," he concluded. "I slept on the couch last night, and she's still pi**ed at me."
Although not everyone agrees, the majority believe the OP is the a**hole in the situation. One such commenter, who received over 31,000 upvotes for their comment, thought the OP needed to set some "boundaries" with his mother "and not let her intrude" on his marriage.
"My mother is my best friend, and when my father died after 46 years of marriage, she wouldn't dream of intruding on me like this," they added. "The sign might have been crass, but it sounds like your wife has had enough."
Another Redditor remarked that there are 24 hours in a day, and the OP's mom "can only seem" to speak with him when it's time for bed.
"I understand wanting to support your mother, but she's going to be co-dependent on you if you keep allowing her to stomp on boundaries," they added. "She's already started to plant seeds of manipulation of 'you're all I have left,' making you feel guilty."
One commenter, who admitted to loving the OP's wife's sign, mentioned that the OP "went from being intimate on a daily basis to sleeping on the couch all because you couldn't stand up to your mother." They also offered words of advice: "Next time tell your mother you need to be intimate with your wife, and you guys can chat in the morning."
While a Redditor thinks the OP needs to "cut the umbilical cord already," adding he's being "dense" in this situation.
"Yes, grief is rough, but that doesn't give your mom the right to literally disrupt you and your wife's intimacy," they said. "Grief is not an excuse to trample boundaries. Did your wife even have a say in your mom staying with you? And why does your mom need to talk when you're already in bed with your spouse?"
Some people had harsh criticism for the OP. One such Redditor said the OP is the a**hole here, and they didn't mince words.
"When your wife leaves you because she has a boundary stomping in-law and you have no backbone to enforce said boundaries, you and your mommy can have all the sleepovers you want," they said.
Not everyone thought the blame was all on the OP given the evidence. One Redditor thought everyone in the situation sucked, relaying that the sign was "really vulgar and over the top."
However, Redditor @pocketlobster88 told Newsweek on Monday: "We're kicking my mom out. We sat down with her, and she was being incredibly manipulative, [and] was trying to separate me and my wife."
This isn't the only viral moment involving conflict with relationships. A dad found support this past week online after he canceled Mother's Day plans after his wife told her stepson to stay home. Meanwhile, the internet is divided over a man snapping at his wife. In addition, the internet recently slammed a man for ripping up his stepson's drawing.
Update 5/9/22, 5:27 p.m. ET: This story has been updated with additional information from the OP.