Wife Claims Letter she Wrote for Future Husband Features his Tattoo
Sometimes the truth is stranger than fiction.
A woman has gone viral on TikTok with the incredible claim that after rediscovering a series of letters she wrote to her "future husband" as a teen, her husband's arm featured a tattoo of a Bible verse she had forgotten she wrote about.
The woman, known only as @mrs_younks on the video-sharing platform, posted about the wild coincidence on May 30. She was responding to the video prompt, "What's something that sounds fake about your relationship but is real?"
"So when I was about 15 or 16, some girls at my church were writing future love letters to their husbands," she explained. "And I was like, 'Aw, that's such a cool idea. I'm gonna do that too!'"
The woman joked though she loved the idea, she only wrote a couple of love notes before stopping.
"So I started writing future love letters to my future husband ... I only wrote two and then I forgot about it and then I stuck 'em in a notebook and then I never looked at them again," she said.
However, after her husband proposed and the 2017 wedding day drew closer, she remembered her teenage love letter project and decided to gift them to her spouse. It was while reading them at the reception that the two realized a strange coincidence — she had written about the Bible verse he had tattooed on his arm.
"On one of the letters, I had written of an obscure Bible verse I had found in my Bible ... Nahum 1:7," she explained. "When I gave it to him at our wedding, we realized he had Nahum 1:7 tattooed on his arm, and he had gotten it the same year I wrote those letters. Dead serious!"
Since posting, the video has been viewed over 2.7 million times and liked by nearly 582,000 viewers. Thousands took to the comments to express their amazement at the coincidence.
"Wow God is so good," one viewer shared. "I'm not religious, but that's freaky," another commented.
"You manifested him," one viewer even boldly proclaimed.
Although she was unable to recall the exact wording of the verse while recording the video, several shared the quote in the comments section: "The Lord is good, a stronghold in a day of distress; and He knows those who take refuge in Him."
In a series of follow-up videos, the woman also addressed a few popular questions in the comment section, including when she wrote the letters and if she had made them while dating her now-husband.
"I was in high school but my husband is five years older than me. So he was not in high school, so when I was writing those letters, he was in his early 20s ... he was quite a bit older than me," she explained in one video. "We did not know each other. We actually grew up an hour and a half away from each other. I'm on the north side of Houston ... and he was in the south side of Houston ... We were actually very far apart."
She also explained that while she knew he had the phrase Nahum 1:7 on his arm, she forgot that she had written about that Bible verse until rereading the letters years after penning them.
"I did know that he had that Bible verse tattooed on him. I did not remember it was in the letter. You gotta remember, I wrote those letters when I was in high school and we got married when I was like 25 years old," she said. "So a lot of time went between when I wrote those letters and when I gave them to him."
"When I found them it was only a couple days before the wedding and I did skim through them, but I didn't really take the time to acknowledge, 'Oh, this Bible verse is the same one that he has,' until the day of the wedding when we reread through the letters," she adds.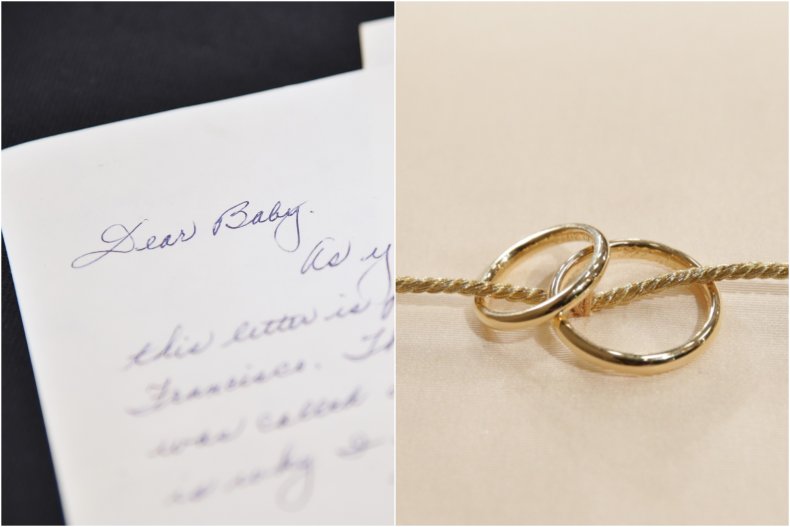 Newsweek reached out to the woman for comment on the video, but she did not immediately respond in time for publication.
She is also not the first to share her wild wedding experience. One woman made the startling accusation that her sister kicked her out of the bridal party because she would not let her honeymoon in her house. Another man claimed he found his new bride "marrying" another man on social media in what turned out to be a con artist scheme.