Wild Boar Attacks Man Having BBQ, Knocks Him Unconscious
A man who was trying to enjoy a relaxing barbecue was attacked by a massive feral pig, its tusk narrowly missing his eye as it knocked him out with the force of the attack.
Steven Easton, a man in his 70s, was in his garden with friend in Otago, New Zealand, on Tuesday evening when he spotted a family of pigs in his garden.
Easton got up to chase away the smaller pigs, when he was suddenly confronted by a large adult boar.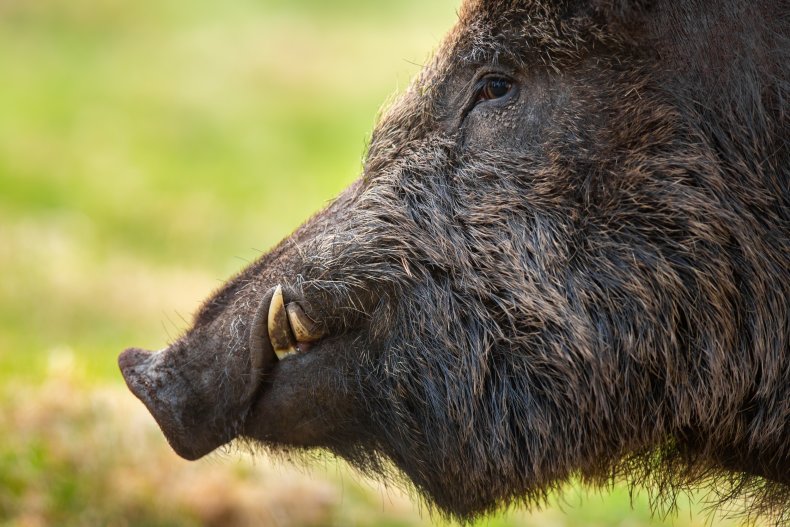 "I just turned and to find a very large boar about two to three metres [6.5 to 10 feet] away and he seemed to be just flying straight towards me," Easton told New Zealand's RNZ news show Checkpoint.
"There was plenty of room for him to get past but he [turned] slightly. And then he hit me. And I went in the air and over a bank down about a metre [3 feet] and landed on a lawn."
Wild pigs are found throughout New Zealand, having first been brought to the island nation in the 1700s as domestic pigs. They have become a nuisance in recent years, taking over parts of New Zealand's capital, Wellington, destroying backyards and killing domestic animals, the Guardian reported in 2022.
The pigs can grow to weights of up to 450 pounds, and have massive tusks that curve out 6 inches from the pig's face.
The boar's tusk grazed very close to Easton's eye, dislocated his shoulder, and left him knocked out for around 25 minutes.
"I had blood out of my nose, out of my mouth, out of my eye," Easton said.
"It hit me in the eye, in the corner of my eye by my nose. The doctors seem to think there's quite a bit of damage. My eye was completely closed by that time."
He was taken to nearby town Ranfurly for medical treatment.
Easton is concerned for the safety of other residents of his village, as he has noticed increasing numbers of the boars. He said that the pigs had been seen walking around various locations in the small village.
Easton told RNZ he suspects the pigs are being seen so much more due to a section of pine trees having been cut down on the outskirts of the town.
"We feel that they've come into town because they've been pushed out of the way where they live. And also at this time of the year, there's quite a bit of fruit in town with plum trees and pear trees and stuff like that," he said.
The couple has urged the local authorities to increase their attention on dealing with the pig problem, else risk someone else getting injured.
"[The Department of Conservation (DOC) and the Central Otago District Council] say they're controlling the pigs around the area, but it's very clear they're not because the pigs wouldn't be in town," Pauline Easton, Easton's wife, told New Zealand news site Stuff.
"It's a big issue, and we want somebody to help us and take responsibility for it."
Newsweek asked the New Zealand Department of Conservation for comment via email.
Do you have an animal or nature story to share with Newsweek? Do you have a question about wild pigs? Let us know via science@newsweek.com.