A man has been widely praised for standing up for his working rights after his current employers demanded he be in a morning meeting.
Twitter user Gary Onion, thought to be named Caleb, shared a string of messages to the site last week. Caleb, a contractor, was in a discussion with a worker who appeared to pull rank over him, asking why he wasn't in a meeting, then demanding his presence in the next one.
But Caleb simply explained: "Yeah I was asleep. I basically never join those."
That didn't go down too well, as he was told "morning meetings are a requirement," before signing off with "I expect you to be on the next call tomorrow at 9am, EST."
But Caleb, whose Twitter account indicates he's based in Tacoma, Washington, pointed out: "Man that sucks for you guys, but I'm not an employee. My contract says nothing about required hours or daily meetings."
His stance was met with resistance, as the next message warned: "You REALLY need an attitude adjustment! If you aren't on the next call, you're fired. Your choice."
The choice was pretty simple for Caleb, who replied: "You can fire me if you want, but you guys have to pay me through the 18th of next month regardless so I'm definitely sleeping in tomorrow. Enjoy your meeting."
And he had some words of wisdom, adding: "You guys really ought to read the contracts you have us sign. Pretty wild stuff in there."
The colleague wrote back, saying "please call me," to which Caleb simply said "no."
He later called it "legitimately one of the most satisfying moments of my professional career." The texts can be read here.
Speaking to Newsweek, Caleb said: "It's important for people to understand the person I was speaking to wasn't my boss, wasn't someone I reported to, and he was asking me to join a daily meeting at 6am that I wouldn't be paid for as I wasn't hourly.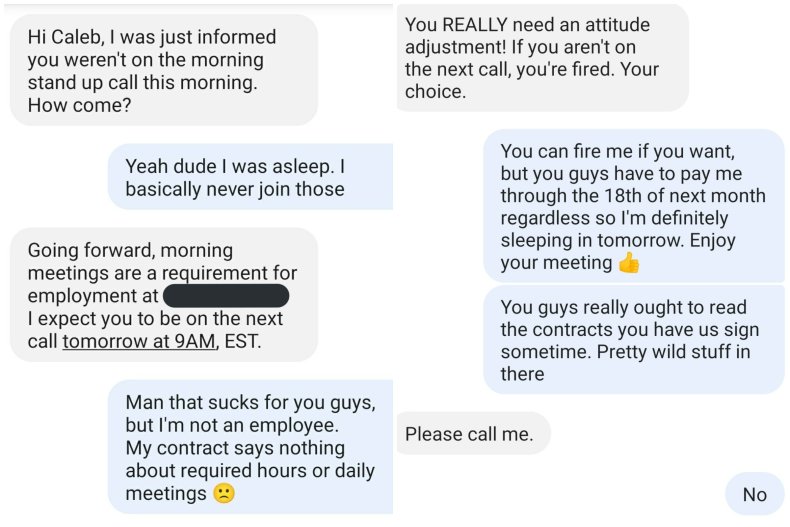 "The only other thing I would say is to people who have commented that I ruined my career/reputation for standing up for myself, I've already received two offers since this happened so I encourage everyone out there to advocate for themselves."
In the Twitter comments, Caleb explained a little more about what the role was, saying: "It's just funny because I was literally hired to do one specific behind the scenes task, then consult on the process it's related to, for a lump sum, split over a few weeks. Nothing remotely similar to employment. So dumb."
The wild chain has amassed more than 230,000 likes since being shared to the site last week, as Caleb's stance resonated with people.
The snaps were captioned: "Being an independent contractor sucks for a lot of reasons, but it also affords you the unique ability to tell people to f*** off in delightful ways."
After the message blew up, he provided some more background detail, saying: "Since a bunch of people have asked, this happened at ~4:30 their time, so I didn't hear back. I'm about 6 beers deep and have 0 intention of joining the meeting tomorrow so if there are any fun updates I will post them.
"For context if anyone cares, this person doesn't work at the agency that handled my contract. They don't even run the department I was working in, and have no authority to fire me. Just a middle management nerd trying to be a cop."
And it seems the dismissal was thrown out, as Caleb shared some follow-up texts he received, claiming to be from the company, based in the northeast, seemingly over the same issue.
It reads that the person in question "had no authority to fire you," continuing: "That stated, as we view it, you cont[r]act has not been voided and we're requiring that you return to work as scheduled."
But Caleb replied, saying he's spoken to some other people who confirmed his contract was "terminated." He signed off with: "I have no interest in discussing this further. Don't text me again."
Caleb seemed to stress he wasn't short of job offers or opportunities, as he encouraged people not to be taken advantage of.
He wrote: "If you're in a precarious situation at work, stand up for yourself. If you believe anything I've done today would preclude me from future employment, I've received tons of DMs like this. Advocate for yourselves guys, you're worth it."
Numerous people shared their own stories, as well as praise for Caleb.
LauraG pointed out: "Can't help but notice they led with 'I was informed that...' ...so they weren't on the call either, then?"
"SERIOUSLY good for you!!! worked as a consultant and laughed when my contact at the company tried to schedule an employee review 'just as a way to check in on my progress' That's a NO," @organic_groover raved.
Laura Mindset Molder commented: "I'm screaming at this convo because I just no the other dude is feeling salty because of his lack of authority here. Also trying to figure how to be a private contractor now."
Venom Lord wrote: "Pumped my fist at that 'No.'"
Good Vibes Villain reckoned: "Imagine losing your job because you tried to fire an independent contractor you have no authority over. Oh wait."
Although not everyone was enthralled, as Dublin 8 lad admitted: "While funny, I'd hate someone with that attitude working with or for me."
Newsweek contacted Caleb for comment.
Numerous workers have been sharing their experiences with draconian bosses and the reasons they quit, citing no time off for a honeymoon, paltry pay rises and discrepancies over remote working.
Various stories were shared on Reddit's popular Anti-Work subreddit, which was promptly locked on Wednesday following an interview with a mod, Doreen Ford, on Fox News.
The term the Great Resignation has been coined to refer to the en masse resignations in America.
Harvard Business Review noted: "According to the U.S. Bureau of Labor Statistics, 4 million Americans quit their jobs in July 2021. Resignations peaked in April and have remained abnormally high for the last several months, with a record-breaking 10.9 million open jobs at the end of July."
Figures from the U.S. Bureau of Labor Statistics, released earlier this month, revealed the "quits rate," which is the number of people leaving their jobs, has increased.
The report stated: "The number of quits increased in November to a series high 4.5 million (+370,000). The quits rate increased to 3.0 percent, matching the series high in September."
Update 01/28/22, 4:15 a.m. ET: This article was updated with comment and photos from @BirdRespecter.