Wildfire Smoke Linked to 'Disturbing' Increase in COVID-19 Cases and Deaths: Study
Smoke pollution from wildfires ravaging through the western part of the U.S. has likely caused an increase in COVID-19 cases and deaths in several states, according to a new study.
The study, which was published this week in the journal Science Advances, found that tiny particles of soot known PM2.5s may have resulted in a 20 percent increase in coronavirus infections in counties across California, Oregon and Washington amid record-breaking wildfires last year.
PM2.5s are known to invade the respiratory system and can cause negative health outcomes such as inflammation, a lowered immune system, and an increase in lung infections, according to the study. Overall, researchers estimate that more than half of all COVID-19 deaths in the studied areas were linked to pollution from wildfire smoke.
"Combining wildfires with this pandemic can have a really disastrous effect. It's disturbing," Francesca Dominici, a professor at the Harvard TH Chan School of Public Health who co-authored the research, told The Guardian. "In some counties the association was very strong indeed – on days with lots of wildfire smoke the Covid cases went up by a lot."
The researchers analyzed data from 92 counties across California, Washington and Oregon last year between March 15 and December 16, when most of the wildfires occurred. In that time period, they found that the total number of COVID-19 infections linked to the wildfire smoke was 19,742, with 748 deaths.
The largest surge of coronavirus cases linked to wildfire smoke was found in Butte County, California, and Whitman, Washington. Calaveras, California, had the highest rise in COVID-19 deaths, according to the study.
Though the researchers only analyzed areas in the west, Dominici said the same effect would likely be felt anywhere with high levels of PM2.5 – even in places as far east as New York, where smoke from U.S. wildfires has recently turned skies hazy.
"We only looked at counties in the west but I'd speculate that it doesn't matter where you are, if you are getting high levels of PM2.5 from wildfire smoke in New York, you will get the same catastrophic effect," Dominici said. "It's very concerning. I'd say to anyone living in a place affected by wildfires to get vaccinated as soon as possible. Longer-term, this shows us, yet again, the importance of fighting climate change."
The researchers said that more work needs to be done to fully link wildfire smoke to the coronavirus, but preliminary studies have found that the emitted pollutants can help spread infections, while also weakening people's lungs before they contract COVID-19, increasing the likelihood that they will become severely ill or die.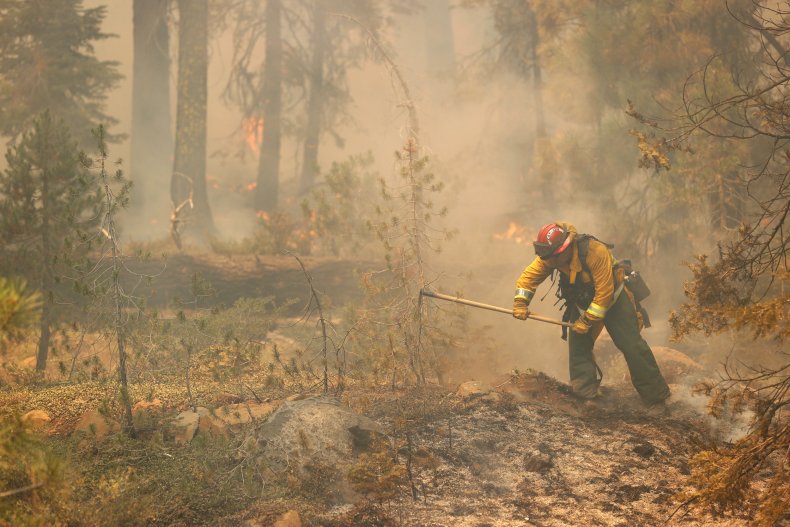 The study comes as wildfires continue to rage across the country in 2021.
In northern California, the Dixie Fire is currently one of the largest in the state's recorded history. The fire has so far burned more a half a million acres of land and destroyed over 1,000 buildings, with experts warning that it could take months to be contained.
Earlier this week, firefighters said current wildfires in the West are behaving more dangerously than ever before.
"We have a lot of veteran firefighters who have served for 20, 30 years and have never seen behavior like this, especially day after day, and the conditions we're in," Plumas National Forest Supervisor Chris Carlton said. "So we really are in uncharted territory around some of these extreme, large fires and the behavior we're seeing."