Will China Bail Out Venezuela? Maduro Heads to Beijing Amid U.S. Invasion Rumors
Venezuelan President Nicolas Maduro headed to China in the hope that Beijing's wealth would help save his country's collapsing economy.
The embattled president, who survived an audacious assassination attempt using explosive drones last month, desperately seeks respite from the economic crisis that has wracked Venezuela for the past five years.
With a near worthless currency, plummeting living standards and millions fleeing to neighboring countries, Maduro believes fresh Chinese loans could help stave off complete collapse, Reuters reported.
"I am going with great expectations, and we will see each other again in a few days with big achievements," Maduro said in a state broadcast from the airport Wednesday. The government massively devalued its currency in a bid to rein in out-of-control inflation, which the International Monetary Fund warned could hit 1 million percent by the end of the year.
According to Agence France Presse, Maduro said, "We are leaving under better conditions, having activated a program of economic recovery, growth and prosperity. We are going to improve, broaden and deepen relations with this great world power."
China's Foreign Ministry issued a statement noting the Venezuelan leader would visit from Thursday to Saturday at the invitation of President Xi Jinping. Published by the official Xinhua news agency, the statement did not elaborate on what the two leaders might discuss.
Venezuela's Vice President Delcy Rodriguez is already in China ahead of the president's meeting. On Wednesday, the vice president met with his Chinese counterpart Wang Qishan. According to the Chinese Foreign Ministry, Wang told Rodriguez the relationship between their countries had been "steadily progressing" in all fields in recent years.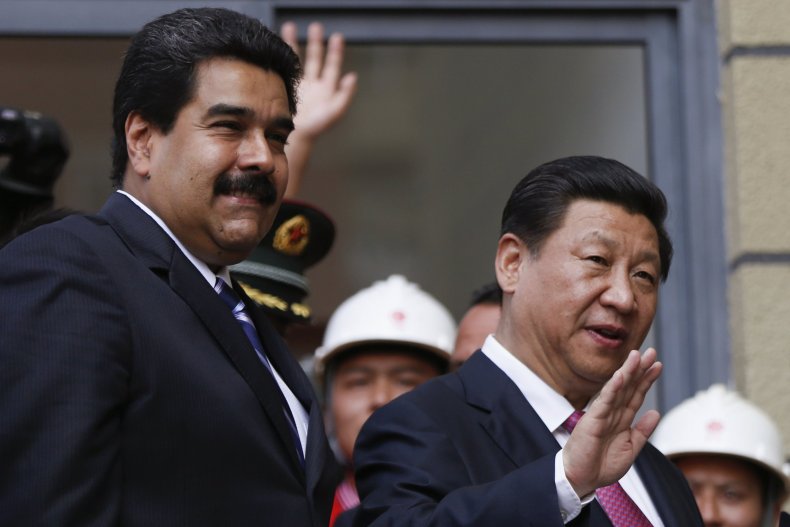 Reuters also cited an anonymous senior oil source who said Rodriguez had also met with the president of state energy firm CNPC—Zhang Jianhua—for talks on greater cooperation. The firm has been a significant investor in oil and gas exploration in Venezuela.
China has sent more than $50 billion to Venezuela over the past decade in the form of oil-for-loan deals, according to Reuters. These have allowed Beijing to secure much-needed fuel for its growing economy while supporting a vehemently anti-American government in South America.
Venezuela's oil reserves once made it one of the wealthiest countries in South America, but falling crude prices and economic mismanagement have left huge holes in the national budget. The crisis almost scuttled the Venezuela-China deals after Caracas requested a change in payment terms to help adjust to its new financial challenges.
But the relationship persisted, and in July it was announced that the China Development Bank would invest $250 million to boost oil production, reported Reuters. This was in addition to a previously agreed upon $5 billion loan from China to put into Venezuela's oil sector.
Relations between Venezuela and the U.S. have been poor for many years. Maduro's predecessor, Hugo Chavez, was staunchly anti-imperialist and anti-American. He was a consistent critic of American policy during the tenure of President George W Bush, and the relationship remained unproductive despite glimmers of hope during President Barack Obama's two terms.
Last year, President Donald Trump reportedly raised the idea of a military intervention in Venezuela to unseat Maduro, though his panicked aides quickly assured the president this would be a mistake.
But according to The New York Times, Trump's overtures encouraged a group of rogue Venezuelan military officials to travel to Washington, D.C., to meet with administration representatives at least three times.
Though the Trump administration eventually decided not to back the plotters, its willingness to meet with them caused alarm in Caracas, where the unpopular president has already survived multiple assassination and coup attempts from rogue military personnel.
Maduro and his allies claimed a U.S.-led conspiracy was to blame for the country's financial woes, accusing Washington of running an "economic war" against Venezuela.