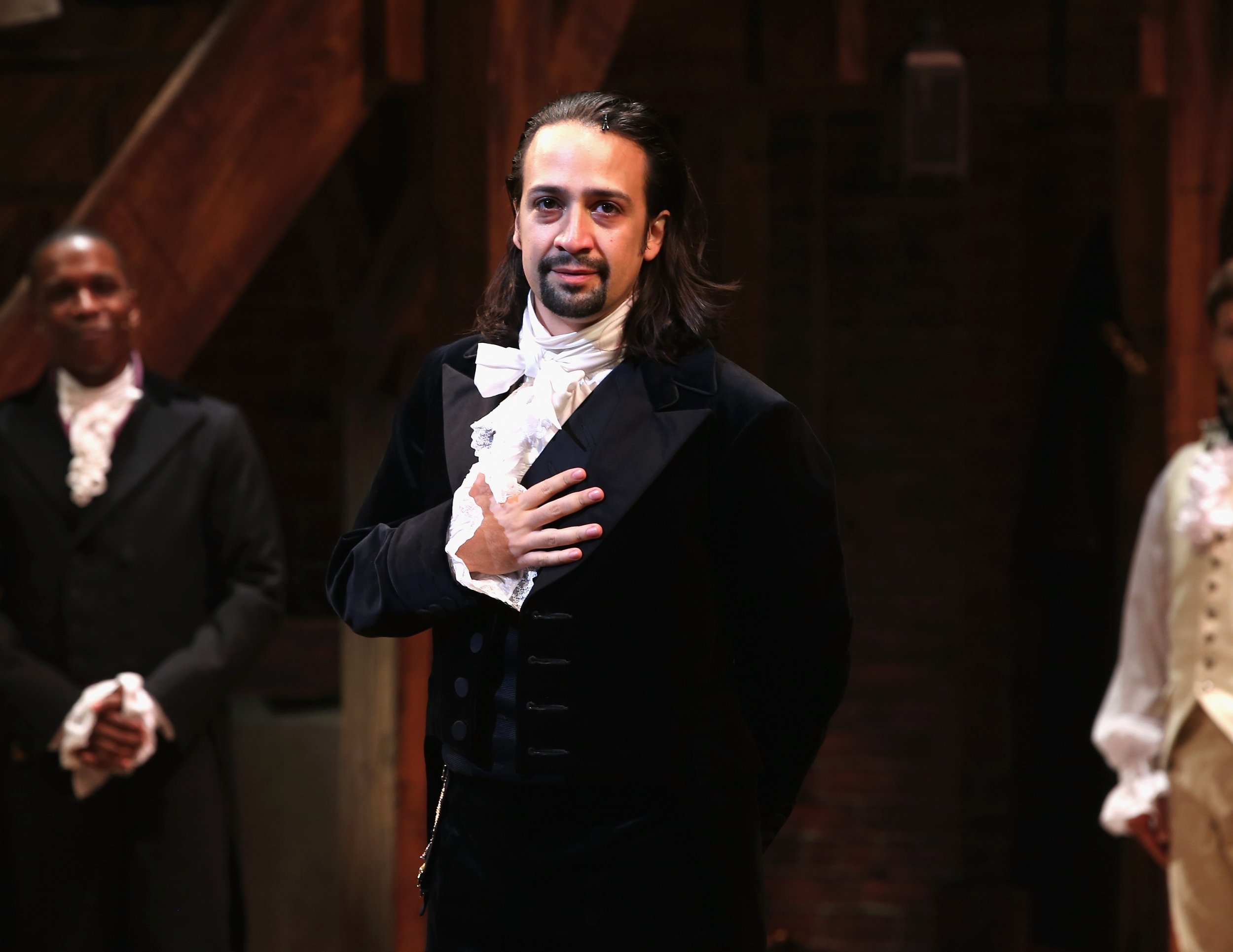 Broadway musical Hamilton swept the Tony Awards Sunday night with 11 wins. Its soundtrack is on course to be the first musical cast recording to enter the top 10 of the Billboard 200 in five years. It has captivated audiences including U.S. President Barack Obama, Beyoncé and Jay Z and Kanye West. And, such is its popularity, tickets have sold out through May 2017.
In October 2017, it's the U.K.'s turn to catch Hamilton fever as Lin-Manuel Miranda's hip-hop musical about one of America's founding fathers, Alexander Hamilton, transfers to the West End stage at London's Victoria Palace Theatre.
However, can a story so inherently American be as successful in Britain as it has been with home audiences? Even Cameron Mackintosh, the theater impresario behind Les Miserables and Mary Poppins, who will bring Hamilton to the U.K., is cautious. "No one can know how any show can work out," he told The Daily Telegraph recently. "All I can say is this is one of the most brilliant and original shows I've seen in a long, long time. How big a success it will be only time will tell."
As Hamilton continues to seep into the British consciousness, Newsweek asks some of the U.K's top theater critics whether the musical can translate outside of its native market.
"Its reputation precedes it so much," said Time Out London's theater editor Andrzej Lukowski. "Even before it won big at the Tonys at the weekend, the scale of the rapture over it has been noticed. You just have to look at social media when it was announced you can sign up [for priority tickets]—people got excited, it's a big deal.
"I don't think the subject matter is a big deal. It's not an American musical but Les Miserables is about a very obscure episode in French history… it was a French production before Cameron Mackintosh reworked it into English. That came over here and was an enormous success."
Mackintosh's track record for producing some of Britain's best-loved musicals speaks for itself. In 2015, Les Miserables celebrated its 30th anniversary on the West End stage, for example.
But not all Broadway transfers are created equal. "Legally Blonde came from Broadway and was a bigger hit here than there. On the other hand, Rent transferred here and failed," pointed out veteran theater critic Mark Shenton, who serves as chair of the Critics' Circle drama section. "I suspect Hamilton will get a bit of opening momentum from the New York hype. But after that, it will be anyone's guess what will happen," he added.
Dom O'Hanlon, editor of London Theatre Guide, echoed Shenton's comments about the liability involved in transferring musicals.
"Theater is one of the riskiest business moves you can make—20 percent of musicals make back their investment and 80 percent will flop," he said. "Two of the recent examples [of Broadway shows] that haven't worked here are The Drowsy Chaperone and Spring Awakening. Spring Awakening was very similar [to Hamilton]—it had a very youthful American movement behind it, won Tony Awards, then came here and didn't last at all."
O'Hanlon believes Mackintosh's understanding of British sensibilities will be essential to Hamilton's success on the London stage. Having seen the musical in New York recently he said he "couldn't see how [the story] would get the same effect as it did in the U.S."
Alexander Hamilton features on the $10 bill and is part of history lessons taught in U.S. schools, thus those seeing the production on Broadway at least have some loose recognition of the political overtures in the plot. "That's not to say the U.K. couldn't get involved with that story, or be interested in that story, but it's a different on-ramp for American and U.K. audiences."
More accessible to British audiences, O'Hanlon says, will be the universal theme of love. Hamilton features a love triangle between Alexander Hamilton, his wife Elizabeth and her sister Angelica Schuyler Church. "History aside, it's something an English audience can relate to in the same way that watching Les Miserables, you don't need to know about the French revolution. You can get on board with it in a basic human way, see human relationships and see how the struggles people go through with," he said.
Prolific blogger West End Wilma tells Newsweek that audiences can be vastly different and overly glossy American musicals can fall flat when they hit the West End—pointing to a new production of Disney's Aladdin, set to open this week. "I saw Aladdin, which has been doing amazingly well on Broadway. However, I found it to be a prime example of how some shows do not transfer well to other audiences. In America, they don't have a pantomime culture like we do, and so Aladdin has been embraced as a comedy musical. But I found it to be a very expensive and glorified pantomime."
Wilma remains optimistic that Hamilton could echo the crossover appeal of Miranda's previous Broadway musical, In the Heights. That production transferred to the King's Cross Theatre in London in 2015 and recently extended bookings through October due to popular demand.
The blogger thinks Hamilton may well be educational for Britons who are not as familiar with Alexander Hamilton as their U.S. comrades. "I don't know the story but I'm intrigued to go and see it," said Wilma. "Theater is a way to learn about history—not necessarily just politics—there's a lot of shows that cover terrorist attacks and 9/11. You can gain information as you would with a documentary."
Hamilton's success on Broadway is certainly no indicator of its chances in the West End—but for now its transfer has the theater industry abuzz. As Shenton puts it, whether it will prosper in the U.K. is a "million dollar question—literally so."