Will.i.am Urges 'Sweetest' Britney Spears to 'Stay Strong' Amid Her Court Saga
Will.i.am is the latest celebrity to publicly support Britney Spears following the pop star's recent harrowing court testimony.
The Black Eyed Peas musician and Spears collaborator commented on the singer's most recent Instagram post urging her to "stay strong."
"I'm Praying that all your dreams come true...!!!" the "Imma Be" hitmaker wrote. "You are one of the kindest, sweetest & genuine people on earth!!! Stay strong!!!"
Will.i.am—whose given name is William James Adams Jr.—famously collaborated with Spears on their 2012 hit "Scream and Shout."
On June 23, Britney Spears told a Los Angeles judge she wanted the conservatorship—which has been in control of her life for the past 13 years—to end.
"I'm not happy. I can't sleep. I'm so angry it's insane," she said in her testimony. "And I'm depressed. I cry every day."
She labeled the arrangement "abusive" and added: "I'm not lying. I just want my life back. And it's been 13 years. And it's enough. It's been a long time since I've owned my money. And it's my wish and my dream for all of this to end without being tested."
Will.i.am previously shared his support for Spears following the release of the documentary Framing Britney Spears earlier in 2021.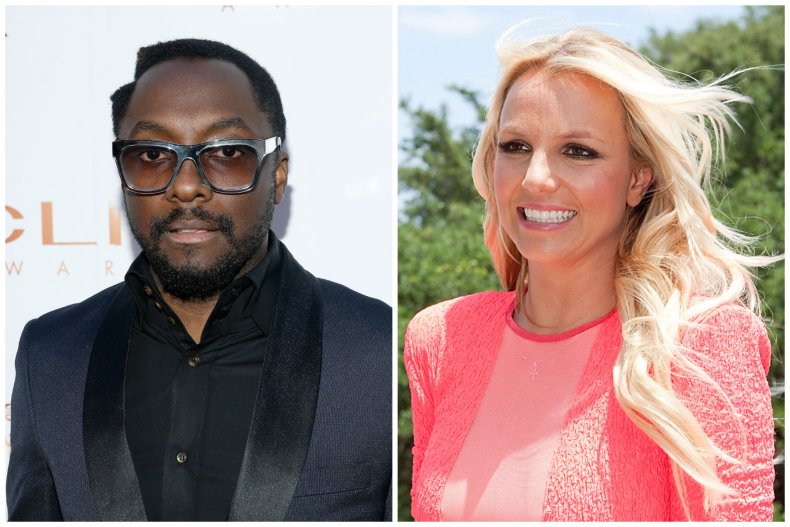 "The treatment of women goes way beyond the music industry. It's society and the lack of true support and lifting up of the female," he told Metro.co.uk. "Britney has endured some pretty harsh treatment from her own and she's an amazing person and her heart is pure.
"Everyone's had some downfalls and some choices that they've made personally but she's awesome."
Will.i.am went on to call Spears the "sweetest person in the world" and described her as a "machine to her family."
"We've all had things that we've done in the past and because she's such a machine, she was a machine to her family," he said. "It's just sad how that force, that bright light, that energy and love she has shared to the world..."
He added: "There's this weird cloud around her that doesn't truly believe in her and when you trust that cloud maybe that's part of the reason why Britney is the way she is, is because that cloud around her, she trusts the people that are responsible for that cloud."
Several celebrities have publicly voiced support for Spears in recent weeks with Christina Aguilera, Iggy Azalea and Mariah Carey all rallying behind the "Toxic" singer.
Earlier this week, Elon Musk pledged his allegiance to the singer when he tweeted "Free Britney" to his almost 58 million followers.
Meanwhile, Aguilera, Spears' former pop rival deemed the conservatorship "unacceptable" and called for her to have "freedom possible to live her happiest life."
Following his daughter's testimony, Britney Spears' father Jamie Spears' attorney said in a statement: "Mr. Spears is sorry to see his daughter suffering and in so much pain. Mr. Spears loves his daughter and misses her very much."