Britney Spears and Christina Aguilera—A Timeline of Their Relationship
Christina Aguilera has come out in support of Britney Spears after her explosive conservatorship hearing last week.
Penning an open letter to her fellow pop star, Aguilera expressed her frustration on Spears's behalf, and called for her to have "freedom possible to live her happiest life."
"These past few days I've been thinking about Britney and everything she is going through," Aguilera wrote on social media. "It is unacceptable that any woman, or human, wanting to be in control of their own destiny might not be allowed to live life as they wish."
The 40-year-old continued: "To be silenced, ignored, bullied or denied support by those 'close' to you is the most depleting, devastating and demeaning thing imaginable. The harmful mental and emotional damage this can take on a human spirit is nothing to be taken lightly.
"Every woman must have the right to her own body, her own reproductive system, her own privacy, her own space, her own healing and her own happiness."
The "Beautiful" singer said that hearing Spears's "plea for freedom" convinced her that "this person I once knew has been living without compassion or decency from those in control."
Aguilera ended her statement with a dedication of support to her friend.
"To a woman who has worked under conditions and pressure unimaginable to most, I promise you she deserves all of the freedom possible to live her happiest life," she wrote.
"My heart goes out to Britney. She deserves all the TRUE love and support in the world."
The two have had somewhat concurrent careers, with both starting off in Disney as youngsters and were friends as children, and went on to become pop icons who were often pitted against each other in the uber-competitive world of the late 1990s/early 2000s music industry landscape.
A timeline of the relationship:
Mickey Mouse Club
Though both hailing from opposite ends of the country, with Spears from Louisiana and Aguilera born and raised in New York City, the two met at a young age when they were cast in Disney's The All-New Mickey Mouse Club in 1993.
The show is famous for launching both Spears's and Aguilera's careers as well as Justin Timberlake, Ryan Gosling, Keri Russel and several more.
Both Spears and Aguilera had been on the talent show Star Search, but the Mickey Mouse Club propelled them into the national spotlight at age 11 and 12 respectively.
Late 90s Pop Explosion
Britney Spears exploded onto the music scene in 1998 with "...Baby One More Time." The then 16-year-old's debut single has left a lasting legacy and was even named the greatest debut single of all time by Rolling Stone in 2020.
Then, in 1999 came Aguilera's debut "Genie In A Bottle", and thus began the endless comparisons between the two as prominent female artists coming of age in an increasingly sexualized music industry.
Spears was often portrayed as the "good girl" with Aguilera assigned the "bad girl" image.
This same year, a Guardian article stated that Aguilera "has a 'naughtier' image than Britney's corn-fed, Midwest, wholesome look."
Pop Rivalry, Madonna
The stars' rivalry came to a head in 2003 during their now infamous MTV Video Music Awards performance with Madonna, which culminated with the singer kissing both Spears and Aguilera on stage.
However, Aguilera's moment was overshadowed by Madonna kissing Spears first and the camera immediately cutting to Justin Timberlake's face (her ex), relegating Aguilera to a somewhat second fiddle position.
"It was a Justin reaction shot...It was a cheap shot," Christina told Andy Cohen in 2018. "I definitely saw the newspaper the next day. It was like, 'Oh, well, I guess I got left out of that one.'"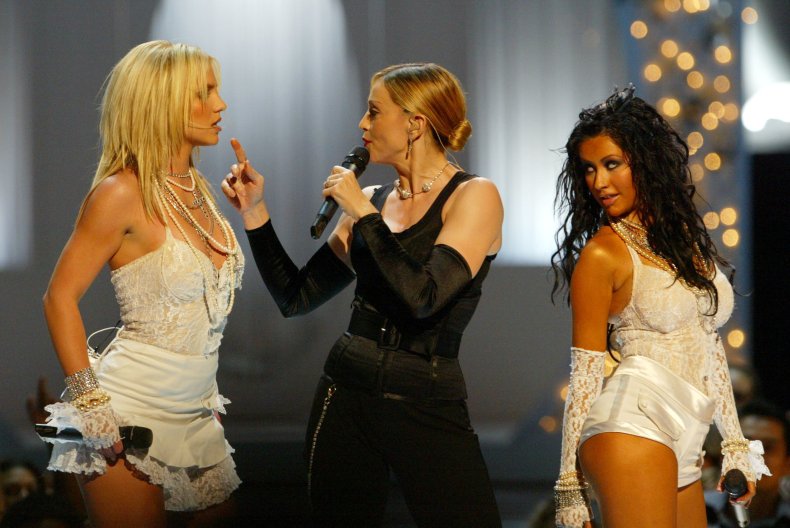 This performance perhaps led to some animosity between the two who started trading barbs via the media from this point.
Aguilera described Spears as "distant" during rehearsals to Blender magazine in 2003. (via EW.)
"Every time I tried to start a conversation with her—well, let's just say she seemed nervous the whole time," she said. "She seems to me like a lost little girl, someone who desperate needs guidance."
Spears then responded in the magazine's next edition, saying: "A lost girl? I think it's probably the other way around. I can't believe she said that about me." The "Lucky" singer then described an encounter with Aguilera and painting her in a negative light.
"She comes up to me in a club in front of all these people and tries to put her tongue down my throat!" she claimed. "I say, 'It's good to see you,' and she goes, 'Well, you're not being real with me.' I was like, 'Well, Christina, what's your definition of real? Going up to girls and kissing them after you haven't seen them for two years?'"
She added: "When someone has been rude to you so many times, it's like, 'You know what, Christina, I'm really not about the fake anymore.'"
Then in 2004, Aguilera criticized Spears's upcoming wedding to Kevin Federline and mocked her engagement ring.
"It looks like she got it at QVC," she said to Us Weekly and added: "I know Britney. She's not trailer trash, but she sure acts that way."
However, four years later, Aguiler expressed remorse for those comments, telling the Daily Mail in 2008 that it was a "funny time."
"When we both started releasing records, it was a funny time for me," she said. "It must have seemed as if we were competing with each other, but, in reality, Britney is someone that I used to hold hands with. We were silly little girls together on the Mickey Mouse Club. What a journey it has been for both of us!"
"I don't pass any judgment on what she does," the singer said. "I always wish her all the best."
In September 2005, E! Reports that Spears wrote a blog post saying she would "love to be close with Christina again."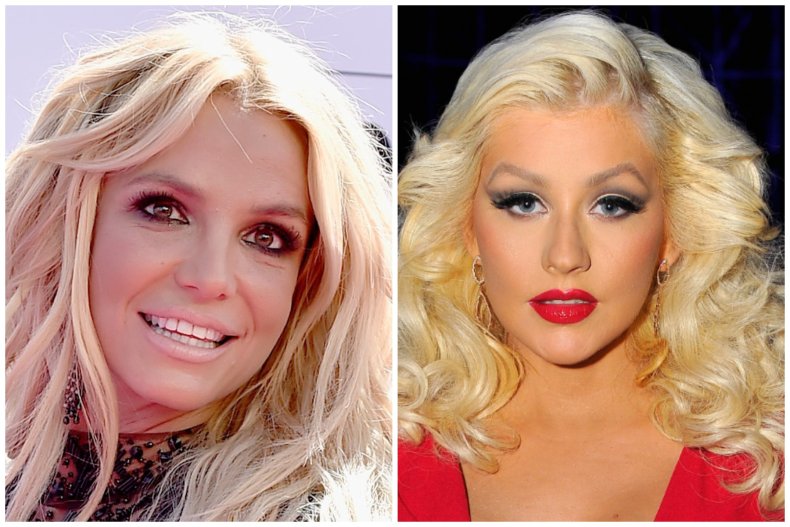 Talent Show Judges
In 2012, both women were working as judges on talent shows with Spears joining The X Factor and Aguilera returning to The Voice.
Naturally, comparisons emerged as their careers remained on a similar trajectory.
When asked about Spears during a press conference, Aguilera praised her former rival.
"I don't know what [advice] she's going to offer specifically, but I know she's a pro," she said. "I think she's going to give great advice."
2018
For International Women's Day in 2018, Aguilera included a photo of Spears on her Instagram with the caption: "Well behaved women rarely make history."
Aguilera also spoke about the rivalry in a 2018 Cosmopolitan profile.
"It's hard to hear yourself being called names," she said. "I remember being hurt by these commercials on MTV, pitting Britney as the good girl and me as the bad girl."
This year also saw Aguilera appear on Carpool Karaoke with James Corden where she hinted that the rivalry started during the Mickey Mouse Club days.
"Even back then, he [Justin Timberlake] had swag," Christina said. "There was me and Britney—well now, you know—there was a thing back then."