Britney Spears Fans Think Star Shaded Christina Aguilera in Deleted Post
Britney Spears' family drama has reignited on social media over the past couple of weeks, and now the singer's fans are speculating that she has turned on Christina Aguilera.
In another deleted post, originally posted over the weekend, the 40-year-old pop star seems to reference her former friend and rival.
In the post, Spears wrote a cryptic message, telling fans information she got from "a little birdie" and references Aguilera through one of her songs, "What A Girl Wants."
"Well someone was singing about 'What A Little Girl Wants" I mean, maybe a Pink cloud told me, either way... In conjunction to most performers who praise their roots and father's background even if he abused them... I would raise a question of BEAUTIFUL WHITE LIES which years to make no waves with me even when I read heart... either way... are we able to show this little girl how much we care??" Spears wrote.
She concluded this post with: "Because frankly the world has taught me one thing and one thing only... a**holes win... don't undermine the power of one thing and one thing only... [followed by three middel finger emojis..]."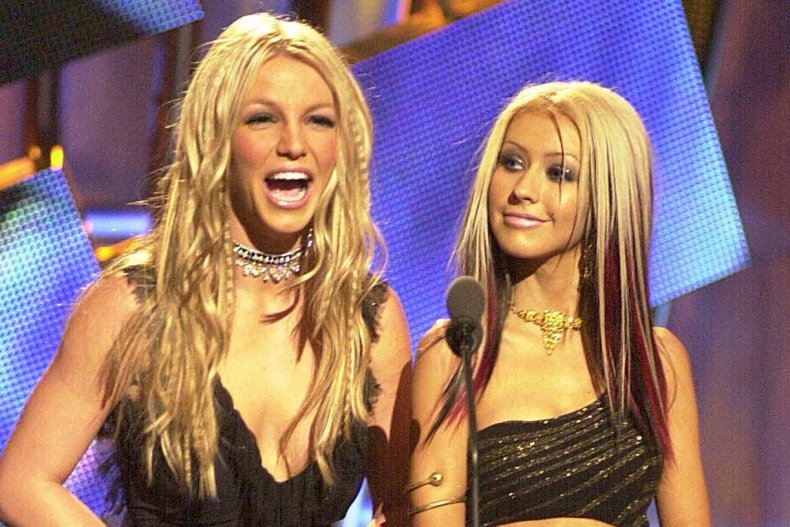 It is unclear what Spears meant by this obscure message and fans are certainly confused.
The post has been shared on Reddit, where many people are speculating that Spears is referencing Aguilera, who was abused by her father.
"I don't think she's mad at Christina Aguilera, per se, I think she's angry because abused daughters are forced to hide the sins of their father, live those sins, and reconcile in some way with them...." reads one comment. "Christina was so angry, but now she's embracing part of her father through music. Britney isn't there yet; she's just angry and wants to stay that way."
While another added: "Idg this. Is she shading Christina for embracing her Ecuadorian roots even though her Ecuadorian father was abusive?"
Aguilera has been open about the abuse she suffered at the hands of her father during her childhood.
Speaking to Cosmopolitan in 2018, the "Beautiful" singer confessed that her father "physically" and "verbally" abused her mother.
"My dad was very dominant with my mom," she told the magazine. "I never wanted a man to tell me what I could and couldn't do, what I could and couldn't spend. I always knew I had to be the queen of my castle."
The singer has also begun connecting with her Ecuadorian roots through her music and released the first part of her Spanish project earlier this year, an EP titled La Fuerza.
During Spears' bid to end her conservatorship, Aguilera wrote an open letter and called for her fellow singer to have the "freedom possible to live her happiest life."
"To a woman who has worked under conditions and pressure unimaginable to most, I promise you she deserves all of the freedom possible to live her happiest life," she wrote in June 2021.
"My heart goes out to Britney. She deserves all the TRUE love and support in the world."
However, in November 2021, Spears lashed out at Aguilera on Instagram for "refusing to speak" about her conservatorship during a red carpet interview.
"I love and adore everyone who supported me... but refusing to speak when you know the truth, is equivalent to a lie !!!! 13 years being in a corrupt abusive system yet why is it such a hard topic for people to talk about ???
"I'm the one who went through it !!!! All the supporters who spoke up and supported me, thank you... yes I do matter !!!!!"
Newsweek has contacted both parties for comment.