Will Russia's Putin Rule Until He's 100? Someone Is Buying Election Websites for the Next Four Elections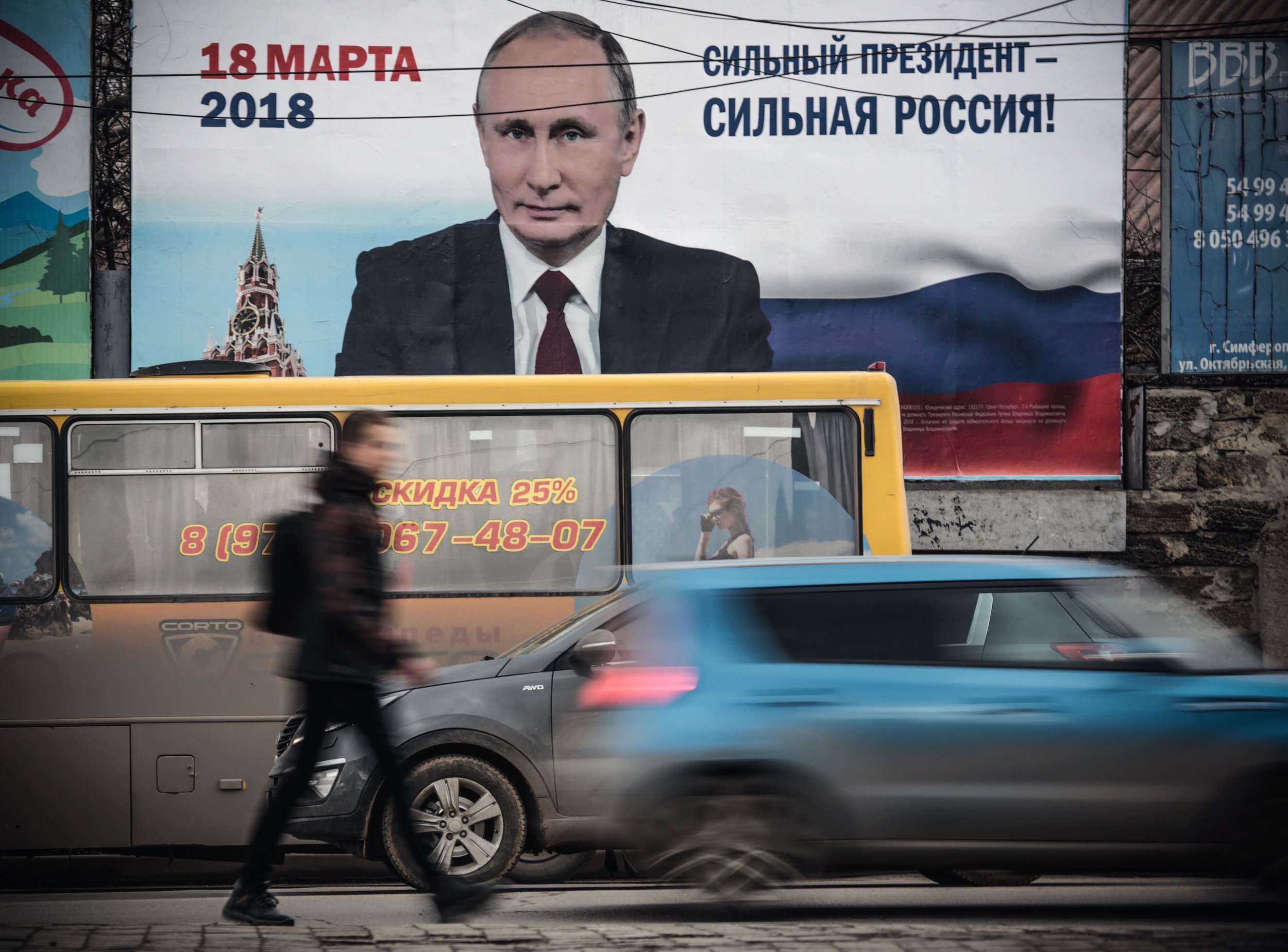 Russian President Vladimir Putin may be term-tied from spending another decade in power, but not everyone seems convinced this will deter him. In fact, the website addresses bearing his name and the date of the next four election cycles have all been taken, waiting to spring into action.
Putin is currently running for a fourth term in office, launching his campaign website Putin2018.ru after he announced his desire to be re-elected last month. If he wins the election in March as predicted, he will sit a six-year term, but cannot seek re-election immediately—the Russian constitution limits the number of back-to-back terms a president can sit to two. After Putin's first two consecutive terms, he spent four years as prime minister, during which presidential terms were extended to six years. Putin won a return to the presidency amid mass protests in 2012.
Related: Asked about retirement, Putin says he has not decided if he will ever leave the presidency
Someone online is not entirely confident that Putin will bow out the next time he is obliged to because a version of his campaign domain, dated to the year he would step down—Putin2024.ru—is taken, according to Russian business daily newspaper Vedomosti. The same is true of Putin2036.ru, Putin2042.ru and Putin2048.ru, according to the paper, which cites domain registry service Ru-Center.
If elected in 2048, Putin would be aged 101 at the end of that term, long past retirement age in Russia or even the average life expectancy.
The Russian leader may be in prime health now—so much so that his handshake can still "break your hand" if his spokesman's word is to be believed—but governing into the latter half of the century would be a prospect that even those most confident in his robust constitution will think is unlikely.
According to a report in the Independent from November, Putin was himself reluctant to embark on a big national election this year, let alone in 30 years. Yet someone seems to have big plans for the president during the next few election cycles, and on social media Russians are roasting whoever is banking on another three decades of Putin.
"So uncertainty will only begin in 2054," one Facebook user wrote, linking to the occupied but inactive pages. He posted a screengrab showing that it would cost less than $8 to purchase that year's campaign domain.
"Here's some bad news for future candidates," tweeted chess master Garry Kasparov, who unsuccessfully ran for the presidency himself. He attached an image of the taken website addresses.
A popular meme, imagining how Putin plans to preserve himself at the helm of Russia in the coming decades is also spreading online, seeing him transition into French film character Fantomas, then Harry Potter nemesis Lord Voldemort before turning fully bionic as Star Wars' favorite protocol droid C3PO. "Forever," one user tweeted, with the image attached.
The discovery that someone has purchased campaign domains for Putin so far ahead of time began after Vedomosti found that his current one was first registered a decade ago, in 2008. According to the report, a 21-year-old software developer Pavel Sepachev bought it, but luckily for Putin's yet-to-be-unveiled campaign, let it expire in 2010.
Another unnamed private buyer then took the domain and sat on it until last spring when a new registry service took the servers, and Notamedia, the company that produced sites for Putin's United Russia party, Russia's Culture Ministry and the Moscow city administration, launched it. According to the company, the domain's owner is a Putin supporter and former United Russia lawmaker Konstantin Rykov.
Interestingly, the saga around the site's acquisition spans the entire presidency of Dmitry Medvedev—a close ally of Putin's who was president for a term in 2008, allowing Putin to then run for another two without violating the constitution. Critics dismissed this move as a charade intended to prolong Putin's era from the onset. His influence on executive decisions at the time was so great despite taking the lower role of prime minister that punters rebranded the political system a "tandemocracy."
Also currently taken are Medvedev2024.ru, should Putin's prime minister once again choose to step in when the incumbent president becomes term-tied, and Volodin2024.ru, on the off chance that the parliamentary speaker Vyachslav Volodin decides to run.
Predicting a run by Putin's top critic Alexey Navalny, someone has also purchased Navalny2024.ru, and in case the socialite-turned-activist Kseniya Sobchak would like to run after this year's vote, Sobchak2024.ru is also taken.