Will Smith revealed that his box office success was driven by his fear of being cheated on in an interview that has resurfaced after he slapped Chris Rock at last month's Oscars.
Smith has faced unprecedented scrutiny over the past several days, after he struck Rock across the face in reaction to a joke the comedian made about his wife, Jada Pinkett Smith's shaved head. Pinkett Smith has spoken about suffering hair loss due to alopecia.
A video has this week been unearthed of Smith taking part in an Oscars roundtable back in January 2016, during which he revealed his "weird psychology" behind ensuring he would never be cheated on again after an experience as a teenager.
He said: "I told my mother this the other day and she thought it was hilarious. I said when I was 15 years old, my first girlfriend cheated on me. And I remember making a decision that nobody would ever cheat on me again, and the way I was going to do that is by being the biggest actor on Earth."
Speaking to a host of actors that included Samuel L. Jackson, Benicio Del Toro, Michael Caine, and Mark Ruffalo, Smith went on: "So there's been this weird psychology that I've always felt like, 'If my movies are number 1, my life is going to work out great."
While the other actors taking part in The Hollywood Reporter's roundtable sat in silence as they listened to Smith, Jackson was seen rolling his head back in laughter.
The clip was posted on The Hollywood Reporter's YouTube channel on Jan. 18, 2016. Three days later, news broke that Smith would boycott the Oscars due to the lack of diversity among acting nominees that year.
Still, Smith did enjoy huge box office success through a list of hit movies including Independence Day, I Am Legend, Suicide Squad, Hancock, and the Men In Black and Bad Boys franchises.
However, as has been well documented, Pinkett Smith publicly confessed to having had an extramarital relationship with singer August Alsina. With Smith sitting with her on her show, Red Table Talk, back in 2020, Pinkett Smith famously referred to the situation as an "entanglement."
During the special, Pinkett Smith and Smith said that the relationship with Alsina happened while they were on a break. Smith later revealed that he also sought affection outside of their marriage as their relationship became non-monogamous.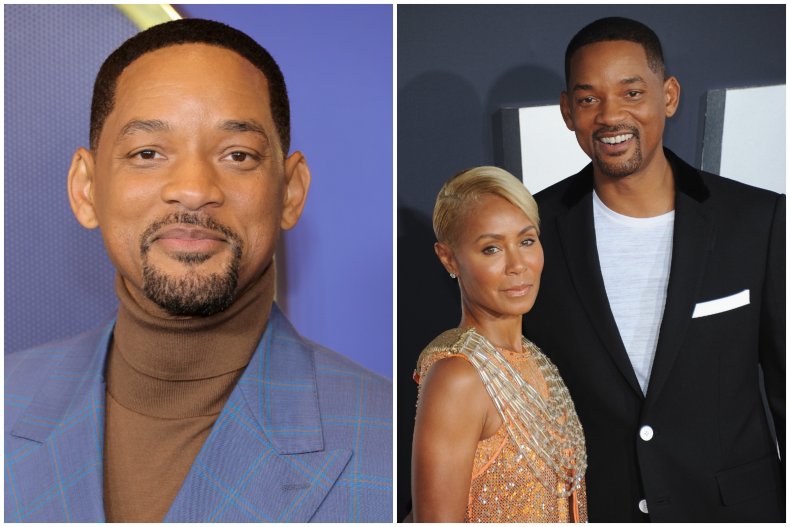 Pinkett Smith spoke about her marriage with Esther Perel in 2019, when the therapist and author was a guest on her show. During their conversation, the Girls Trip star asked Perel about "alternatives of divorce."
"Everybody thinks that as soon as you find out there's an affair you got to get a divorce," said Pinkett Smith at the time, per People.
"I'm not of that persuasion," Perel replied, "because I think there are many relational betrayals. Contempt, neglect, and violence and indifference and nobody tells people, 'Leave, leave, get the hell out.'"
"And especially on women, it's the real new pressure," she went on. "God forbid you still love the person who actually cheated on you. Maybe that person is a lot of things and cheated on you. It's like the shame of staying, now that you can go you've got to get out."
Pinkett Smith, who has been married to Smith since December 1997, said she could "so relate" to Perel's statement.
The actress added: "I'm asked a lot about, 'Is there infidelity in your relationship with Will?' And it's like, 'No,' but there have been other betrayals of the heart that have been far bigger than I could even think in regards to an infidelity situation."
Smith shocked viewers and attendees during March 27's Oscars, when he slapped Rock before shouting at the comedian: "Keep my wife's name out your f****** mouth."
Less than an hour after the incident, Smith returned to the stage to accept a Best Actor Oscar for his role in the biopic King Richard. Soon after Oscars governing body the Academy of Motion Picture Arts and Sciences revealed that disciplinary action would be forthcoming, Smith resigned from the organization.