Will Smith Admits He Hasn't Talked to Chris Rock in Slap Apology Video
Will Smith has admitted that he still hasn't spoken to Chris Rock since he slapped him on stage at the Oscars earlier this year.
The actor has released an emotional apology video on YouTube where he reflected on the incident, the fallout and how he has been coping ever since.
"I've reached out to Chris and the message that came back is that he's not ready to talk," Smith admitted in the five-minute-long video.
This year's Oscars ceremony in March will forever be remembered for the now-infamous slap. During the awards event, Rock joked about Smith's wife, Jada Pinkett Smith, prompting her husband to walk on stage and strike the comedian.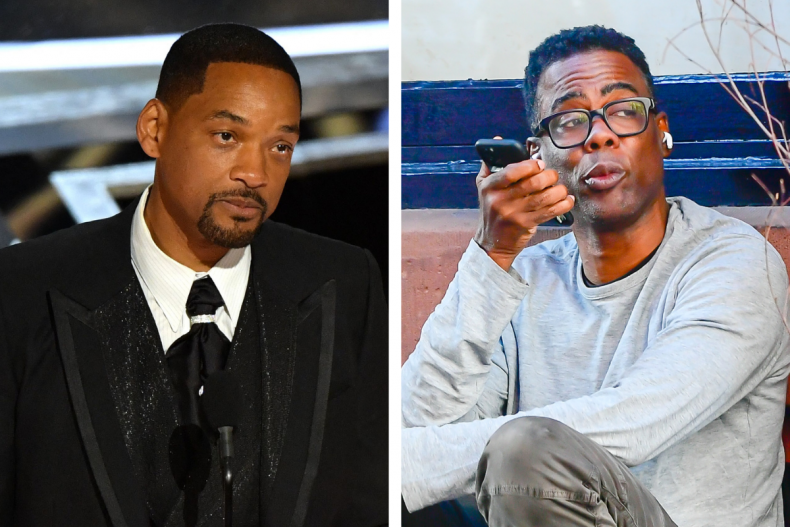 "Keep my wife's name out your f***ing mouth!" Smith was heard saying after the slap.
Smith said that he is "here" whenever the comedian is ready to talk to him.
"And when he is, he will reach out," he said, adding: "So I will say to you, Chris, I apologize to you. My behavior was unacceptable and I'm here whenever you're ready to talk."
The King Richard star reiterated points from his earlier apology and said: "There is no part of me that thinks that was the right way to behave in that moment. There's no part of me that thinks that's the optimal way to handle a feeling of disrespect or insults."
Just seconds before the slap, Rock made a joke at Pinkett Smith's expense, specifically about her shaved head. Pinkett Smith suffers from a condition called alopecia, which causes hair loss.
However, Smith said his wife did not influence his choice to walk on stage and slap Rock.
"It's like, you know, I made a choice on my own, from my own experiences, from my history with Chris," Smith said. "Jada had nothing to do with it. I'm sorry, babe. I wanna say sorry to my kids and my family for the heat that I brought on all of us."
Smith also took a moment to apologize to Rock's mother for the incident after she revealed back in April that she hadn't heard from him.
"I feel really bad that he never apologized," Rosalie Rock told Columbia, South Carolina, NBC affiliate WIS-TV. "I mean, his people wrote up a piece saying I apologize to Chris Rock, but you see something like that is personal, you reach out."
Smith addressed this interview in his video, saying: "I want to apologize to Chris's mother. I saw an interview that Chris's mother did and, you know, that was one of the things about that moment I just didn't realize, and, you know, I wasn't thinking, but how many people got hurt in that moment.
"So I want to apologize to Chris's mother. I want to apologize to Chris's family."
Rock himself briefly addressed the controversial incident at a sold-out show in Boston, Massachusetts, on March 30.
"How was YOUR weekend?" Rock asked the crowd at Boston's Wilbur Theatre. "I'm still processing what happened, so at some point I'll talk about that sh*t."
Rock told the crowd that when he did decide to talk about the incident, it would be funny but also serious.
"It'll be serious. It'll be funny, but right now I'm going to tell some jokes," Rock said.
"Let me be all misty and sh*t," Rock continued. "I don't have a bunch of sh*t to say about that, so if you came here for that...I had written a whole show before this weekend."
Newsweek has contacted Rock's representative for comment.