Dr. Bernice King, the youngest child of civil rights leader Martin Luther King Jr., addressed Will Smith slapping Chris Rock at Sunday's Academy Awards on Twitter Monday, saying that anybody who thought the incident reflected poorly on members of the Black community "already thought Black people look bad."
Rock, who was on stage to present the Oscar award for best documentary feature, made a joke about Smith's wife, Jada Pinkett-Smith. The joke referenced the actress's buzzed haircut; Pinkett-Smith has openly discussed suffering hair loss due to the autoimmune disorder alopecia. Smith took to the stage and slapped Rock in a moment that shocked viewers.
Discussion about the confrontation on various outlets and on social media has touched on different aspects of racism. King, who is the CEO of the King Center, was among the prominent names to offer an opinion.
"Anybody who thinks 'Black people look bad' after the #Oscars already thought Black people look bad," she tweeted. "Respectability doesn't cure racism."
She added, "Be Love, but please don't think that a person who uses one moment to malign a whole group of people did not do so before that moment."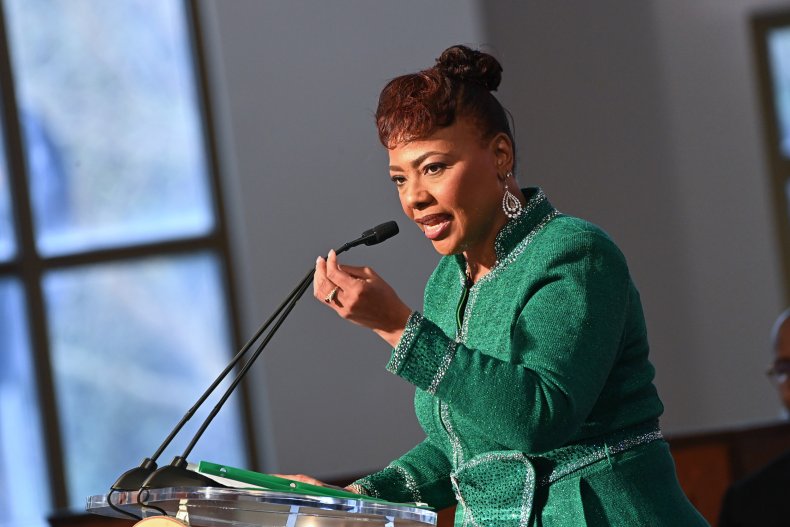 Before King's tweets, other Black voices had already offered their take on the issue of race in regards to the incident, including activist/author Dr. Shola Mos-Shogbamimu.
"The Academy Awards has condoned violence for years particularly violence against women rewarding White men who've raped/sexual assaulted/domestically abused women Now some of y'all demanding Will Smith, 5th Black man to win #Oscars, to be stripped? Where was this energy before?" Mos-Shogbamimu tweeted.
Meanwhile, Donald Kipkorir, a successful lawyer in Africa, wrote: "Just wondering: If Chris Rock was white instead of black, would Will Smith still have been given the Oscar 29 minutes later? Would Will Smith still be out there or in police custody? AMPAS [Academy of Motion Picture Arts and Sciences] is reflective of US Society: Black on Black violence is ok & has no consequences."
King further addressed the altercation between Smith in Rock in additional tweets Monday. She began a thread after some Twitter users questioned her about her stance on nonviolence, as King preaches that principle in her ministerial work and at the King Center, which devotes itself to spreading her father's message of making the world more peaceful and humane for everybody.
"'Condone' is such an intriguing word, often wreaking of ignorance or arrogance. How about sharing what we commit to not being and to eradicating?" King wrote. "Because a lot of people are saying 'I don't condone violence,' but may only mean the type of violence they're uncomfortable with."
"I'm seeing comments about our children being influenced by violence at the #Oscars. Our children are inundated with various forms of violence, including state-sanctioned violence, every day. We need to deal with some root issues," King also wrote. "We need to deal with some root issues."
She added in another tweet, "We need to teach our children, by example and by education, about historical violence, interpersonal violence, gun violence, white supremacist violence, economic violence, psychological violence, etc. Then we need to expose the layers of violence and roots of violence."
"Then, we must commit to nonviolence, not as a word used to stop violence in the face of injustice, but as a path to true peace, which includes justice. Until we authentically commit to embracing a just pathway to peace, we'll continue to grapple with manifestations of violence," she concluded.
Newsweek contacted the King Center for further comment but did not hear back in time for publication.