Will Smith Turned Down 'Django Unchained' Due to 'Violence'
Will Smith revealed that he turned down the lead role in Quentin Tarantino's Oscar-winning movie Django Unchained because he "couldn't connect to violence being the answer" in the storyline.
The 2012 film follows slave Django Freeman (Jamie Foxx), who trains under German bounty hunter Dr. King Schultz (Christoph Waltz), with the goal of reuniting with his long-lost wife, Broomhilda "Hildi" von Shaft (Kerry Washington).
In a 2015 interview with The Hollywood Reporter—which has resurfaced amid scrutiny over Smith slapping Chris Rock onstage at the Oscars—Smith revealed that he opted out of starring in the movie due to its messaging on violence.
"I had said yes to Django, but it was more about the creative direction of the story," he said during a roundtable that included Samuel L. Jackson, Michael Caine, and Mark Ruffalo. "To me, it's as perfect a story as you could ever want. A guy that learns how to kill to retrieve his wife that has been taken as a slave."
"When I choose movies, I'm choosing the arc," he went on. "I read the first 35 pages and I read the ending. And to me that idea is perfect. And it was just that Quentin and I couldn't see [eye to eye]. I wanted to make the greatest love story that African Americans had ever seen from American cinema.
"We met. We talked. We sat for hours and hours and hours about it. I wanted to make that movie so badly, but with that story I felt the only way I could make that movie is it had to be a love story, not a vengeance story."
"I don't believe in violence as the reaction to violence," he added. "So when I'm looking at this, it's like, 'No, no, no. It has to be for love. That's the only way he can retrieve his love is to do this. He can't want to be this. No, no, no.'
"Violence begets violence. For me, I just couldn't connect to violence being the answer. Love had to be the answer."
While Smith passed on the project, he was replaced by Foxx in an ensemble cast that included Leonardo DiCaprio, Samuel L. Jackson, and Don Johnson. Waltz won an Oscar for his role, while Tarantino's screenplay also scooped an Academy Award.
Newsweek has contacted a representative of Tarantino for comment.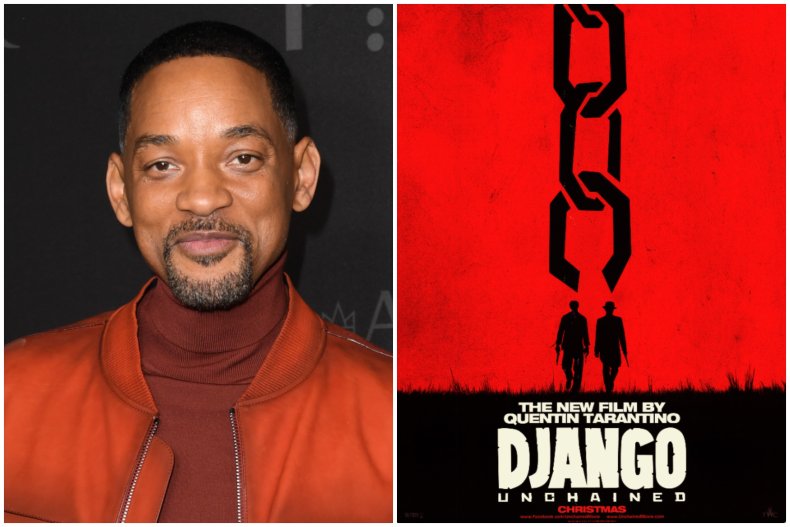 Smith betrayed his own stance on violence during the Oscars on March 27, when he made his way onstage and struck Rock in the face after the comedian made a joke about his wife Jada Pinkett Smith's shaved head. Pinkett Smith has publicly spoken of her hair loss due to alopecia.
Several minutes after the incident—during which Smith warned that Rock should "keep my wife's name out your f****** mouth—the actor returned to the stage to accept an Oscar for his lead role in the biopic King Richard.
Addressing the incident during his acceptance speech, he said: "I'm being called on in my life to love people and to protect people and to be a river to my people.
"I know to do what we do, you've got to be able to take abuse, you've got to be able to have people talk crazy about you. In this business, you've got to be able to have people disrespecting you, and you've got to smile and you've got to pretend like that's OK...
"Denzel [Washington] said to me a few minutes ago, he said, 'At your highest moment, be careful. That's when the devil comes for you.' It's like, I want to be a vessel for love."
"I want to apologize to the Academy, I want to apologize to all my fellow nominees," he went on, adding: "Art imitates life. I look like the crazy father, just like they said. But love will make you do crazy things."
In the days following the incident, Smith resigned from the Academy of Motion Picture Arts and Sciences. The Academy could announce its decision on disciplinary action against Smith as early as Friday.