The Tuesday decision by Mexico's Supreme Court banning punishments for individuals seeking abortions could expand options available to women in Texas who face tightening abortion restrictions under a new state law that went into effect last week.
Under the Texas "heartbeat bill," which Governor Greg Abbott signed into law in May, abortions are banned in cases where doctors are able to detect a fetal heartbeat, which can begin as early as six weeks into pregnancy. An estimated 85 to 90 percent of abortions are performed after the six-week mark, a time at which pro-abortion rights groups have said many women do not yet realize they are pregnant. The law includes exceptions for some individuals who face medical emergencies while pregnant.
The new Texas law also allows citizens to file lawsuits against medical personnel who are believed to have performed abortions in violation of the new law.
Local and national reproductive rights groups asked the U.S. Supreme Court to intervene before the new law took effect on September 1, but the high court declined to step in. The U.S. Supreme Court is expected to begin hearing a different abortion case this fall regarding restrictions in Mississippi.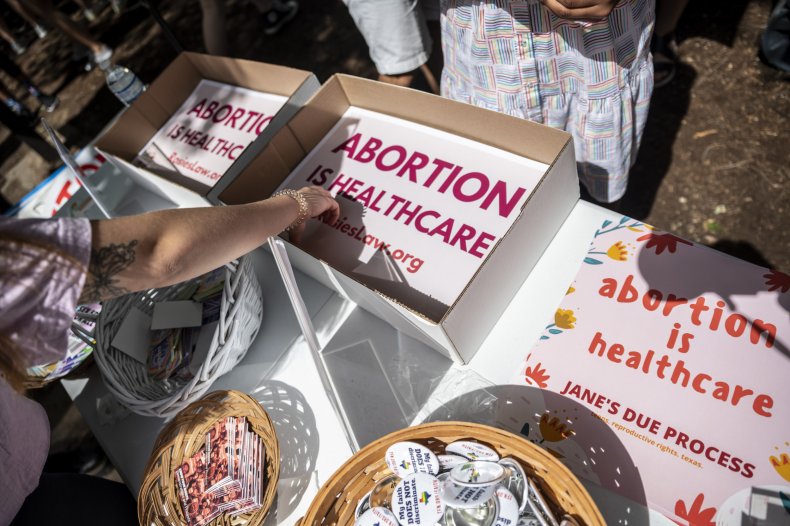 One week after Texas' new abortion restrictions went into effect, Mexico's Supreme Court announced it is "unconstitutional to criminalize abortion absolutely" in Mexico. In a press release announcing its decision, the court cited an abortion law in Coahuila, a Mexican state that borders Texas, that allowed abortion seekers to be sentenced to time behind bars.
The court "ruled for the first time in favor of guaranteeing the right of women and pregnant people to decide, without facing criminal consequences," the release said.
Though the court's decision will only have immediate impacts on people in Coahuila, the court wrote judges at the local and federal levels must keep the ban on punishments for people seeking abortions in mind when making decisions in future cases.
Court President Arturo Zaldívar said judges "from now on" will not be permitted to "charge any woman who aborts under the circumstances this court has ruled as valid" without doing so in violation of the high court's ruling, according to The Associated Press.
Many abortion advocates praised the ruling and contrasted it with the tightening restrictions in Texas.
Katherine Hancock Ragsdale, the president and CEO of the National Abortion Federation, said abortion "should be decriminalized everywhere and for everyone" in a statement shared with Newsweek about the court's ruling in Mexico.
"In a week where we have seen an assault on abortion access and utter inaction by the U.S. Supreme Court, it's encouraging to see the Mexico Supreme Court set a historic precedent that prioritizes the health and rights of people in Mexico," Ragsdale said.
Dawn Laguens, the interim executive director of Planned Parenthood Global, also said the court's decision was a "historic step towards decriminalizing abortion" and "a win for activists and patients in Coahuila" in a statement shared with Newsweek.
"We are relieved for the women of Coahuila, who never should have been punished for seeking reproductive freedom and health care in the first place," Laguens said.
Planned Parenthood's press release concluded with a nod to Coahuila's proximity to Texas.
"Coahuila is just across the border from Texas," the release said. "This decision comes less than a week after Texas's unconstitutional S.B. 8 law, which bans abortions after six weeks, took effect."
Though the exact circumstances under which the court's ruling in Mexico was to be applied were not yet clear by Tuesday evening, media outlets and pro-abortion rights advocates in the U.S. began suggesting it could provide another option for women in Texas who want abortions after six weeks of pregnancy. Texas women were already seeking abortions out of state in the days after Texas' new law went into effect, with some clinics in nearby states like Colorado, Kansas and Oklahoma already reporting an uptick in queries from Texas-based patients last week, according to the AP.
Articles published by the AP and Reuters about the Tuesday ruling by Mexico's Supreme Court suggested Texas women who cannot get legal abortions under their state's new law may start seeking abortions in Mexico in greater numbers.
Paula Avila-Guillen, the executive director of Women's Equality Center, also questioned the potential implications the decision could have for women in the U.S. In a Tuesday statement, Avila-Guillen said Mexico's Supreme Court ruling "begs the question: could the safest way for Texas women to have access to a safe, legal abortion soon be to make their way to Mexico?"
Updated 9/8/21 at 11:05 a.m ET, to include a quote from a Planned Parenthood press release.