Will There Be a U.S. Recession Soon?
Talk of a recession is on the lips of many Americans this week after an eyebrow-raising moment in the market for Treasurys—U.S. government bonds—signaled that a recession may be on its way. But any recession would likely be months away and is far from a certainty.
What occurred was the inversion of the yield curve between 10-year and two-year Treasurys. It means that the two-year bonds had higher interest rates than 10-years, which is unusual. In fact, the last time the yield curve inverted on Treasurys it preceded the financial crash.
High demand for Treasurys with longer maturity dates allows the government to borrow at low interest rates on them. Ordinarily, shorter-life bonds carry lower interest rates because investors tend to prefer them as a less-risky option. Near-term economic forecasts are less muddy.
"That inversion is a very reliable leading economic indicator for changes in business cycles, i.e. at this point it would be a great leading indicator for a recession," Kathy Bostjancic, chief U.S. financial economist at the consultancy Oxford Economics, told Newsweek.
She said it has helped predict the past nine recessions, providing only one false-positive in the 1960s. But a recession is not necessarily imminent. Bostjancic said the lead time is "long and variable," ranging from 10.5 months to 36 months.
Though it is not their baseline forecast, Oxford Economics puts the odds of a recession in 2020 at 40 percent, which is fairly high and means a downturn could hit right in the middle of a presidential election campaign. A recession is two successive quarters of negative GDP growth.
What is spooking investors is primarily the global economic slowdown. Weak economic data from Germany and China are the most recent warning lights to flash on the dashboard. The China-U.S. trade war, which appears to be escalating, is also a concern.
Moreover, while interest rates are low in the U.S., they are better for investors than elsewhere. The European Central Bank, for example, has a negative deposit rate. Some German bonds carry negative interest rates, meaning investors actually lose money to hold them.
Investors are currently fleeing stocks for Treasurys because these are a safe haven asset. As the global economy sounds alarms, investors will accept low returns for the security and stability of having their money tied up in America's sovereign debt.
"We're seeing this just massive global flight to safety and a reach for yield, and U.S. Treasurys are the natural beneficiary of that," Bostjancic told Newsweek.
In the U.S., President Donald Trump's trade war with China is hanging over the economy. Talks are ongoing, but Trump signalled that he will press ahead in September with a new 10 percent tariff on $300 billion of Chinese goods. Some products will have a tariff introduced in December.
Evidence suggests domestic consumers and importing businesses are paying the cost of Trump's China tariffs through higher prices. The American agriculture sector is suffering from the damage to a large export market following retaliatory tariffs by Beijing.
"Anything short of a full retreat from this trade war or tariffs is going to be difficult for the financial markets given that global growth is slowing," Bostjancic told Newsweek. "And there's also signs in the U.S. that growth is slowing and moderating. We've long expected that."
Fiscal stimulus early on in the Trump administration propelled growth in 2018 and is underpinning it this year, but its effects are wearing off, and there is little sign as yet of another investment package.
The rate of GDP growth is strong but slowing. In the first quarter of 2019, the economy grew by 3.1 percent. The following quarter, growth came in at 2.1 percent. The Congressional Budget Office forecasts growth to be 2.3 percent in 2019, down from 2.9 percent the year before.
Other recent data—such as the buildup of inventory, meaning firms are storing goods and materials now rather than buy it later, and the slowdown in sales by private businesses—suggested that the economy, despite robust headline figures, is cooling off.
For Capital Economics, another consultancy, the chances of a U.S. recession are about one in three.
"We don't necessarily care about the inversion of the yield curve for its own sake. It's more about the information that's contained within the bond market," Neil Shearing, group chief economist at Capital Economics, told Newsweek.
"The inversion of the yield curve matters more because it reflects the collective wisdom of the bond market than it actually matters in and of itself...The yield curve has been flattening for a long time."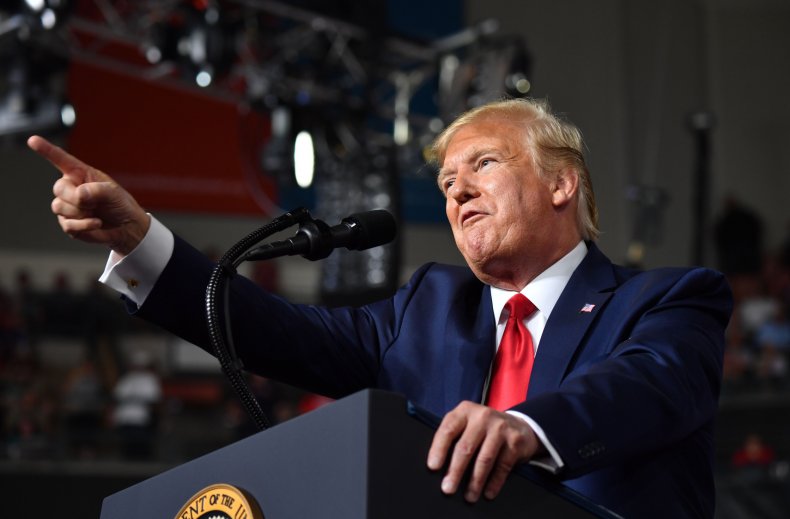 Shearing said the yield curve on three month and 10-year Treasurys inverted a while ago, and that this is a measure more closely watched by the New York Federal Reserve in particular.
"To some extent this is a bit of a red herring. We should worry much more I think about some of the underlying macro data that are coming in rather than the inversion of the yield curve more generally," Shearing said.
"If you take a step back, what's happening in the global economy? Cut through all the trade war stuff—which is troubling but there's more heat than light in a lot of the analysis—there's two big trends."
The first is global manufacturing, which is in recession. There is weakness in manufacturing sectors the world over, including the U.S., Germany, and China. This is connected to weak business investment, and therefore less demand for capital goods. Auto sectors are hurting.
But the second trend is much more positive. Services account for around two-thirds of the American economy, and Shearing said: "The consumer sector and services sector seems to be in pretty good shape and that's particularly true in the U.S."
Shearing is not so worried about the trade wars because exports are only a small part of the U.S. economy, accounting for around 12 percent, though imports, affected by retaliatory tariffs, are worth around 15 percent.
Looking ahead, Bostjancic said she will keep a close eye on two important consumer-based data points: The labor market and retail sales. Both have been strong despite the wider economic slowdown. More jobs mean confident consumers spending their money.
"Those two are the pillars right now of the domestic economy. If we start to see either falter, that clearly would increase the odds of a recession further right now," she told Newsweek.
"Those are really critical. If they maintain strength in the face of all this global turmoil then that gives us a little more confidence that the expansion can continue."
On Thursday, retail sales data from the U.S. was robust. Consumers are out there buying. "It's still the case that the consumer sector in the U.S. is doing pretty well," Shearing told Newsweek. "This is not recessionary levels of consumer spending."
He said the "key issue now is the extent to which the weakness in the manufacturing sector globally spreads into the consumer and service-facing sectors."
"We've been amongst the more bearish commentators and forecasters for the best part of 12-18 months," Shearing continued. "I still think a slowdown is more likely than a recession despite having been on the bearish side of things for some time now."
Janet Yellen, the former Fed chair, said on Fox Business Network that she does not believe America will slide into recession, despite the inversion of the Treasury yield curve.
She thinks the record-setting run of economic growth, though it cannot last forever, will continue for now.
The veteran economist also cautioned against using the inversion as an indicator of recession, despite its past success rate, because factors other than market sentiment are pushing down long-term yields.
"I think the U.S. economy has enough strength to avoid [a recession]. But the odds have clearly risen and they are higher than I'm frankly comfortable with," Yellen said.