Donald Trump Could End Korean War if Kim Jong Un Gives Up Nuclear Weapons
Secretary of State Mike Pompeo revealed Monday that President Donald Trump has agreed to not only guarantee North Korean supreme leader Kim Jong Un's security, but to also alter the terms of a decades-old armistice in exchange for the young ruler's vow to abandon nuclear weapons.
Pompeo made the announcement during his speech to the Detroit Economic Club, where he claimed Russian and Chinese support for Trump's strategy in conducting unprecedented diplomacy with North Korea, who has developed nuclear weapons as a means to deter a potential U.S. invasion. North Korea's weapons of mass destruction program has weathered intense sanctions and U.S. military pressure, but Kim Jong Un has been increasingly receptive to abandoning it as Trump became the first sitting U.S. president to meet last week with a North Korean leader last week.
"As to whether they will need another summit, it's hard to know. There is a lot of work between here and there; my team is already doing it. I will likely travel back before too terribly long," Pompeo told an audience of about 400 people, according to The Detroit News.
"We still have to flesh out all the things that underlay the commitments that were made in Singapore that day. He (Kim) has made very clear his commitment to fully denuclearize his country. That's everything, it's not just the weapons. In return for that, the president has committed to make sure we alter the armistice agreement and provide the security assurances Chairman Kim needs," he added.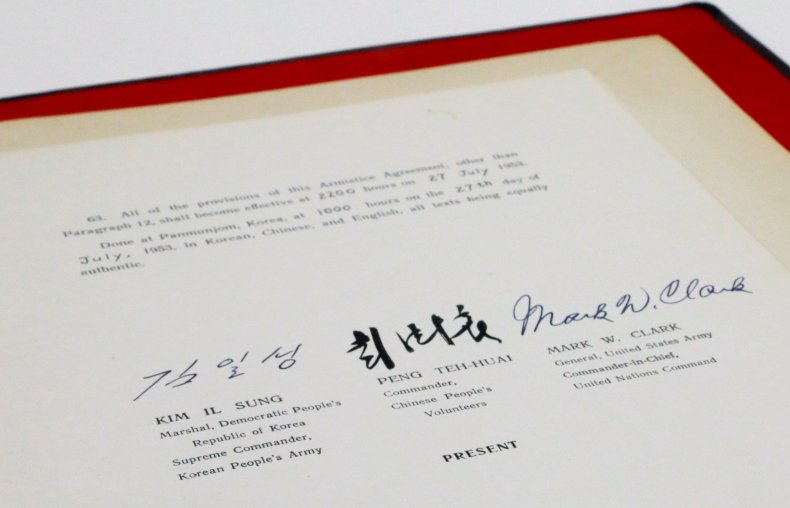 The 1953 Korean Armistice Agreement put a cessation to three years of hostility between communist-backed North Korea and United Nations-backed South Korea, which received extensive military support from the U.S. The two nations were formed as a result of the division of the once Japanese-occupied Korean Peninsula by the Soviet Union and the U.S. in the aftermath of World War II. The inter-Korea subsequent conflict ended without any official peace agreement and set the stage for North Korea's quest for nuclear weapons, as well as various other U.S.-Soviet proxy conflicts around the world, some of which North Korea participated in.
In 2011—long after the Soviet Union's dissolution and the uniting of other divided states such as Vietnam, Germany and Yemen—Kim became the third member of his family to rule North Korea in the wake of his father's death. He accelerated his predecessors' drive for nuclear power by conducting a series of nuclear and ballistic missile tests. However, he also indicated earlier this year that he would roll back these weapons if the U.S. abandoned its "hostile policy" toward North Korea.
Related: Trump Says Obama Would Have Gone to War with North Korea, Killing Millions of People
Ahead of the historic Trump-Kim summit, Kim met twice with both Pompeo and South Korean President Moon Jae-in, indicating to the latter a willingness to officially end the Korean War that established the world's most heavily fortified border between the neighbor states. Trump has already expressed he would guarantee Kim's security after he voiced support for denuclearization, but Pompeo's recent statement appeared to suggest the president would also edit the terms of the Korean Armistice Agreement that left the conflict technically ongoing.
The State Department did not respond when reached for comment on what specific changes may be made to the Korean Armistice Agreement, but a spokesperson confirmed to Newsweek that Pompeo spoke Monday with Russian Foreign Minister Sergey Lavrov via telephone prior to the speech in Detroit.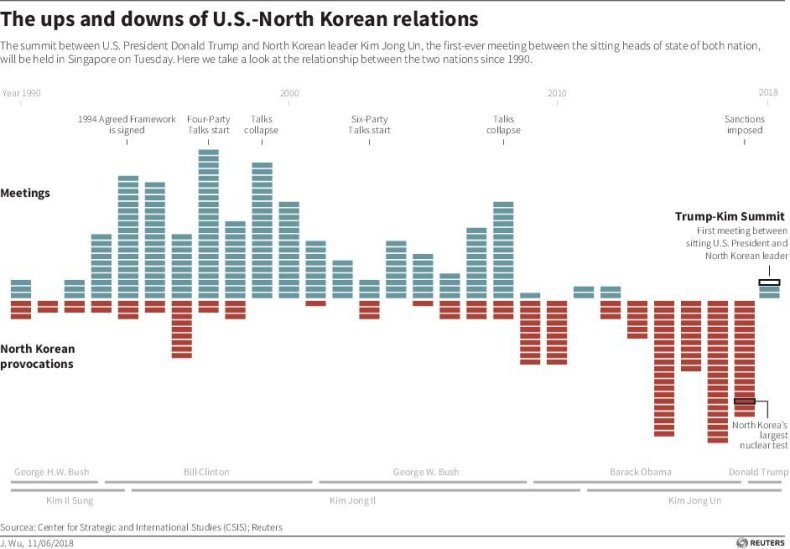 A statement released Monday by the Russian Foreign Ministry said that the two diplomats discussed the settlement of the Syrian conflict based on U.N. Security Council Resolution 2254 and "consolidating efforts to resolve the problems of the Korean Peninsula." Pompeo and Lavrov also reportedly laid out a schedule for future contacts between the two former Cold War foes who have again found themselves pitted against one another in various international arenas.
Russia has supported Trump's diplomatic engagement with North Korea, but has called on the U.S. to suspend defense drills that Pyongyang considers provocative. Russia and China both agree that neighboring North Korea should not wield nuclear weapons, but are also deeply suspicious of global U.S. military activity, especially in the nearby Pacific. South Korea's official Yonhap News Agency reported Sunday that the U.S. and South Korea were soon due to announce the suspension of "large-scale" military drills, a major step likely to be welcomed by North Korea, Russia and China.