President Donald Trump and Iranian President Hassan Rouhani will be in New York this week for the United Nations General Assembly, with both leaders set to address the international summit.
Although tensions remain high between Washington and Tehran, Secretary of State Mike Pompeo said on Sunday that Trump is still open to meeting and negotiating directly with Iranian leaders.
"He's happy to talk with folks at any time," Pompeo said on NBC's Meet the Press Sunday. "The president's been pretty clear about that," he added, saying it's up to Rouhani to reach out and set up a meeting.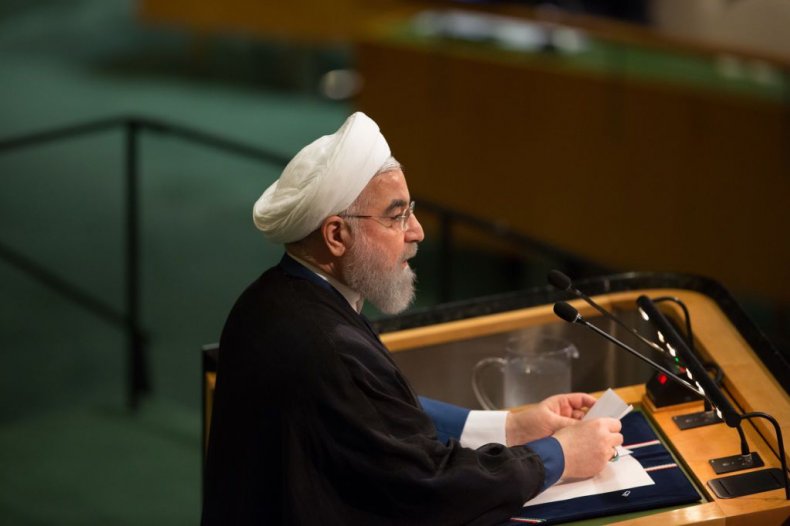 Trump has repeatedly said publicly that he's open to meeting with Iranian leaders. In late July, he said "if they want to meet, we'll meet…I'd meet with anybody. I believe in meetings, especially in cases where war is at stake."
Previous reports have suggested that Trump tried repeatedly to meet with Rouhani during last year's General Assembly meeting as well. Mahmoud Vaezi, Rouhani's chief of staff, has said that Trump asked to meet with his boss "eight times" during the international forum.
However, Iranian Supreme Leader Ayatollah Ali Khamenei said in August that dialogue with Washington is not an option.
"I ban holding any talks with America," Khamenei said. "America never remains loyal to its promises in talks...just gives empty words," he added.
But on Monday, Rouhani did not entirely rule out dialogue with the U.S. However, he set a precondition that Trump is unlikely to agree to.
"If Trump wants to talk to Iran, then he first should return to the nuclear deal," the Iranian president said, according to Reuters.
Trump withdrew the U.S. from the 2015 Joint Comprehensive Plan of Action (known commonly as the Iran Nuclear Deal) in May, after consistently criticizing the international pact for years. Washington moved in August to officially reimplement the first round of sanctions against the Islamic Republic, threatening to target anyone continuing to do business with Tehran as well. European leaders—along with China and Russia—have criticized the U.S. decision and worked to salvage the agreement. Nonetheless, numerous top European companies have curbed their operations in Iran for fear of retaliation from Washington.
"The U.S. sanctions harm ordinary Iranians but also it puts pressure on foreign companies who have to withdraw from Iran's market, fearing America's sanctions," Rouhani said Monday.
Meanwhile, Trump promised on Friday to make tensions with Iran the central theme as he chairs the U.N. Security Council meeting on Wednesday. U.N. rules dictate that nations can attend any meeting where they will be the main topic of discussion, increasing the possibility that Rouhani and Trump could come face-to-face, even without a direct meeting. But some hardliners in Iran have argued that Rouhani should boycott the meeting altogether as a sign of disrespect to Trump, Bloomberg reported.
An unidentified Iranian official also told Reuters that Rouhani cannot risk taking a diplomatic approach with Trump.
"Rouhani cannot take such a risk because, after Trump's withdrawal from the deal, his hardline rivals are in a stronger position in Iran," the official said.